Former Adidas executive James Gatto was sentenced to nine months in prison Tuesday for his role in the widespread college basketball recruiting scandal that has tainted two dozen schools. Co-defendants Merl Code, an Adidas consultant, and basketball middleman Christian Dawkins, each received six months.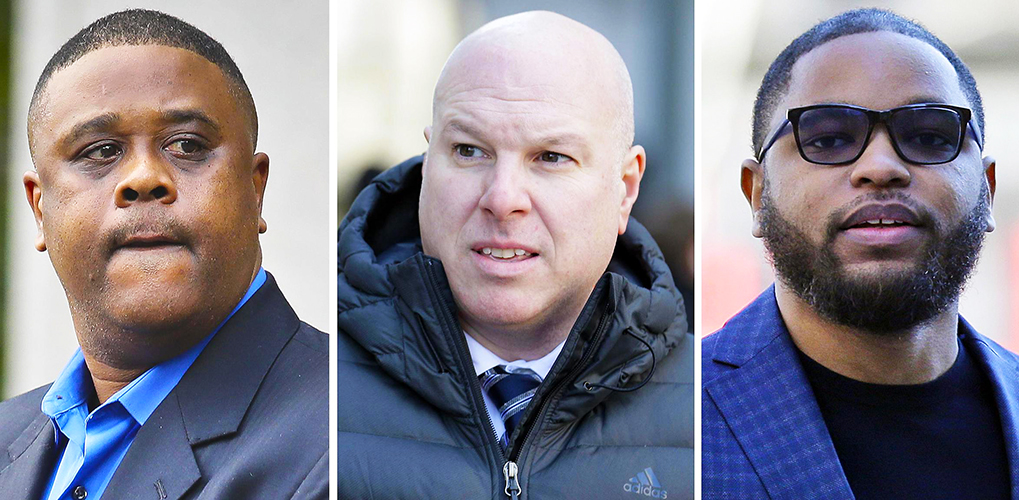 In October, a federal jury in New York convicted the three men of felony charges of wire fraud and conspiracy to commit wire fraud after a three-week criminal trial. They were accused of funneling money from Adidas to the families of high-profile recruits to ensure they signed with Adidas and certain financial planners and business managers once the players turned pro. The schools involved were North Carolina State, Louisville, and Kansas.
Among other allegations, the men were accused of conspiring to pay $100,000 from Adidas to Brian "Tugs" Bowen's father to influence Bowen to sign with Louisville in the summer of 2017.
Gatto, Adidas' former director of global sports marketing for basketball, also was accused of conspiring with former Adidas consultant T.J. Gassnola to pay $90,000 to former Kansas prospect Billy Preston's mother and $20,000 to current Jayhawks player Silvio De Sousa's guardian.
Gassnola testified during the trial that he also gave former NC State assistant Orlando Early $40,000 to secure the commitment of former Wolfpack star Dennis Smith Jr. after Gatto approved the payment.
Prosecutors argued that by unknowingly making the universities vulnerable to N.C.A.A. sanctions, the defendants had victimized the schools. Such offers are barred by N.C.A.A. rules, which require that college athletes adhere to the association's policy of amateurism and not be compensated for their participation in their sport beyond a scholarship and related costs of attendance.
Robert S. Khuzami, the acting U.S. Attorney for the Southern District of New York in this case, said in a statement, "The sentences imposed today only begin to reflect the magnitude of the harm these defendants caused through a scheme that not only defrauded multiple public universities but upended the lives of young student-athletes and corrupted a game cherished by so many."
Judge Lewis A. Kaplan in the Southern District of New York said leniency for the defendants, who faced as much as three years in prison under federal sentencing guidelines, could only go so far, according to the Associated Press.
"These defendants all knew what they were doing was wrong," he said. The judge added that he wanted to send "a great big warning light to the basketball world."
The judge also acknowledged none of the defendants "took home a nickel" from the scheme, but said it was wrong to say there was no economic motive because each defendant's career stood to benefit."I deeply regret my actions," Gatto said at the sentencing, according to AP.
Dawkins referenced "social dysfunction" in college basketball and said his actions were "clouded" by a "system that takes advantage of kids."
"I realize now more than ever none of this was worth it," Dawkins said. Code, a former Amateur Athletic Union coach, also said regretted his actions while adding, "Some things really got to be changed about college basketball."
All three men were released on appeal bonds Tuesday and plan to appeal their convictions. Code and Dawkins were ordered to pay restitution of a little more than $28,000 each, with Gatto's amount of restitution still to be determined.
The sentences come ahead of a second trial set to begin in April involving Code and Dawkins allegedly bribing assistant coaches at Arizona, Oklahoma State and Southern California. The three former assistants all pleaded guilty in January, after the guilty verdict in the first case. A third trial, involving former Auburn assistant coach Chuck Person, is scheduled for later this year.
Photos Bebeto Mathews and Seth Wenig / Associated Press