By Eric Smith
As the outdoor industry descends on Denver this week for Outdoor Retailer's newly fashioned Outdoor + Snow Show, the vibe inside Colorado Convention Center will be instantly recognizable.
Exhibitors will showcase their newest products for retail buyers from around the U.S. and even a few from overseas. Attendees will scramble through the aisles en route to sales appointments, educational sessions and panel discussions, bumping into old acquaintances along the way. And happy hours will bring each day to a celebratory close.
Despite these familiar scenes, however, change is in the air.
This year's event, which runs Tuesday through Friday (the exhibition portion begins Wednesday), marks the debut of two outdoor shows being merged into one. That's because in August 2019, Outdoor Retailer, which is owned by the publicly traded Emerald Expositions Events Inc., decided to cancel November's Winter Market and combine that event with Snow Show.
The move ended OR's three-show cycle and reduced the outdoor industry's premier event to twice a year—Outdoor + Snow Show (a new twist on an old name) in January and Summer Market in June.
It's but one example of massively shifting trade show landscape that also will see the debut of a new outdoor hardgoods show later this year in Salt Lake City. The trade show calendar, which has seen some departures such as Interbike and Paddlesports Retailer, likely still has some rightsizing to do.
But while the changes will surely be top of mind this week, it shouldn't distract from the primary goal for attendees—write orders, talk shop, and continue the ongoing and collaborative work of elevating outdoor and snow sports retail channels.
After all, this is the place for the outdoor brands and buyers to unite under one roof and get down to business, Marisa Nicholson, Outdoor Retailer show director, told SGB Executive on Monday morning.
"That's the foundation for bringing the industry together—the business of getting orders written and understanding what the buy-sell is going to be for this particular season," she said. "But it's also about looking forward. We've got trend presentations and we have our sourcing area for people to look at different materials, fabrics and technology, so it's really bringing the whole industry together to see what's happening right now—and what's happening in the future.
"When you come here, you get a sense of this being a true community where everybody has the same goal—to continue to build this community, protect this industry, but also get commerce done. There are so many different aspects and it fulfills so many needs for our industry when we gather twice a year."
Nicholson said this year's combined show could recapture some of the magic of January 2018, when OR hosted Snow Show for the first time after acquiring it the year before. The mood at that event was especially buoyant, with all manner of snow sports and outdoor brands sharing a trade show floor.
Certainly, the numbers are approaching that event, with more than 1,000 exhibitors, 1,200 designers and 9,700 retail buyers registered for Outdoor + Snow Show as of Sunday night and perhaps more expected once the show opens its doors, Nicholson said.
"The energy going into the show has been incredible," she said. "Our team has just been so excited as we've watched the numbers skyrocket every week from a registration standpoint. It's trending right where we were for the show in January 2018."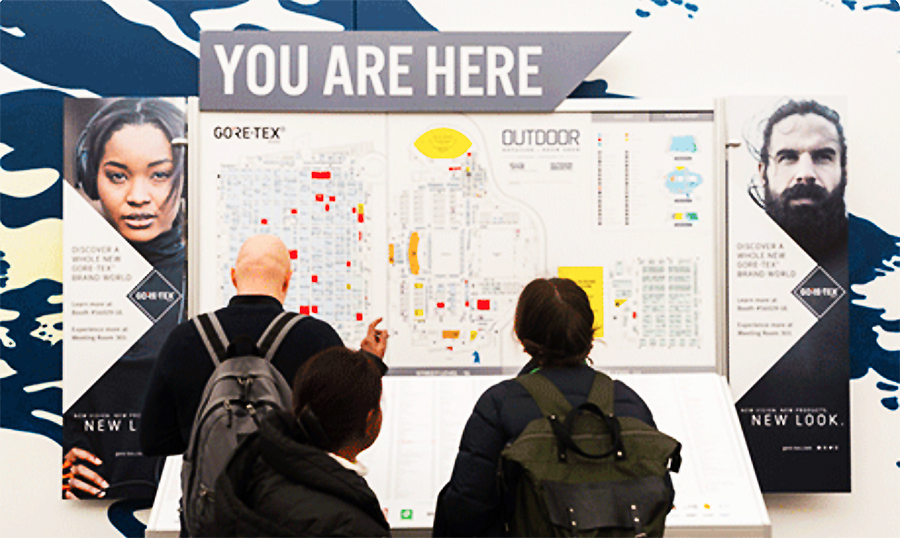 Be sure to visit SGB Executive for stories from Outdoor + Snow Show throughout the week and into February. Meanwhile, here is a quick guide for business events not to miss at the 2020 show (you're on your own for the best social gatherings):
Kickoff breakfast, Wednesday, 7:15 a.m., Room 401 – Begin the show with a bang—or at least with some strong coffee and a timely topic—at this year's Kickoff Breakfast, "Business As A Force For (Climate) Good." Executives from a variety of outdoor and outdoor-friendly businesses will discuss their commitment to lead on climate change and to outline achievable strategies that every business can act on right now. Moderated by Kate Williams, CEO of One Percent For The Planet, the panelists include Tim Bantle, The North Face; Nancy Hirshberg, Hirshberg Strategic; Ben Stuart, Bank of the West; and Tyler LaMotte, Jackson Hole Mountain Resort.
Outdoor Retailer Innovation Awards, Thursday, 6:30 p.m., Four Seasons Ballroom – A panel of judges selected 30 finalists—innovative products, materials and retail services—and the winners will be unveiled during a live ceremony. Click here to see the list of finalists. The awards were originally scheduled to be announced at November's Winter Market, but once that event was canceled, the ceremony got pushed back to Outdoor + Snow Show.
Industry + Intelligence panels, run by SIA from Tuesday to Friday: Our choices among many good options are:
"Beyond Price: How Brands Can Beat E-Commerce Giants At Their Own Game" at 1 p.m. on Tuesday in Room 405;
"Intelligent Supply Chain Strategies For Navigating The U.S.-China Trade War" at 10 a.m. on Wednesday in Room 405;
The NPD Group's "U.S. Retail And Consumer Trend Presentation" at 7 a.m. on Thursday in Room 401;
Camber Outdoors' "Corporate Inclusion, Equity, And Diversity – A Global Perspective" at 7 a.m. on Friday in Room 401.
The Camp, which runs Wednesday to Friday at Booth 5517-UL – The Camp is one of our favorite hangouts for great panels and information. This year's highlights include:
"Why Sell B2C When B2B is Over 6x the Opportunity Size?" at 3:30 p.m. on Wednesday;
"Building Community: How To Be Relevant in the 21st Century" at noon on Thursday;
"OIA Industry Lunch: Building the Outdoor Industry Employment Pipeline: Stronger, Better, Smarter!" at noon on Friday.
And don't forget the SIA/WWSRA On-Snow Demo, which will be held on Monday and Tuesday, February 3-4, in Winter Park, CO. There, the business of testing the latest and greatest gear will commence.
Photos courtesy Outdoor + Snow Show