The hard goods category again led Zumiez Inc. to deliver strong results for the fourth quarter, and the chain is looking to convert new skateboarders, who embraced the activity during the pandemic, into loyal customers.
SFIA's annual Topline Participation Report showed skateboarding had the most significant single-year growth in 2020, up 34.2 percent from the prior year. Other categories with the largest one-year change were pop/paddle/platform tennis, 31.2 percent; surfing, 28.2 percent; camping, 28 percent; and tennis, 22.4 percent.
On a conference call with analysts, Rick Brooks, CEO, estimated that skateboarding started to take off early in 2019 and "just exploded across the globe." The gains are found in participation surveys and marked by women taking up the activity for the first time. Zumiez subsequently expanded its inventory investment in the skate hard goods category.
Brooks said, "We looked at that and said we ought to own more share of that market because we've seen so much consolidation over the last decade."
Chris Work, CFO, said the hard goods' trend "ebbs and flows" with the chain last seeing a strong skate cycle from 2012 through 2015. However, the current trend has helped hard goods expand to 19 percent of Zumiez's sales in 2020 from 13 percent in 2019 and 10 percent in 2018. Zumiez also saw a "seismic movement" in 2020 in men's apparel and accessories, while women's apparel, as a percent of sales, was flat versus 2019.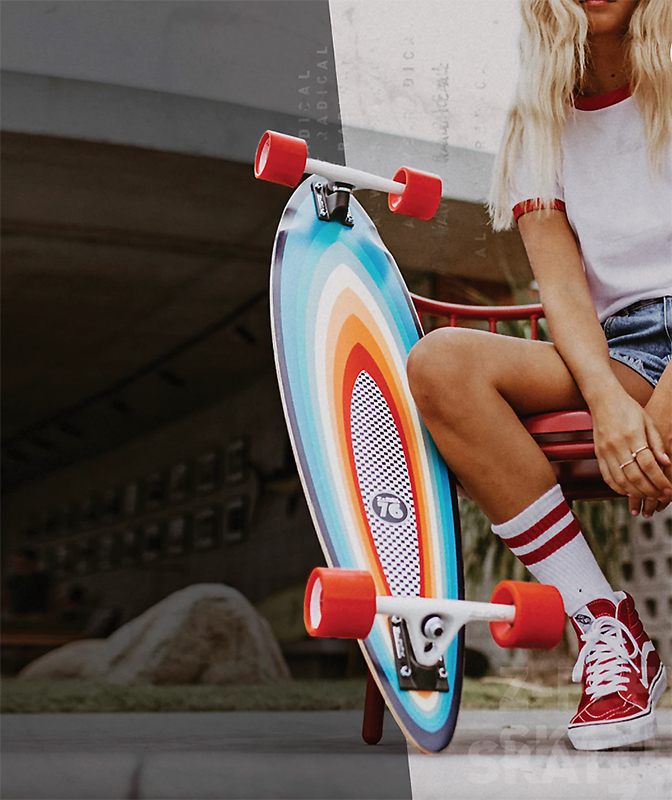 Footwear was the one category to see a notable decline as a percent of sales.
"We're happy that we've got it," said Work of the healthy skate trend. "And we think it's something that could continue to propel us into 2021, albeit we think we've got good plans across all of our categories to drive into this next year."
Asked about footwear's underperformance, Brooks attributed the softness to "just the normal cycle for us" while noting footwear saw a strong run for Zumiez the last time skate tailed off. He said, "Our mission is always to maintain our share of our customer's wallet. So as they move from footwear, we've recaptured those dollars in skate."
He said Zumiez plans to add new brands to enliven its footwear offerings but noted that options are limited. He added, "There aren't many small brands left in the footwear business." He said that the category relies on a "handful of brands" to drive sales, citing Vans and Nike as the major players. Said Brooks, "We're going to push hard and look at new things, we'll optimize our existing brand portfolio, working with our brand partners on it, and we'll do our best to minimize the loss through this cycle."
Fourth-Quarter Comps Climb 4.7 Percent
In the fourth quarter ended January 30, earnings rose 12.9 percent to $42.8 million, or $1.68 per share, topping Wall Street's consensus estimate of $1.63. Sales increased 0.8 percent to $331.5 million, ahead of Wall Street's consensus target of $327.3 million. Comparable store sales increased 4.7 percent compared to an increase of 6.4 percent in the year-ago period.
The hard goods category was its largest positive comping category, followed by accessories and men's. Footwear was its largest negative comping category, followed by women's.
Comparable online sales grew 31.8 percent for the quarter, while comps for physical stores were down 3.1 percent year-over-year. Stores were open for approximately 94 percent of potential operating days during the quarter.
North American total sales increased 1.5 percent to $285.2 million. Other international sales, which consist of Europe and Australia, decreased 3.2 percent to $46.3 million. Excluding the impact of foreign currency translation, North American sales increased 1.4 percent, and other international sales fell 11.3 percent. Both European and Canadian operations faced temporary COVID-19-related store closures in the quarter and were only open for 53 percent and 73 percent of available operating days, respectively.
Gross margins improved ten basis points to 39.1 percent. An 80 basis point improvement in inventory shrinkage, 40 basis points of leverage in occupancy costs and 20 basis points improvement in product margin offset an 80 basis point increase in web shipping costs due to increased online sales, a 30 basis point increase in distribution and fulfillment costs and 30 basis point negative impact related to a Stash loyalty program deferred revenue adjustment made in the prior year.
SG&A expense was reduced to 22.9 percent of sales from 24.1 percent a year ago due to leverage on store wages, decreased costs related to national training and recognition events, governmental payroll credits, and decreases in professional fees.
Operating income improved 10.0 percent to $53.8 million, or 16.2 percent of sales, from $48.9 million, or 14.9 percent, a year ago.
Total sales for 2020 decreased 4.2 percent to $990.7 million. Comparable sales increased 13.6 percent. Net income increased 14.0 percent to $76.2 million, or $3.00 per share. Online sales accounted for 26.4 percent of sales in 2020 compared to 16.6 percent in 2019.
Inventory was down 0.5 percent at the year's end and 3 percent on a currency-neutral basis. Said Work, "Overall, the inventory on hand is healthy and selling at a favorable margin entering 2021."
Total first quarter-to-date sales for the 35 days ended March 6 were down approximately 3.8 percent. Comps for that period decreased 0.4 percent. By channel, open store comparable sales decreased 6.9 percent, and e-commerce increased 29.5 percent.
Work said the quarter has "gotten off to a slow start," although it's due to the delay of tax returns, significant closures due to snowstorms across the south, and COVID-19-related store closures persisting early in the quarter that should not impact the latter part of the quarter. The 2021 domestic stimulus package is also expected to support spending.
Overall, Zumiez expects first-quarter results to be "meaningfully ahead" of results for the same quarter in 2020 when stores were only open for approximately 50 percent of the days available. Second-quarter sales are expected to be down as the chain anniversaries a surge in demand in the year-ago period as many stores reopened. Stores were open for 73 percent of potential operating days during the 2020 second quarter. For the back half of the year, sales are expected to expand on top of gains achieved in 2020.
EPS is expected to increase for the full year with "significant variability" quarter to quarter compared to 2020 and more normalized compared to 2019.
Zumiez plans to open 22 new stores in 2021, including approximately five North American stores, 12 in Europe, and five in Australia. As of March 6, Zumiez operated 722 stores, including 602 in the U.S., 52 in Canada, 54 in Europe, and 14 in Australia. Banners include Zumiez, Blue Tomato and Fast Times.
Photos courtesy Zumiez