Tilly's Inc. logged the strongest fourth-quarter EPS performance since its 2012 fourth quarter. The gains were helped by strong performances in women's and footwear supported by introducing several new brands. The chain, however, warned that product arrival delays could curtail sales growth in the first half.
In the quarter ended January 30, total net sales were $177.9 million, an increase of 3.2 percent year-over-year and ahead of Wall Street's consensus estimate of $176.23 million.
Comparable store sales, both physical and e-commerce, increased 2.5 percent. Comps from physical stores decreased 12.3 percent. E-commerce sales increased 66.5 percent to represent 31.1 percent of total sales from 19.3 percent last year.
Women's and footwear delivered double-digit percentage increases in comps, while men's was flat and girls decreased in the low-single-digits. Accessories and boys fell by double-digits.
On a conference call with analysts, Ed Thomas, president and CEO, said weakness in third-party brands and denim were the primary causes of the boys' category decline. Weaker hydration and backpack businesses were the primary cause for its decline in accessories.
Hard goods, including skateboards, bikes, roller skates, and certain snow products, were launched in 20 stores during the quarter after being soft-launched online during the third quarter. Hard goods represented less than 2 percent of sales during the quarter. Said Thomas, "We have been encouraged by the customer response to these new offerings so far."
Gross margins in the quarter improved to 32.7 percent from 30.2 percent last year. Product margins improved 210 basis points primarily due to reduced total markdowns. Buying distribution and occupancy costs improved 40 basis points.
Total SG&A expenses were reduced 50 basis points to 24.8 percent of sales. A $2.5 million reduction in store payroll and related benefit expenses and a $1 million reduction in print and advertising expenses offset increased e-com marketing and fulfillment costs of $4 million in the aggregate due to the significant increase in e-com activity.
Operating income climbed 65.9 percent to $14.1 million. Net income jumped 41.3 percent to $8.9 million, or 29 cents, well above Wall Street's consensus estimate of 18 cents.
Said Thomas, "We believe these results are quite remarkable considering the significant restrictions on store operating hours and customer traffic during the quarter, high overall unemployment in the broader economy, and other operational challenges posed by the pandemic."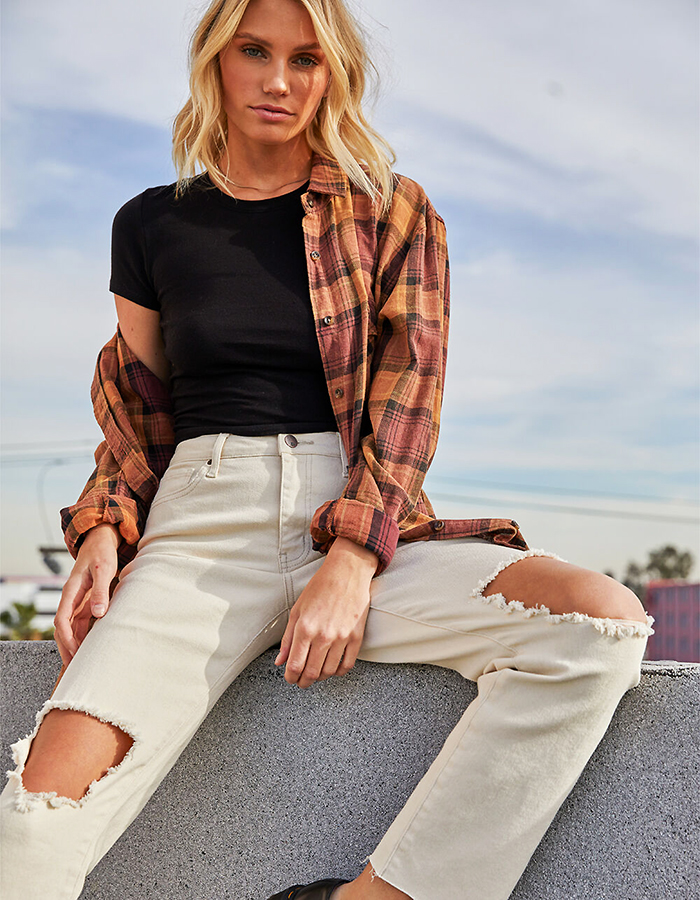 For the year, sales totaled $531.3 million, a decrease of 14.2 percent. Net sales from physical stores were $357.9 million, a decrease of 31.3 percent. Available store operating days for physical stores were 50 percent of the first quarter, 65 percent of the second quarter, 94 percent of the third quarter, and substantially all of the fourth quarter. E-commerce sales were $173.4 million, surging 76.2 percent year over year. E-commerce represented 32.6 percent of total sales compared to 15.9 percent in 2019. The net loss in 2020 was $1.1 million, or 6 cents, compared to net income of $22.6 million, or 76 cents, the prior year.
Looking ahead, Tilly's, in 2021, plans to expand offerings of its proprietary RSQ brand, which was the chain's leading overall brand in terms of net sales in 2020. The expansion includes new product categories and broader sizing and fit offerings within denim. The introduction of third-party brands will continue with the expectation they'll drive customer interest.
Hard goods will expand to 80 of its stores with greater breadth in offerings during the spring with the expectation that the "draw of individual outdoor activities will continue to be meaningful throughout 2021," said Thomas.
Tilly's has seven new stores planned for 2021, including one that recently opened in Las Vegas, signed initially to open in 2020. It currently operates 238 across 33 states.
Approximately 95 percent of Tilly's store leases were addressed relative to rents in light of the closures caused by the pandemic. Thomas said, "We withheld during the pandemic shutdown period last year. In many cases, we have negotiated ongoing adjusted rent while we remain in this pandemic environment. We currently have one known store closure that will take place at the end of March."
For the first quarter, total comparable sales decreased 4.6 percent through March 8 year-over-year, including a decrease of 13.3 percent in store comps and an increase in e-commerce sales of 40.6 percent. 
Comps were negative in February but have been positive so far in March.
Assuming stores and e-com remain in operation this year, total sales and EPS should climb substantially over last year for the first and second quarters of 2021. All of Tilly's stores were abruptly closed midway through last year's first quarter and remained closed into the second quarter due to the pandemic. This year, stores have been operating with significant government mandate restrictions on customer traffic and reduced operating hours.
The retailer has also dealt with product delivery delays from Southern California ports, impacting almost 20 percent of planned retail inventory receipts. Said Thomas, "During the first several weeks of the quarter, delivery delays have ranged up to a full month at this time across a variety of product categories. We do not currently have good visibility as to when the situation will be fully resolved. As a result of these delays, we may, at times, temporarily carry higher inventories than last year. We are carefully monitoring events and adjusting to the best of our ability as we get more information."
Tilly's ended the fourth quarter with inventories per square foot down 0.7 percent.
Concluded Thomas, "We intend to remain conservative in our approach to managing our business over the near term to protect our longer-term prospects in light of the continued volatility and uncertainty in the retail environment."
Photos courtesy Tilly's RSQ