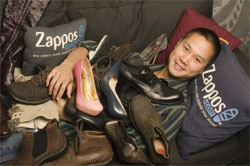 Amazon.com revealed details of its acquisition of Zappos in a filing with the Securities and Exchange Commission Monday. The filing notes that Amazon began discussing an acquisition of Zappos in 2005 and indicates that Tony Hsieh, the online footwear retailer's CEO, could walk away with more than $200 million in the deal.

The filing also noted that although Zappos sells $1 billion in merchandise annually, 2008 net revenue was just $635.0 million for the year, growing 20.5% from $526.8 million in 2007. Gross margins dipped 140 basis points for the year to 35.2% of net sales from 36.6% of net sales in 2007. Net income jumped 509% to $10.8 million in 2008, compared to $1.8 million in 2007.

The difference between gross sales and net revenue is being attributed to its liberal return policy.
For the first quarter, net revenues were up 8.4% to $143.9 million from $132.7 million in the prior year period. Gross margin was down 230 basis points in Q1 to 34.3% of sales from 36.5% of sales in the year-ago period. Net income for the quarter fell 62.8% to $221,000 from $594,000 in Q1 2008. Net income from continuing operations was down 81.5% to $267,000 from $1.4 million in the prior year quarter.

Zappos CEO Tony Hsieh in a statement disputed reports that he was looking for an initial public offering but was pressured by the company's investors, Sequoia Capital, to sell. Hsieh said in the statement, "The articles and rumors of Sequoia forcing us to sell are simply not accurate…The Zappos board was united in believing that joining forces with Amazon would be in the best long-term interests of our employees, customers, shareholders, and other stakeholders."

The Amazon filing reveals that Morgan Stanley's estimated of the equity value to existing Zappos shareholders in the event of an IPO was $650 million to $905 million. Amazon announced on July 2 that it would buy Zappos.com for more than $900 million in cash and stock.

According to the filing, Sequoia invested $35 million in Zappos late in the company's life, and owned 22.8% of Zappos common shares. Their share of the deal is estiamted to be roughly $160 million. Hsieh, who owned 29.4% of Zappos shares directly, should see at least $214 million in the deal — at that's before you count his interest in Venture Frogs, LLC, the firm owned by Hsieh and Alfred Lin, Zappos' operating and finance chief, that made the initial investment in Zappos. Venture Frog owned 39.9% of the Zappos shares. Nick Swinmurn, Zappos' founder, owned 11.2% of the shares and Lin owned another 2.7% excluding his Venture Frogs stake.
And those that think Hsieh did it for the money are off base as well. After all, this is a second act for the young serial entrpreneur. He and two other partners sold LinkExchange, a company he founded as a 23-year-old Harvard grad, to Microsoft for a reported $265 million in 1998.

According to the filing, Zappos and Amazon met several times over the years to talk about potential partnerships, including in Las Vegas in August 2005. At the time, Jeff Bezos, Amazon's chief executive, met with Hsieh, Lin and Michael Moritz, the Sequoia partner who serves on Zappos' board. The two sides met again at a March 2008 dinner in Scottsdale, AZ, where Lin was introduced to Peter Krawiec, Amazon's VP of corporate development. According to the filing, the two discussed briefly whether Zappos would consider a business combination or strategic partnership with Amazon," the filing said.

The conversations continued between between Amazon, Morgan Stanley, and Mr. Lin and Mr. Moritz at Zappos. Krawiec eventually proposed an all-cash acquisition on May 4. Lin asked about an all-stock deal.

On June 1, after presenting the deal to Amazon's board, Krawiec flew to Las Vegas with a proposal for Zappos, which Zappos presented to its board the next day. After several weeks of document reviews and visits to Zappos facilities, Amazon announced the acquisition July 22.