By Thomas J. Ryan
In a webinar, "The Future of Youth Sports Economic Impact & Business Strategy Ahead," professors at the American University in Washington, D.C. detailed the obstacles the return of youth sports faces, includes rebuilding critical infrastructure amid the depletion of funding.
Keith Scully, sports business consultant and a faculty member at American University, said youth sports is a $19.2 billion global business, higher than the NFL at $16 billion. That's followed by the NBA, $8 billion; Indian Premier Cricket League, $6.8 billion; English Premier League, $5.9 billion; and NHL, $5 billion.
Scully added that while much has been made of the cancellation of major sports leagues as well as golf, tennis and soccer in mid-March, the "real story" that has been underreported by the media has been the cancellation of youth sports that's left "millions of children sitting at home."
He said the webinar's focus was to identify the "hidden challenges" of bringing back youth sports since they're significantly different than bringing back professional sports.
The obstacles of bringing youth sports back include:
Social distancing guidelines;
Ability to get referees;
Field space issues;
Parents feeling comfortable about allowing kids to return to play; and
Cost.
Cost is a major issue as most youth sports programs, especially the non-profits, are reliant on corporate and philanthropic giving. Youth sports generally don't benefit from  broadcast, sponsorship or merchandising revenues, and operators are typically small businesses or nonprofits without "rainy day funds."
"We have a challenge with the backbone of the financing of youth sports going away," said Scully. "The local retailers and the local restaurants and the car dealerships and all the different people that are involved with going ahead and supporting youth sports have had to go ahead and relook at how they're spending their money so they can survive."
Another hurdle is parental concerns. Signup numbers for youth sports at the local level are expected to be later as some parents will wait to see whether schools reopen for in-classroom learning before they sign up their children for other activities.
A survey taken in the first week of May by North Carolina State University, in partnership with the Aspen Institute's Project Play, Utah State University and George Mason University, also shows that while most parents of children who participate in organized sports look forward to a return to play, approximately 50 percent fear they, or their child, will get sick from such activity when restrictions are lifted due to the coronavirus pandemic.
Financial concerns are also a factor in the return to play to organized sports. The survey showed that 54 percent of sports parents' finances have been impacted negatively by the COVID-19 crisis. Nineteen percent of parents said their child has lost interest in playing their sport during the shutdown, and 18 percent indicated their child does not plan to return to it when restrictions lift.
Heightened concerns over travel related to the virus are expected to be a hurdle for travel teams. But the crisis may further widen the gap between those who can afford to pay for travel teams and those who can't.
Infrastructure hurdles is another factor as sports' return assumes fields, arenas, courts, tracks, and pools will be ready to play. Many municipalities and schools are facing tighter budgets and staff restrictions. They'll also have to deal with the removal of barriers promoting physical distancing such as fencing around playgrounds and reinstalling hoops on basketball courts and other extra work.
League organizers, coaches, refs, umpires and league-involved parents will also have to come back. Many are volunteers and may be out of work.
"That uncertainty will add to the complexity of issues youth sports organizers will face," said Matt Winkler, director of the Sports Analytics and Management Graduate Program at American University. "Many of the things that have been taken for granted in the past — access to facilities, field maintenance, sponsor support, paid and volunteer coaches and referees — will have to be evaluated in the aftermath of the sharp economic plunge."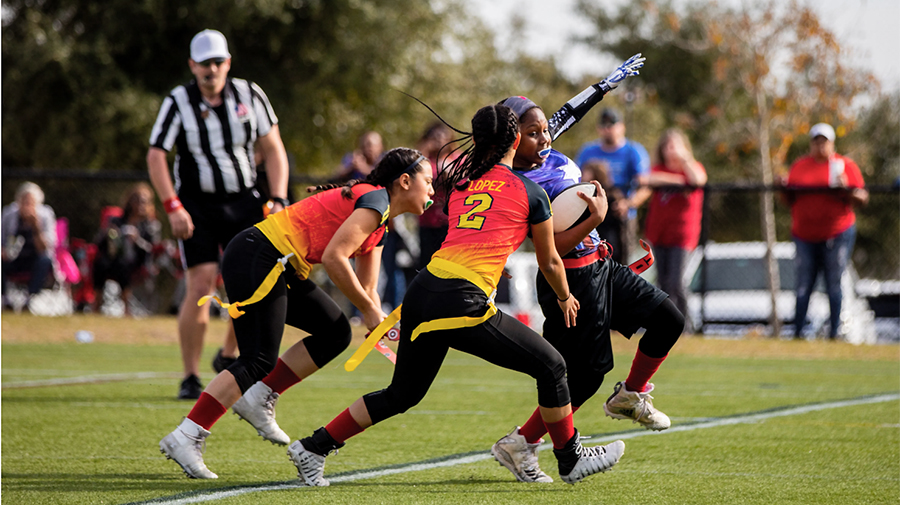 The professors believe there should be an urgency behind the return of youth sports.
Following the 2008 recession, team sports participation dropped from 45 percent in 2008 to 38 percent in 2014, according to the Aspen Institute, and has remained stagnant since. A downturn in the coming months could cause a similar loss.
Moreover, the average child today spends less than three years playing a sport and quits by age 11, according to a 2019 survey of sports parents conducted by the Aspen Institute and Utah State University. Said Scully, "This is a very, very important point because unless we start really pushing to go ahead and get youth sports started again as quickly as possible, we will erode into that time we have to go ahead and spend with kids in youth sports."
Solutions to returning youth sports include government relief.
Through the Play Sports Coalition, hundreds of organizations, retailers, services, producers, travel, and sports companies have petitioned Congress to create an $8.5 billion "youth sports relief fund" to "stabilize the industry and invest in recovery."
On May 18, Congressman Max Rose (D-NY) introduced the COVID-19 Youth Sports and Working Families Relief Act (H.R.6912) to Congress as part of that with four objectives:
Authorize a relief fund for youth sports providers, programs and organizations currently affected by the COVID-19 pandemic;
Expand the Child and Dependent Care Tax Credit to include expenses for youth physical activities, including organized individual and team sports, fitness and exercise and other recreational activities;
Ensure that expenses related to youth physical activities are eligible to be paid for with Health Savings Accounts (HSAs) and Flexible Spending Accounts (FSAs); and
Increase the maximum contribution per household for Dependent Care FSAs from $5,000 to $10,000.
Some sports clubs have also found success with the CARES act and have been able to remain open.
What may also guide youth sports' return is the formation of something similar to a "Ministry of Sport" that guides sports initiatives in other countries. President Trump, in mid-April, named a Sports Cabinet to help bring back the return of professional sports, and Winkler believes that could be "the first inkling of what a Ministry of Sport might look like." The coalition could also support the hosting by the U.S. of the Olympics in 2026 and World Cup in 2028.
Other paths to bring back sports may be organizers capitalizing on virtual training including apps such as HomeCourt, TechniCoach and TopYa for soccer. Virtual training could continue to keep players engaged should an outbreak reoccur.
TeamSnap, the online management and communication tool for leagues, as well as similar online tools from others, could assist in handling scheduling changes and other matters. TeamSnap is already seeing teams increasingly connecting digitally via Zoom meetings and practices and staying in touch via the TeamSnap chat.
Specific sports organizers can also play a significant role in reviving their sport. Scully called out Varsity Spirit's efforts to support cheerleading through their camps and competitions as well as their emphasis on coach certifications. He believes Varsity Spirit played a major role in driving cheerleading's strong participation gains in recent years, according to SFIA data.
…
The professors conducted research with Deloitte to come up with a "new starting line" to bring back youth sports. One overarching theme was to shelve all previous plans for the year and "look at everything as brand new" to bring more open-minded assessment of the COVID-19-related challenges.
Other priorities in restarting sports include developing a comprehensive view of local safety updates and rethinking management systems and operating models. Said Scully, "How do you get things done faster with less?"
A focus should also be on expanding collaboration, including calling out early for volunteers and making additional hires, if possible, to help manage unexpected issues. Finally, Scully urged organizers to "stay liquid with your strategies." For instance, contingency plans and communications should be pre-planned in case an event scheduled for the Fourth of July has to be rescheduled for a few weeks later due to safety or other reasons.
Scully concluded with four "2020 Next Steps" to guide the return of youth sports:
Define what is safe and communicate return to play stages. (Priority: Parents sign-on!)

– Scully said the return will come back in stages, likely initially starting with practices, then possibly games without spectators and then games with only parents. No major events may be taking place for a while. Stressed Scully, "You need to have parents sign on to go ahead and go forward."
Plan NEW modified local event location, schedule, and supporters. (Popup Events and Festivals!) – Games should work like "pop-up events" where a planned event can be easily rescheduled a few weeks ahead if circumstances don't work out. The focus on making the events more like a "festival" is partly because they'd provide opportunities to support the restaurants, auto dealerships, dry cleaners, and others that have long supported youth sports at the grassroots level. Said Scully, "Let them then go ahead and sell and promote themselves at these events as well."
Communicate and market the new EVENTS. (Invite and Surprise!) – Scully said, "If you don't go ahead and make everybody understand what that whole new event is going to be, it's not going to take off. You need to invite and you need to surprise, meaning that it has to be a great reception of the programs going forward."
Support the $8.5 billion Sports Coalition COVID-19 federal relief fund – Said Scully, "Because the money is not there, supporting the $8.5 billion Sports Coalition federal relief fund needs to be done. And it needs to be done fast. We're going to have a very small window to get the kids back. On top of that, to keep their interest. On top of that, to go ahead and support what they need to go ahead and do this year."
Photo second from lead, courtesy National Flag Football