By Thomas J. Ryan
Vail Resorts reported a 68 percent decline in revenue in the fiscal fourth quarter ended July 31 as its resorts were closed for much of the quarter. On a positive side, skiers are buying the company's Epic Pass for the coming season.
Pass sales are up 18 percent compared to the prior year through September 20. Revenue from pass sales in dollars is down 4 percent, though, as a result of credits to skiers whose season was cut short. Without deducting those credits, pass sales revenue through September 20 would be up 24 percent compared to last year.
The increased pass sales come as its U.S. resort communities experienced increasing demand from leisure travelers throughout the month of July.
"We believe this speaks to the current preference of travelers for outdoor experiences, locations they are familiar with, and for many, the option to drive to our resorts," said Rob Katz, CEO, on a conference call with analysts.
The company forecasts total unit sales of its season pass offerings for the 2020/21 season to be mostly flat. The company did not issue full-year guidance, citing uncertainty related to Covid-19.
"On a relative basis, we do expect a stronger visitation from local and drive-to guests this season than guests who traditionally fly to our resort," Katz said. "We also expect a stronger visitation from repeat guests versus new guests and infrequent skiers and riders."
The company still expects "material declines" in visitation to its resorts and revenue declines in fiscal 2021, relative to its prior expectations for fiscal 2020. It also expects significant declines in international travel, which should affect its Whistler Blackcomb resort in Canada. In the past, about half of the visits to the resort came from outside Canada.
Vail Resorts said that given the expected outsized impact to destination visitation, material declines are expected for its ancillary lines of business, including ski school, food and beverage, and retail/rental that tend to rely more heavily on destination guests. Food and beverage is also expected to be negatively impacted by capacity constraints on dining operations.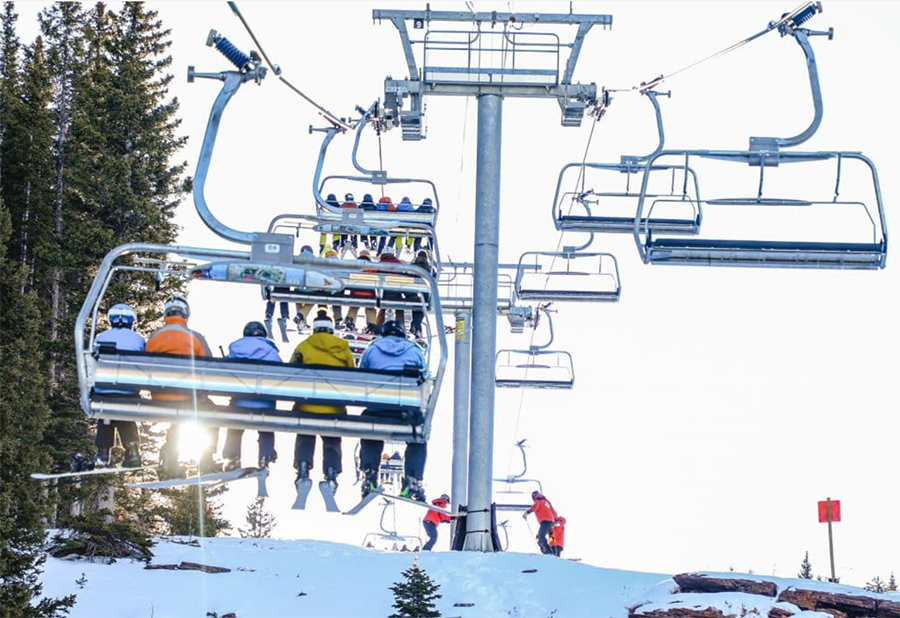 The company provided an update while reporting fourth-quarter results that were heavily impacted by COVID-19. Fourth-quarter results for the period ended July 31 included approximately one month of operations from its North American summer and Australian winter seasons, which were also negatively impacted by certain COVID-19 related limitations, restrictions and closures.
In Australia, Perisher opened on June 24 and Hotham and Falls Creek on July 6 although Hotham and Falls Creek were subsequently closed on July 9 following the issuance of stay-at-home orders by the Victorian government on July 8. At Perisher, operations were negatively impacted by poor snowfall resulting in limited terrain and, as a result, limited guest capacity for a portion of July.
In North America, U.S. resort communities experienced increasing demand from leisure travelers throughout the month of July, with group demand negatively impacted by COVID-19-related disruptions. Whistler Blackcomb demand in July was below expectations due in part to travel restrictions, with the Canadian border closed to international guests, including guests from the U.S.
Resort revenues overall in the fourth quarter tumbled 68.4 percent to $77.1 million. Reported resort EBITDA showed a loss of $103.8 million against a loss of $60.5 million a year ago.
The company attributed the profit decline to early resort closures as the pandemic erupted, credits awarded to pass holders who missed the last month of skiing, and the slow rollout of summer activities at its ski resorts. The quarter reflected $124 million in net cost reductions, driven by a combination of reduced seasonal labor and expenses as well as significant overhead cost-saving actions.
The net loss for the quarter came to $153.6 million, or $3.82 a share, against a loss of $89.5 million, or $2.22, a year ago.
For the full fiscal year, revenue decreased 13.6 percent, to $1.96 billion. The resort operator reported EBITDA was $503.3 million for fiscal 2020, compared to resort reported EBITDA of $706.7 million for fiscal 2019, primarily as a result of the negative impacts of COVID-19 and partially offset by disciplined cost management
Net income for the year was $98.8 million, or $2.42, for fiscal 2020, a decrease of 67.2 percent, primarily as a result of the negative impacts of COVID-19.
Katz promised it would be business as usual at his resorts this winter, with teams "opening as many lifts and as much terrain as possible," while prioritizing the health and safety of guests and employees.
Last month, Vail announced a reservation system for skiers in 2020/21, with pass holders getting early access. That will "enable a safe and successful ski season," Katz said, but warned that the operating plans for the coming season "will negatively impact our fiscal 2021 results."