The 2016 Summer Olympics in Rio has had us hooked to our televisions each night this week, and so far, the eye-catching, heart-pumping event has been swimming, where Michael Phelps is following through on a comeback for the record books, Katie Ledecky has yet to lose an individual race and Lilly King had us all chanting "USA! USA! USA!"
As it should be, our focus is on the athletes at the Games, but being in the business of the trade we also can't help but notice the active-lifestyle brands winning prime real estate on the Olympic stage that may spur consumers into stores looking for the same gear as their heroes wear in the coming week.
First of note is swimwear company Arena.
Co-CEO Giuseppe Musciacchio told SGB, "Our long term strategic partnership with USA Swimming is one of the most important marketing and communication assets for Arena. Since 2013, USA Swimming has been a key lever for arena to grow its presence in the U.S. market, where the brand has now claimed a leading role in the racing swimwear category. Arena and USA Swimming cooperate on multiple levels, from elite to grassroots, all to benefit and celebrate the sport year-round, grow participation at the grassroots level and recognize the top athletes in the country."
And as for the sweet Olympics platform, Musciacchio added, "With hundreds of swimmers wearing Arena suits on the blocks of course this means a global showcase for the brand, that we expect to generate further international growth for us over the next four years."
Quick history lesson: Arena was launched in the early '70s by Horst Dassler — son of Adidas Founder Adolf Dassler — as a division of Adidas AG, and later sold in 1990. The brand prides itself on being the first swimwear brand to engage in textile and fluid-dynamics research to improve its products.
Many would expect to see Speedo leading the charge in Olympic swimming sponsorships, but in 2012 USA Swimming penned an eight-year contract with Arena, naming it the exclusive outfitter of all U.S. National Team apparel — i.e. what the athletes wear out to the pool deck, during introductions, team pictures and team functions. That being said, Speedo is also a sponsor of USA Swimming, providing some of the in-the-water swimwear pieces for the team competing in Rio.
And in case you're wondering, it's all kosher to have more than one brand stamping the USA Swimming athletes, unlike USA Track and Field and USA Basketball, where Nike has pushed out all other competing brands. In April 2011 the U.S. Olympic Committee extended its deal with Nike through 2016 (which began in 2005), so we'll see if another honcho swoops in — Adidas, Reebok, Puma … or perhaps even Brooks and Zappos given this week's news. Nike, by the way, also has some swim exposure, as athletes don its exclusive U.S. medal ceremony jacket (more on that later this week in SGB).
According to the Olympic International Operations Committee's (OIOC) Procedure Manual for USA Swimming, the "Uniform Policy" reads, "Wearing the National Team uniform is a requirement for participation on the National Team." And in this case, multiple brands make up the outfit, also including pieces from TYR.
Still there are strict regulations the U.S. swimming athletes must follow: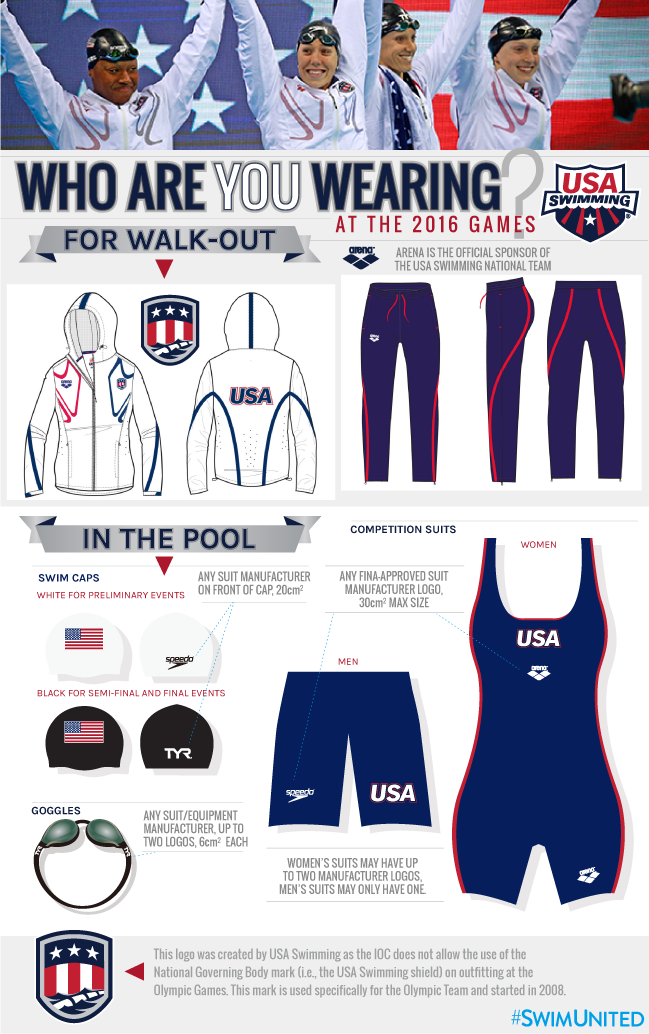 Historically, Speedo is more notorious for its Australian Olympic Team sponsorship, which it's had since 1956. Outside of the Olympics, Speedo endorses elite swimmers from Brazil, China, France, the U.K., Jamaica, New Zealand, Spain and the U.S.
Meanwhile, Arena blew Speedo's list out of the water, endorsing athletes from Denmark, France, Germany, the U.K., Hungary, Italy, Lithuania, Poland, the Netherlands, Sweden, Russia, Canada, Argentina, Brazil, Japan, South African Republic, Australia and more.
The second brand we've noted getting some good air time on TV during the swimming events — albeit mostly in the background — is 361 Degrees, an international sportswear brand out of China.
The company sealed a high-profile deal to provide official Olympics clothing to all Rio 2016 volunteers, technicians and torch relay participants, a move that did a stellar job of getting the brand's emblem out to the masses.
361 Degrees is also getting some athlete exposure, sponsoring the Chinese national swimming and cycling teams, including star swimmer Sun Yang, who has already earned a Men's 200m freestyle gold and 400m freestyle silver. Yang was the first Chinese male swimmer to win an Olympic gold medal, in 2012.
Finally, while Under Armour is getting most of its exposure from its bling-bling U.S. Women's Gymnastics uniforms (more on that later this week, too), it is no doubt celebrating the "Rule Yourself" endorsement UA inked with Phelps leading up to the games. The company also found a way to supply running shoes to the USA Swimming team athletes, thanks to the brand's close relationship with Phelps, who helped usher through the deal.
Photo courtesy Speedo