Profits at Thor Industries Inc. jumped more than six-fold in the third quarter ended April 30 as demand for RVs remained robust at retail and dealer inventory levels remained at historic lows.
The performance marked the highest quarterly net sales and net income figures in the company's history.
"These results show that growth continued unabated after the initial temporary shutdown of our dealers and Thor Industries' production lines in late March through the end of April of last year due to the pandemic," said Bob Martin, president and CEO of Thor. "We have increased our production levels, often with modest capital expenditures, and intend to continue to increase production levels to address the ongoing, robust consumer and dealer demand for Thor Industries RV products, while also managing through continuing supply chain challenges."
While the pace of production and shipments has accelerated, demand at both the retail and wholesale levels is so high that independent dealer inventories of Thor products continue to decline while dealer sales are increasing. This increasing consumer demand has driven Thor's order backlog to more than $14 billion at the end of the quarter and includes units that will be needed to restock depleted dealer inventories.
Said Martin, "Since a significant number of units in our backlog have already been retail sold, we currently believe the restocking cycle will extend well into calendar 2022."
In the latest quarter, sales doubled to $3.46 billion from $1.68 billion in the third quarter of fiscal 2020. Beyond strong demand in the current-year period, the gains reflect the negative impact of the pandemic in the prior year, which began in the middle of the prior-year third quarter and resulted in six-to-eight weeks of production shutdowns at most of its facilities.
Gross margins improved 240 basis points to 14.6 percent due to the impact of the increase in sales in the current-year period compared to the prior-year period and the payback from strategic initiatives designed to improve margins.
Net income reached $183.3 million, or $3.29, against $24.1 million and 42 cents a year ago. Earnings exceeded the former record for EPS of $2.53 in the third quarter of fiscal 2018.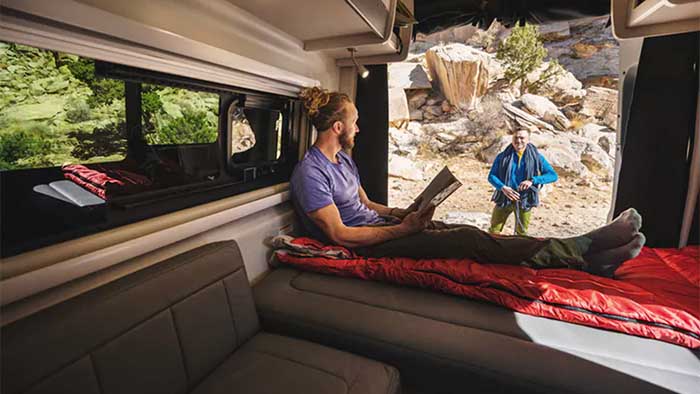 Among its three segments, sales of North American Towable RVs climbed 124 percent to $1.73 billion. Income before taxes improved $167.7 million against $49.3 million in the third quarter of last year. North American Towable RV backlog was $7.43 billion at April 30, compared to $857.9 million a year ago.
North American Motorized RV sales rose 193.7 percent to $775.4 million. Of the increase, $151.7 million was due to the acquisition of the Tiffin Group in December 2020. Income before taxes was $54.8 million, compared to $10.9 million in the third quarter of last year. Backlog was $3.55 billion at April 30, compared to $548.0 million at the same time a year ago
European RV sales were $894.2 million for the quarter of fiscal 2021, up 45.3 percent year over year. Income before taxes was $44.0 million compared to $200,000 a year ago. European RV backlog was $3.34 billion, up triple from $803.5 million a year ago.
For the third quarter, unit shipments increased 113 percent for its North American Towable segment, 148 percent for the North American Motorized segment and nearly 34 percent for the European RV segment.
Looking ahead, Thor noted that the RVIA (Recreation Vehicle Industry Association) forecasted total North American wholesale RV shipments of 576,100 units in the calendar year 2021, representing an increase of 33.8 percent over 2020. Thor said it continues to be strained by supply chain challenges and is working on resolving near-term supply chain shortages while pursuing long-term solutions to avoid potential future issues.
Colleen Zuhl, Thor's SVP and CFO, said, "While we reported excellent results, the supply chain continues to be a constraint for the RV industry and Thor Industries alike, limiting our ability to increase production further to meet increased levels of dealer demand. As a result, Thor Industries is implementing various supply chain strategies to minimize these constraints while also working closely with our suppliers."
"Looking ahead, we expect long-term health in the RV industry," said Martin. "We see the increased interest in the outdoors and RV lifestyle as a fundamental shift in consumer preferences, a shift that began before the pandemic and picked up steam over the last year. It is a trend we believe will continue to grow throughout our global market space."
As one example of the underlying data supporting its optimism, Martin said Thor sees growth in two areas that have historically been frequent pathways to purchase for the first-time RV buyer – outdoor camping and RV rentals. He pointed to the recently released 2021 annual camping report, Kampgrounds of America (KOA), that found more than 10 million new households were camping in 2020 and estimated an additional 4.3 million people would try camping in 2021 for the first time.
KOA also projected that there would be 52.6 million camping households in 2021. In addition to new campers, Martin noted that the industry saw a sizeable increase in RV rentals in 2020.
Martin added, "The findings of Thor Industries 2020 RV Rental Study support the belief that those who rent an RV have a high propensity to purchase an RV eventually. These indicators, when combined with our robust order backlog and the historical three-to-five-year trade-in cycle of current RV owners, reaffirms our belief that strong demand for Thor Industries products is sustainable over the coming months and years."
Photos courtesy Thor Industries