By David Clucas
Get ready for a hot summer for Sport Footwear sales.
Despite some pricing pressures from retail bankruptcies and liquidations in the market, SSI Data's* latest retail point-of-sale figures for the fiscal month of June (June 4-July 2, 2016) showed Sport Footwear sales rising 12.9 percent in dollars and by 19.9 percent in units.
It's the largest prior-year, single-month increase for the category since December 2015, when a warm start to the winter helped spur a 14.2-percent rise in Sport Footwear sales. Year to date for 2016, Sport Footwear sales are up 9.2 percent, according to SSI Data.
Average selling prices (ASPs) dropped $3, likely hit by liquidation and some excess inventory, but consumers more than made up for the drop with strong demand.

"Shoppers are feeling good heading into the summer season as U.S. consumer spending recently rose at its fastest pace in nearly seven years," said Andy Annunziata, vice president and senior softlines analyst for SSI Data. Combine that with rising wages, pre-Summer Olympics marketing and continued strong sport fashion trends and "we seem to be set up for a very good back-to-school season."
One of the most positive news to come out of June's data is that Sport Footwear sales rose across the board by channel, including an increase of Run Specialty sales, which has suffered of late as consumers flocked to more affordable Fashion Running Footwear styles at larger retailers. "Cushioning/Neutral Running styles drove most those increases," Annunziata said. Performance Trail Running shoes also saw a nice bump. Still, Fashion Running Footwear styles continue to account for 50 percent of all Running Footwear sales, Annunziata noted, and the trend is nowhere near from over, with Fashion Running sales growing 20 percent versus a mid-single-digit rise for Performance Footwear in fiscal June.
By category, Running Footwear remained the No. 1 seller in June, contributing just shy of one-third of total Sport Footwear sales. Casual Athletic Footwear sales came in at No. 2 with 24 percent of sales, and Basketball Footwear was at No. 3 with an 18-percent market share.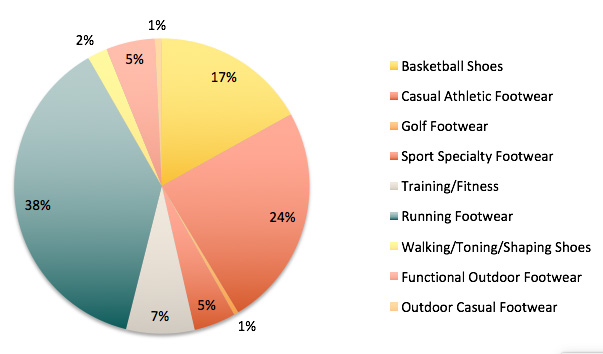 By brand, Nike saw its market share lead (at 39 percent) slip with more-or-less flat sales in June, although it gave up some of that to its sister brand Jordan, which saw sales rise 15.8 percent in June to come in at 11.2 percent market share. The biggest gainer in June was Under Armour as it pushes further into the running market, more than doubling sales for the month at retail and firmly grabbing the No. 3 Sport Footwear market share spot at 7.1 percent over Adidas, Asics and Skechers.
Up ahead, expect new debuts to coincide with the back-to-school period and the Summer Olympics. And while things look rosy now, the real effect of the recent retail turmoil might not show itself for another few months or even until next year. That being said, if consumers' appetite for Sport Footwear stays strong and the segment continues to hit the right fashion notes, the market may not even notice the extra inventory.
*SSI Data, powered by SportsOneSource, collects and analyzes POS data from more than 15,000 retail doors across nine channels of distribution. To learn more, call 303.997.7302 or email Solutions @ SportsOneSource.com
Lead photo courtesy Under Armour
Charts courtesy SSI Data.