By Thomas J. Ryan
Canadian Tire Corp. reported sales dropped 24.9 percent at its SportChek segment during the quarter while sales sunk 21.4 percent at Helly Hansen as both were impacted by store closures.
At the SportChek segment, total sales, which includes the contribution from franchises were Canadian$306.7 million in the quarter against C$452.5 million a year ago, representing a decline of 32.2 percent. The segment includes SportChek, Hockey Experts, Pro Hockey Life, Sports Experts, National Sports, Intersport and Atmosphere.
All 398 stores across the SportChek segment closed on March 19 and began reopening from May 4 through June 24. Only two stores had yet to reopen at the quarter's end.
On a conference call with analysts, Greg Hicks, Canadian Tire's president and CEO, said that given that the majority of stores at SportChek as well as at its Mark's work apparel format were closed during the quarter, the company decided to clear its inventory at both concepts to help its mix "stay as relevant as we could to our customers" as well as to preserve cash. The clearance efforts relied "heavily and almost exclusively" on e-commerce. As a result, SportChek's online sales were up 300 percent in the quarter.
The clearance moves, however, impacted the company's overall gross margins.
Hicks said, "We were pleasantly surprised with the amount of sales we were able to hold onto and very pleased with how dynamically our store teams reacted in winding down and winding back up operations. The team showed incredible resilience in the face of continuous change, implementing curbside pickup for the first time in the quarter in order to continue serving our customers safely and conveniently."
As SportChek stores reopened, traffic steadily improved and the segment's retail growth returned in June with a 3.2 percent gain.
Helly Hansen's revenue in the quarter was C$68.9 million and the decline partly reflects foreign-currency-headwinds. On a constant currency basis, Helly Hansen revenue decreased 12.6 percent
Hicks said on the call, "For Helly Hansen, most of our wholesale customers were closed across the globe in the quarter, as were our distribution centers and retail stores. As a result, revenue for the quarter was down 21 percent." Similar to SportChek and Mark's, Helly Hansen's business started to pick up in June and was up 8 percent for the month, driven by continued strength in e-commerce.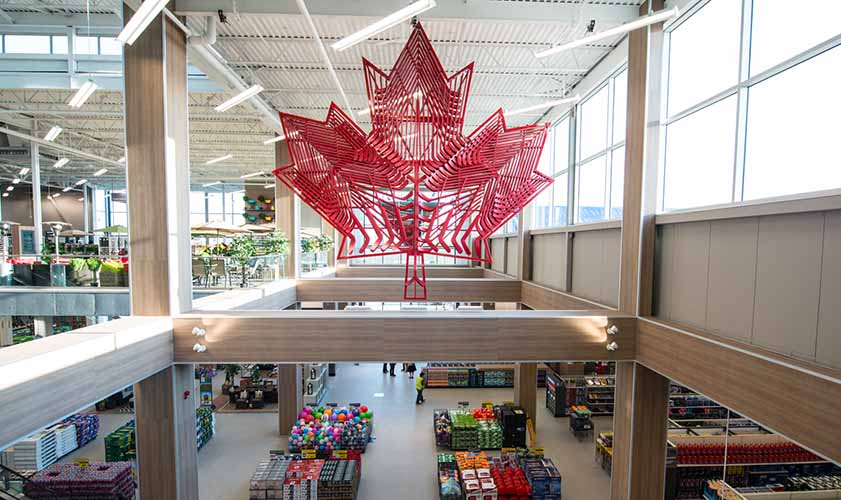 At its flagship Canadian Tire Retail (CTR) segment, retail sales grew 20 percent in the quarter despite 203 stores in Ontario being closed for the first five weeks of the quarter. Excluding Ontario, CTR's sales were up 30 percent. CTR's overall growth trajectory went from a decline of 1.8 percent in April to a growth of 25 percent in May and 38 percent in June.
"Staying home, shuttered stores and social distancing protocols didn't change the essential role that Canadian Tire plays in the lives of Canadians," said Hicks. "They amplified it. Throughout the quarter, we saw fundamental shifts in consumer spending habits, activated by COVID-19, including a macro trend indicating that customers are now, more than ever, looking for a one-stop shopping experience. Our performance in the quarter grew progressively stronger as our customers' wants and needs evolved, and the number of relevant categories continued to grow accordingly."
In the first few weeks of April, growth was driven by 25 percent of CTR's categories, primarily health, cleaning and safety products, as well as a shortlist of products such as bicycles, toys and games, "from what we are calling our board and busters category," said Hicks.
As Canadians began to settle into stay-at-home environments, "our shortlist of board and buster categories" expanded to include a wider assortment, such as gardening tools and products, patio furniture, barbecues and inflatable pools. By the end of June, more than 80 percent of the company's categories were growing at a double-digit rate.
Hicks noted that the retailer saw "unprecedented and unpredictable demand" for products such as bicycles, pools and outdoor furniture that far exceeded both historical demand and available inventory. Hicks said, "To put that in perspective, in Q2 we saw categories generate sales that we typically see over an entire year."
Hicks said the company's merchant team is aggressively working to restock supplies. He added, "Our vendors, too, are working around the clock to manufacture products and keep up with this unprecedented demand. We are taking additional actions to adjust and increase our forecasts and future purchases, working to decrease vendor lead times and increase capacity at our distribution centers. Although we could not have predicted this, I am confident we are doing everything we can to close the gap as we progress through the balance of the year."
Providing an update on current business trends, Hicks said the momentum CTR saw in June continued in July with sales performing at similar levels. Progress at SportChek and Mark's is also continuing. Hicks added, "And with respect to profitability, gross margin rates at SportChek and Mark's have started to stabilize with both the stores and e-commerce channels fully operational."
Companywide, consolidated revenue decreased 14.2 percent to C$3.16 billion. Excluding petroleum, consolidated revenue 8.0 percent in the quarter, primarily due to store closures at SportChek, Mark's and Helly Hansen
Diluted EPS came to a loss of C33 cents a share with adjusted EPS at a loss of C25 cents. That compares to adjusted EPS of C$2.97 in the prior year.
The margin loss from the clearance efforts at SportChek and Mark's was the single-largest contributor to its year-over-year decline in earnings in the quarter. The company also incurred C$41 million, or C50 cents a share, of incremental operating costs directly attributed to the company's COVID-19 activity, including the temporary special support payment at its corporate stores, its call centers and distribution centers, as well as costs associated with the enhanced safety protocols in stores.
Inventory at CTR was leaner due to the strong consumer demand, and lower at Mark's and SportChek as a result of efforts to clear inventories.
Hicks, in his first analyst call since being promoted to CEO, said the company remains focused on its long-term growth strategy and recently promoted Paul Draffin to chief supply chain officer and Stephen Brinkley to president, SportChek. He said Brinkley 's appointment came after he spent several months in a "critical operational role in navigating COVID-19."
Hicks also said the company remains committed to its Operational Efficiency program and continues to make progress towards its previously stated C$200 million-plus target in annualized savings by 2022
Hicks concluded, "Throughout Q2, we remained agile. We made decisions and implemented new programs quickly. We learned what is working and what must change. We faced obstacles this quarter, some of which became stumbling blocks and are reflected in our results. But given what we achieved in the face of the COVID-19 crisis, our current trajectory and our extreme relevance to Canadians only furthers my confidence in our future —a future where CTC emerges as a clear winner."
Photos courtesy Helly Hansen, CTR