By Eric Smith
When Dan Maravilla and Trent Valladares went searching for a partner to help them grow Hex, the eclectic Los Angeles, CA-based backpack and accessories brand they founded in 2010, the duo had a few criteria.
They wanted to keep intact their small but dedicated staff. They wanted a backer that would nurture the brand they had built over the past eight years. And they wanted the products they had poured their heart and soul into creating to be exposed to a wider audience with the production and distribution capacity that only a larger company could offer.
Once the longtime friends and business partners stepped inside the office of Exxel Outdoors, everything became in tune. Maravilla and Valladares, friends since they were teenagers and members of the 1990s alt rock band Clyde, felt an immediate connection the moment they saw the instruments that belonged to Exxel's founders, Harry Kazazian and Armen Kouleyan.
"We walked into their office and right away saw amps and a drum set and we thought, 'This is interesting,'" Valladares said.
Kazazian and Kouleyan were also musicians, having played together in the hair metal band Iron Tears a few years earlier in some of the same L.A. clubs as Maravilla's and Valladares' outfit. The interest was mutual.
"From the first time we got together we just connected," said Kazazian, CEO, Exxel Outdoors. "I felt really comfortable with them because of their backgrounds as musicians, so there were some similarities."
Those similarities proved to be harmonious, and after discussions about purchase price and other due diligence that comes with any purchase, Exxel Outdoors formally acquired Hex on June 1.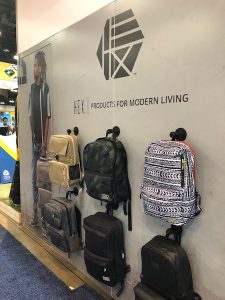 While the companies didn't announce the deal publicly until this week's Outdoor Retailer Summer Market in Denver, CO, Exxel carved out a space in the company's trade show booth for some of Hex's products (pictured at right), cluing in show attendees to Exxel's new portfolio addition.
And though terms of the deal were not disclosed, Kazazian, Kouleyan, Maravilla and Valladares otherwise spoke openly about the acquisition—and exclusively with SGB—including their growth expectations now that Hex is part of an Exxel Outdoors family that includes such brands as Kelty, Sierra Designs, Slumberjack, Wenzel and Ultimate Direction.
Hex's spot in that portfolio makes more sense than what immediately comes to mind, the Exxel Outdoors leaders noted.
"They're a good fit because it's not like any other brand that we have but I still look at it as an outdoor product for city people," Kazazian said. "It's urban outdoors but it's still outdoors. It's still in our core competency and I love their creative talent."
That creativity, coupled with an uncanny compatibility among all four of the business partners, proved to be music to everyone's ears.
"We took a look at their products and we definitely saw an opportunity for both sides," said Kouleyan, vice chairman, Exxel Outdoors. "Together, we knew we could really help grow that brand even further."
Fully understanding how Hex became part of the Exxel Outdoors family and where the brand might grow requires a trip back to the 1990s in L.A., where Maravilla and Valladares got their start working for the accessories company that Valladares' family owned.
After designing products for other brands under license for a few years, the pair figured they had forged the experience needed to launch their own consumer brand—and they also saw a significant shift in the marketplace.
"We felt that for too long the consumer was being overly categorized, overly pigeonholed and put into too many separate boxes," Valladares said. "If you were a business man and you traveled with a computer, then surely you didn't care what your bag looked like. If you like to go hiking, then surely you needed a pack that was going to take you to the top of K2."
"And if you liked higher-end materials or good design, then surely you want just a shell that didn't have any features or technical aspect to it, right?" Maravilla added. "They all segregated out."
Not only did Hex want to blur those categories, but the company also wanted to tap into the generational shift, as millennials were spending more money on lifestyle-focused rather than niche products.
"There was a change in how they live, a change in how they travel and a change in what kind of brands they want to be involved with," Valladares said.
Work and play, indoors and outdoors, artsy and rugged. They all blended into one category and Hex wanted to design products for anyone, no matter their creative or active pursuit. "Hyper-functional" is the term that Hex coined for their bags, bags that fell outside any of the current trends then dominating the category.
But after pouring everything they had into Hex over the past eight years, Maravilla and Valladares saw that they had reached the limits not of creativity but of resources. A parent company with a larger scale of production, distribution, IT, logistics, back-office support and supply chain efficiencies could free them up to focus almost entirely on design and expose them to a larger marketplace.
"We were just trying to build the brand," Maravilla said. "If you do well, no matter if you sell or continue running the business, either way it's going to be good. We were just focused on making the best brand, building brand equity and building a brand that had a legacy."
In Exxel, they found a partner that believed in, "empowering the brand, supporting the DNA of the brand, as opposed to saying, 'Let's swallow it up and put it through our machine," Valladares said.
But the scale of Exxel Outdoors, a company with about 320 employees, can't be overlooked. Assets include a manufacturing facility in Alabama where Made in the USA is a reality for Exxel Outdoors' brands as well as a distribution center in Nevada where widespread movement of goods and drop-shipping can expand a brand's footprint.
"Their strengths include the things that we weren't able to have access to at our size," Maravilla said. "They're talking about Made in USA, which has been on our agenda to do, but we've just been tied up running all these different things, taking care of all the details of running a brand, that we haven't been able to take on some of these new projects."
Now they can. The ink on the contract is dry; Hex has the financial and back-office support of Exxel Outdoors and all four businessmen are squarely focused on the future.
"They provide a foundation for us to do more on the front end, more design, more storytelling, more creative, more product," Valladares said. "Those are things that sometimes are hard to do when you're running it all."
What, exactly, the future looks like is hard to gauge, none of them would pinpoint revenue growth expectations and they all want to grow organically and not water down the brand during the ramping up of production.
Still, Kazazian has an idea of what Hex can bring to the Exxel portfolio as the brand is exposed to new channels and new geographies.
"I'm not going to commit to a number, obviously, but I believe they can at least triple or quadruple their size within the next three years," he said. "I'd be disappointed if we didn't do four times the size they are now. That is the kind of growth that I believe that I'm looking for. And that's the kind of abilities that we bring and I think we could make it happen."
[author] [author_image timthumb='on']https://s.gravatar.com/avatar/dec6c8d990a5a173d9ae43e334e44145?s=80[/author_image] [author_info]Eric Smith is Senior Business Editor at SGB Media. Reach him at eric@sgbonline.com or 303-578-7008. Follow on Twitter or connect on LinkedIn.[/author_info] [/author]