By Thomas J. Ryan
In its home country of Switzerland, a third of Schoeller's workforce is working remotely for the first time. In North America, the pandemic has delayed some orders, increased air freight costs and led to a rush to invent virtual showrooms.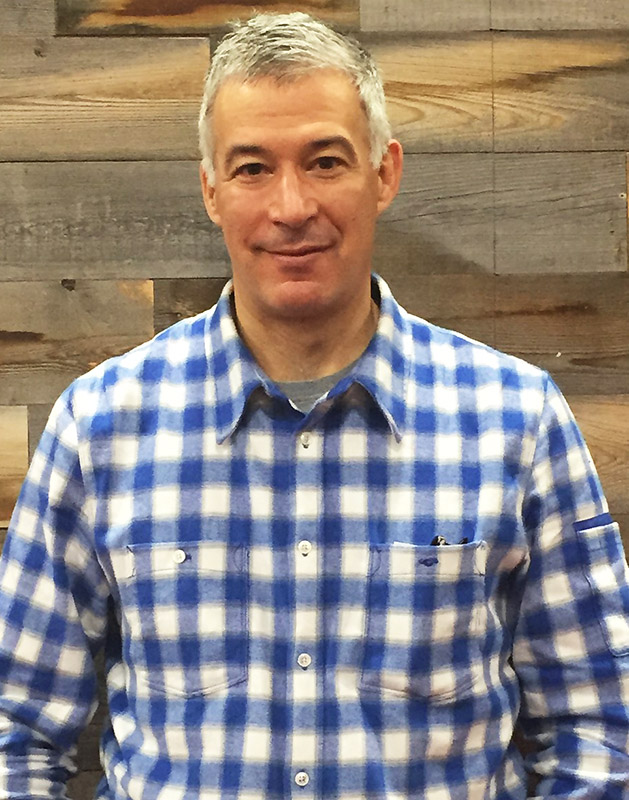 Stephen Kerns, president, Schoeller North America, tells SGB Executive, shown right, that his team has been working closer than ever with its brand partners on forecasting, sharing information and finding ways to be flexible to help each other manage through the crisis. Schoeller is expecting some stabilization in six to nine months. Kerns expects heightened interest in outdoor activities coming out of the lockdowns to help support a recovery in the outdoor space.
Here, Kerns discusses the many ways the pandemic has impacted Schoeller, heightened demand for functional fabrics and what he hopes will be post-coronavirus benefits to healthy lifestyles, the environment and the family.
…
How has the coronavirus outbreak impacted your company?  We are fortunate to still be manufacturing while continuing nice order flow. Our mill in Switzerland has added more shifts and reworked production stations to maintain a safe working distancing environment in these times. Schoeller is lucky to be working with a great diversity of brands, some that are maintaining production levels and some who are increasing their levels of production. We have had some customers who have been hit harder, and here we are trying to be flexible with working through postponed goods.
What's your recovery playbook? We remain very engaged with all our customers with frequent communications and, in some cases, video conferences. We have always had strong working relationships and now, more than ever, we are drawing upon each other even more. Mid-term, I see plans shifting toward potentially having some physical meetings again… but there will be fewer and with fewer people. We are thinking of ways to share deeper information virtually, which is easier in some categories than others. Our point of view is we will see even stronger consumer buying as we recover with outdoor activities being favored and pent up buying cutting loss. In some areas, this is already happening with customers making plans and purchases to return to their sports.
What were some of the easy decisions, versus the harder ones, that the company has faced as you've dealt with the pandemic? The easiest was transitioning the team to working remotely and remaining highly functional and efficient. Of course, the week that I made the call that we were stopping all travel was at a critical time when many team members had very important weeks planned ahead that took a while to organize. A day later California went into a state of emergency and then Washington over the weekend and European flights shutoff.  The daily decisions on time management and priorities are simpler without plane rides, rental cars and meals at home.
As an ingredients company, what are some obvious, and less obvious, ways the virus has disrupted your operations? We have had some circumstances where garment factories have not reopened fully and have delayed outgoing goods. It has also taken longer to move shipments to ports with additional inspections. Airfreight costs have become very high with fewer planes in the air, especially commercial, which all results in higher rates. We have worked as creatively as possible in these situations to ease costs; however, it is still tough.
How has your supply chain been impacted? We are lucky that, in most cases, our core raw materials have continued to be accessible and in demand. Some longer lead time raw materials have had some impact, but overall still a decent flow. A few weeks ago we had concerns with Italian raw materials as well as goods coming from Austria and Germany; however, we have been able to continue with just dealing with some extra steps for the time being.
How has the crisis affected employees? The global teams have remained resilient and adapted to the "pause" that hit life as we knew it and reduction in freedoms. We have been fortunate to not have furloughs anywhere at this time. Some team members have had furloughs within the households or businesses that have had to temporarily close. Where possible, we are helping each other with additional insights and ideas with children counting on us for school more than ever. I have always maintained an approach that taking care of the home front and personal health comes first, and the rest will fall into place. We will get to the other side of these times and be even stronger as a team. A third of our team in Switzerland is working remotely for the first time, and they are really embracing it. So far, no one has come down with COVID-19 globally, and we plan to keep it this way.
Has your partnership with vendor brands changed? We have become even closer, and we get into discussions far outside the usual transactional business nature. A lot of conversations are around shifting forecasts and how to prepare for more brand business going forward. We share ideas also on segments that we see continue to consume and the ones we see as coming out of this with hopefully the quickest recovery. In some cases, with younger brands who have been hit very hard by the crisis, we're trying to provide moral support that their ideas are still relevant and will be successful when the timing is better. Some have the resources and have been waiting for this moment to continue on. We have always prided ourselves on our enduring quality that represents a lasting investment in most cases. Quality is always in demand, especially in timeless style.
Which areas are you focusing your investments in and why? We have looked at our usual Range releases we do twice a year, and we will make sensible levels of newness releases here. While there is always an appetite for newness, they have to be relevant more so than ever with a focus on "essential," along with elements that set them apart. That said, we have shifted some technology development around finishes up on the priority list. We are always thinking ahead to what we can develop that will be the new "must-have solution" when it comes to functional textiles for primarily day-to-day life and then all the categories we are in as well. We also have textiles that work with the shifting environment conditions with thermoregulation and comfortable laminates.
What are your priorities for the coming year? Staying positive and leading for a better tomorrow.
Has your medium to long-term goals changed or been adjusted? We have recalibrated forecasts for the medium term and in six to nine months we could have more stability and slight growth in some categories. Our fashion category business may take longer to return to normal levels.
Some are seeing the spotlight on health due to the pandemic driving a heightened focus on an active lifestyle? What's your take? We have seen very nice continued support with our brand partners in the fitness space. A record number of people are heading out for walks, hikes, runs and bikes, and all things in between. Especially with gyms closed, people are heading outdoors more, which may become more habit-forming in the long term.
Has your company gotten involved in making masks or other PPE, or taken other steps to help out during the crisis? We have some activity forthcoming that is exciting. We have had PPE involvement for some time and continue to see demand increase there. As always, it is important to Schoeller to step forward with solid solutions that serve these important needs reliably and surpass required performance levels.
Do you see a silver lining out of the current challenges? This crisis has given us the gift of refreshing our climate conditions with better air, allowed some classic family traditions to return and likely helped position good health as paramount to all. It has given families time back and an opportunity for the ritual of preparing and eating dinner together. There is a beautiful return to what makes communities vibrant and strong with people rallying for all to get through this and supporting businesses and neighbors and all affected. I remind our two daughters of these gifts and to make the most of them as open time is a treasure.
Photos courtesy Schoeller