By Thomas J. Ryan
The owners at Charm City Run, Big Peach Running, Brooklyn Running, and Playmakers talked with SGB Executive about the adjustments they've made and their challenges and opportunities ahead in the face of COVID-19.
For the most part, the retailers have laid off part-time staff and have quickly shifted to e-commerce, delivery and contactless curbside pickup.
On the positive side, the owners expect curbside pickup as well as new digital tools, including virtual consultations and virtual races, to continue to be part of their offerings in the years ahead, presenting a higher level of convenience to today's shoppers. Other silver linings emanating from the pandemic are a new appreciation by consumers for local businesses as well as a surge in running being seen during the pandemic.
But many running shops are expected to close that weren't financially sound enough to weather the fallout from the virus. Significantly-elevated inventories are expected to create a promotional climate across retail in the months ahead. And stores are only beginning to grasp how social distancing can be done effectively inside their store environments.
Social distancing challenges seem to be an even bigger obstacle facing the return of road races, and a few owners lamented on the challenges that places on non-profits that count on the races for fundraising efforts. Like many businesses, the dominant questions are what can be done before a vaccine arrives and when will one arrive.
…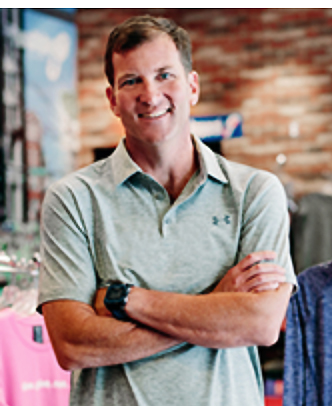 Charm City Run
Charm City Run, which has seven stores across Maryland, has shifted to "doing as much virtually as we could" with its stores closing, according to Owner Josh Levinson, shown right.
This includes broadening online offerings and bringing as much of the in-store experience online as possible. Zoom is being used for fittings online. If the runner has a treadmill at home, fitters can virtually analyze their gait. Said Levinson, "Zoom has been amazing, and we're getting better every day. It's amazing how personal it can get."
Return policies are being relaxed to enable a runner to try multiple pairs of shoes, similar to in-store, and return shoes that don't work.
Charm City is also doubling its efforts to connect with the community away from the store, including writing thank-you notes to its best customers. Said Levinson, "I'm communicating on a personal level through e-mail blasts like I've never done before."
The staff has been careful to avoid any "woe is me" messaging, he said, with the tone more around appreciation and support. Said Levinson, "Everybody's hurting."
In preparing to re-open, Charm City is looking at the carry-out food channel to see how those businesses are managing traffic and handling money. Charm City is currently using text messaging to support curbside pickup, but Levinson wonders if buzzers or apps may be better able to handle appointments or entry.
Inside the store, Charm City was "already disinfecting like crazy" prior to the stores' closings. Staff will be wearing masks upon opening, even if it's not mandated.
Overall, Charm City plans to do "a little bit extra" beyond what guidelines call for. Run specialty's long-time goal has been to remove the intimidation some customers feel coming in, but any anxiety about safety now has to also be addressed. Said Levinson, "They don't come in if they don't feel comfortable."
Virtual races and training also have been ramped up at Charm City. Levinson anticipates some challenges re-introducing training at the store level with likely smaller classes once social-distancing restrictions ease. Charm City Run also manages 130 races a year and Levinson is unsure whether a solution will arrive by early summer when he suspects a return will be explored.
Levinson praised the vendor community with most helping out with extended dating and order adjustments for running shops. He said, "They've been great."
Still, he worries about what happens to the inventory that's being built up with the drop-off in sales amid store closures. He said, "If product is flooding their liquidation channels, our current products are not worth as much."
Extending payment terms an extra 30-to-60 days will also help cash flow in the immediate-term, but it also means a steep bill arrives mid-summer, he noted. Levinson also believes with "pressure mounting" on vendors from their own investors, landlords and employees, lending support to their retail base may not be as easy next time. He said, "So for 60 days, I think everybody was game for helping out and in good enough shape. I'm a little bit worried about 90, 120, 150 days."
On the positive side, Levinson believes people have gained a "much deeper understanding" about the importance of supporting local businesses after seeing many close or currently struggling. Said Levinson, "Families, like ours, are treating themselves to carry out once or twice a week, and we're buying all local."
He is also wowed by the number of people embracing running amid stay-at-home orders. Said Levinson, "They're finding out they really like it, and they're finding out they really need our service."
Levinson remains "really bullish on specialty long term." He also plans to continue using all the "cool technology" the chain has been embracing, including virtual consultations and curbside pickup, after COVID-19 is resolved. Still, he's concerned about how long that may take. Said Levinson, "Our margins are so thin that if 20 percent of the population doesn't feel comfortable coming in, we've got a big problem."
…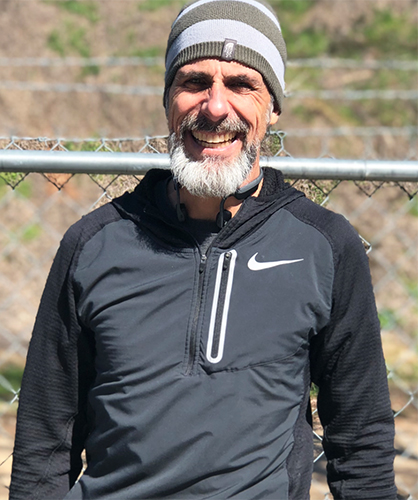 Big Peach Running
Big Peach Running, which has seven stores in Atlanta, last Friday became one of the few running shops in the country to be able to open as the state of Georgia relaxed restrictions. But Mike Cosentino, owner, shown right, said the chain decided to wait until May 1, in part, because it was only given 72 hours to prepare.
"We just don't simply believe that for the well-being of our guests we can do everything in such a short period of time to give them the assurance that they deserve," said Cosentino.
For instance, Big Peach has attained cleaning supplies but still has to train staff on sanitization protocols. He said, "It's easy to add it to the employee handbook. Taking it from the employee handbook and putting it in action is a different story."
Big Peach still has to undergo a "close examination" of spaces at its stores to help guide social distancing and is outfitting staff with masks to help remove customer anxieties.
The stores will reopen with abbreviated hours of six days a week from 10:00 a.m. to 6:00 p.m. Monday through Saturday. The stores are typically open until 8:00 p.m. every day and on Sunday. The reason is largely that part-time employees have been furloughed, and the existing staff can only support a 48-hour workweek. More staff may be return by May 8 or May 15 to support normal business hours, but Cosentino wants to see how Georgia's loosening of restrictions fares. He said, "It's possible that we may determine we didn't rehire people quickly enough."
The retailer was able to secure a loan from the federal stimulus package to help with re-staffing.
Longer-term, Cosentino believes Big Peach will continue to embrace virtual consultations, curbside-pickup and the overall larger e-commerce push accentuated in recent weeks to provide more value to runners. Said Cosentino, "Those things that might not have been part of our long term plan to the same degree, if we were having this conversation in February, are now very much a long term plan."
For example, the convenience offered by "virtual fit" – which works through a video conferencing and a scheduling app – will enable a runner to be sized online from anywhere. Then, they can either purchase online or come into the store for a quick final try before making a purchase. He believes digital tools will be "an advantage to our business, as well as help buffer ourselves" should COVID-19 return as some health experts warn in the fall or winter.
Internally, videoconferencing has proved to be an effective way for its leadership teams across stores to connect and he expects that will continue to some degree post-COVID-19. The chain is also doing "creative things" with video-conferencing to reach customers. He suspects that clinics on injury prevention and other topics will increasingly be held online for consumers who aren't looking "to grind their way through rush hour traffic to get to one of our stores."
Among the positives coming out of the pandemic, Cosentino sees a boost to not only local shopping but local behavior. For example, Big Peach partnered with the non-profit Hope Atlanta and sold out $11,000 in limited edition t-shirts – emblazoned with "Hope. Heart. Humanity. – Welcome to Atlanta" – in only three days. The money went to buy hotel rooms for some of Atlanta's homeless that had sought shelter at the airport and were unable to social distance or self-isolate. Said Cosentino, "Locals will remember that amidst all the struggle, the disappointment and difficulty there was this one cool episode. And it happening here in my backyard."
Cosentino was also enthused about the throngs of people running during the pandemic should offer opportunities to bring more people to the sport.
"At Big Peach Running Co., our mission is to grow the sport and to enhance the pedestrian-active lifestyle around Atlanta," said Cosentino. "That's been our mission since 2003. So we need to feed and fuel this potential boom of people who now are adding this very activity that's part of our mission to their existence, to their lifestyle and to their daily routine. That is mission work for us. And maybe you could say the mission field has never been riper than it is right now."
At the same time, he worries that any hikes in net running participation will be offset by the loss of major races such as the AJC Peachtree Road Race, the weekly local races and the daily social runs that not only drive sales but commitments to the sport.
He is likewise concerned about the market being flooded by excess product. Said Cosentino, "I think their needs to be thoughtful, and perhaps, even collaborative liquidation strategies around those inventories."
Challenges placing orders in the months ahead with the inventory glut and uncertainty about forecasts will also present challenges. Said Cosentino, "[Vendors are] going to need to be nimbler and more flexible in terms of their expectation with when orders are due and how revisions are made, as well as how quickly they can turn product around on an at-once basis."
Overall, he said the industry "should be really proud of how we have come together" to help each other manage through the crisis but still regretted that some have been more helpful than others. He attributes that partly to high expectations the industry has long set on standards. He said, "There have been some moments of frustration, not because they're not helping us out. But the frustration comes because sometimes the best that any of us can do still isn't good enough."
…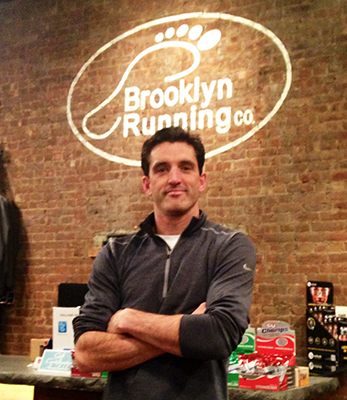 Brooklyn Running
Brooklyn Running is viewing the crisis as an opportunity.
"I realize that to describe a pandemic as an opportunity is obviously a ridiculous statement," admits Matt Rosetti, co-owner of the Brooklyn Running, shown right, which operates two stores in Brooklyn,  as well as two in Pennsylvania, including Scranton Running.
All stores have been closed since mid-March, and part-time staffers have been furloughed. He added, "It's a genuine disaster. But we will absolutely reopen our doors when we feel it is appropriate to do so. We're taking the productive view that this awful moment does, in fact, present an opportunity."
One primary focus is "the obvious one: what can we do financially to build a bigger and deeper moat around our business?"
Like others, the pandemic is offering a huge opportunity for Brooklyn Running to amplify online capabilities. Rosetti said, "The modern customer demands the convenience of e-commerce in ever greater numbers."
Brooklyn Running's team, over the last month, has been engaged in virtual dialogues on a daily basis to reach customers amid the pandemic. Rosetti believes new tools like curbside delivery, virtual fittings and live chats have to remain part of the business model going forward.
"It has been wonderful to see," he said. "We feel really good about the long term sustainability of effective, high-quality brick & mortar operators that have adapted and layered in an e-com option."
At the store level, renovations such as knocking down walls to create a more open space, adding showers for the staff or adding a new coat of paint, are being explored. Rosetti described such efforts as "projects that would have been otherwise challenging to achieve while open seven days a week."
The disruption also gives Brooklyn Running a chance to reassess any "gaps or shortcomings" in talent and reconsider the depth and value of various vendor partner relationships.
Rosetti said many vendors have shown a strong commitment to the running specialty space by extending payment terms, increasing flexibility around modifying and/or canceling future buys and even exhibiting a willingness to swap aged product out. Others, however, have not been so forthcoming. He remarked, "You learn who your true friends are in a fight, right?"
He believes vendors, as well as retailers, will all be remembered and judged on how they acted during COVID-19 and its aftermath. Said Rosetti, "We have always resisted overreacting to any evolution in vendor behavior; it's always better to play the long-term relationship game. But our experience throughout this pandemic could guide our thinking around future promotional partnerships and buying decisions."
On the positive side, Rosetti believes the pandemic "is supercharging society's shop local mindset and highlighting the critical importance of small businesses in our economic makeup."
He also still believes quality brick & mortar running specialty shops will never be displaced by online shoe merchants. Rosetti said, "The Amazons, Zappos and Running Warehouses of the world will continue to try. But they will never sufficiently replicate the experience of an in-person footwear fitting. They also don't build communities. And they will never convey adequate authenticity from behind their cyber walls."
On the participation side, he believes, at least in the near to medium term, road races face hurdles. Said Rosetti, "Even if local authorities give races the go-ahead as soon as the fall, we just don't think people are going to be comfortable rubbing elbows in corrals with thousands of other humans." He's not sure if a vaccine has to arrive before races become viable again.
Still, he's encouraged by what his team calls the "COVID running boom" while admitting it's anecdotal.
"We have no stats to back this up, but it feels as if EVERYONE is running. Of course, they are; gyms and fitness studios are closed. And running is sticky so we do feel this could bump up the sport's participation numbers in the medium- to long-term."
…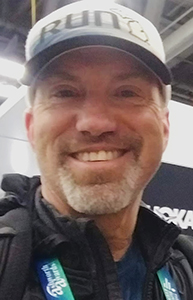 Playmakers
Playmakers, with one mega-store in mid-Michigan spanning nearly 20,000 square feet, has shifted to solely contactless curbside pickup and home deliveries although they're both adding up to a small percentage of its core in-store business.
"We think it's going to be a slow build-up once we are allowed to re-open to the public," said John Benedict, co-owner, shown right. "Once that happens we will be taking customers by appointment only, and we will have an appropriately spaced waiting area for customers that are unaware of our new system."
As brick & mortar sales increase, Playmakers will add back more staff. The retailer sees business slowly shifting back to in-store from online, but online is expected to play a larger role in Playmakers' future.
"Bottom line, we need to service customers the way they want to be serviced," said Benedict. "We intend to keep our virtual fitting service, which we call Home Fit, for as long as customers want to be serviced in that way. We will keep delivering products locally if that remains a need. If there is a silver lining to this terrible crisis, it's that it has forced us to immediately implement some strategies that we have been talking about for years. It's an absolutely terrible situation, but hopefully, we can all take some small wins out of it."
Benedict's also concerned about a hyper-promotional environment developing in the months ahead as the flood of inventory hits the marketplace that needs to be cleared. He sees the imbalance due to not only temporary stores seeing slowing sales but permanent closures needing to liquidate. He suspects a clearer view of the inventory surplus will arrive once stores are able to reopen.
Said Benedict. "If the expected closings happen, there is going to be a huge amount of discounted product being offered to consumers, maybe more product and deeper discounts than we've ever seen! I think we all need to be prepared for that and compete with the tools we have. Playmakers will continue to offer premium products and a full-service experience complemented by a great selection of 'value' products."
On the positive side, Benedict is also enthused about the pick-up of running witnessed across Michigan during the pandemic. He remarked, "I've seen more people out running and walking than ever before. I can hardly run on my local trail because it's packed with people!"
He noted that the run specialty channel saw healthy gains during the last recession and suspects the channel to again perform comparatively well should an extended downturn result from the disruption caused by the pandemic.
"The sport of running typically does well and maybe even thrives during crazy economic and scary times like these," said Benedict. "We are not an expensive sport. The barrier to entry is low, and I'm guessing that this pandemic will cause a boom in running and exercising."
Still, Benedict cautioned there are many unknowns.
"I'm not sure if the country will ever return to what it was like prior to COVID-19. Or, if so, how long that will take," he said. "Here at Playmakers, we are taking it one day a time. We're optimistic about our business and believe with the help of our community, our vendors and our friends in the industry, we will all get through this together."
Photos courtesy Charm City Run, Big Peach Running, Brooklyn Running and Playmakers