"Truckin', got my chips cashed in…" That lyric from the Grateful Dead sums up the band's foray into outdoor gear, as the brand is truckin' to cash in on the category. 
From its limited-edition snowboard collaboration with Burton seven years ago to a partnership with Buff Headwear and a limited production run with The North Face in 2015 (the band played the store's first store opening in San Francisco), the Dead has a long, strange history of aligning with outdoor brands.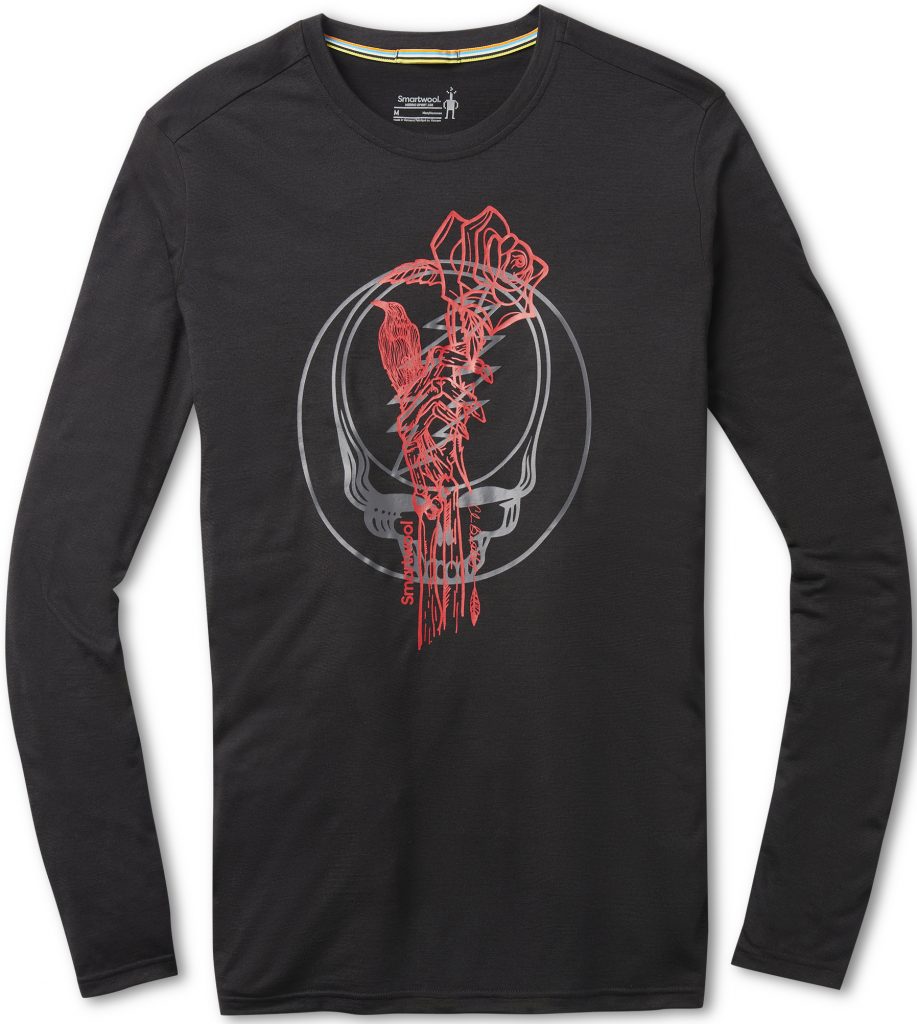 This year and last, it's fueled the craze like Casey Jones his train by partnering with brands making coolers, snowshoes, socks, and more. It also collaborated with Atomic skis and artist Chris Benchetler on his "Fire on the Mountain" film.
"Without question, there's an overlap between the band and the outdoors," said Eleni Gregoriou, director of global brand licensing for Warner Music Group. "It's not a coincidence, especially when you think of the band's history with fans camping and following them around the country. You always see Grateful Dead bumper stickers on skiers' and mountain bikers' vans."
Gregoriou has been with Warner Music Group for eight years, representing more than 200 artists, and said the Dead is in a league of its own when aligning with outdoor products. "No artist has even come close to being as involved in the outdoors as the Grateful Dead," she said. "The Dead is a beast in itself in terms of the reach and demand they have in the outdoor category."
The collaborations all take different forms, she added, with Warner building a program over the past three years to better partner with programs they see fit. "The scale of each one is different," she said. "The list goes on and on, especially with outdoor footwear and fitness brands. Our team has always known there is a big connection and demand, and we're carrying a lot of momentum into next year when we'll roll out bigger brand collaborations.
"People we work with are Dead Heads," she added. "People running these outdoor brands love the Dead and realize how special they are."
SGB Executive rounded up product collabs of late that are riding that same train.

»Tubbs x Grateful Dead Wilderness 25 | Frontier Snowshoe
For the "snow" part of the Grateful Dead's "Cold Rain and Snow" comes a new snowshoe series from Tubbs, owned by K2 Sports. The brand has collaborated with the Grateful Dead on a special version of its best-selling Wilderness 25 and Frontier snowshoes with a design straight from the sixties. The aluminum-frame snowshoes offer a Fit-Step frame to reduce joint impact; articulating toe cord pivots for traction and snow shedding; a padded, 180 Pro (Frontier: 180 EZ) binding; toe crampon for varying conditions; SoftTec decking floats to reduce fatigue; and heel lift risers for when the going gets steep.
"The Grateful Dead is never not going to be relevant," said K2 Sports president John Colonna, an admitted Dead Head. "With the energy the community built around them, it invites a new generation for the culture to live on. We focus on the consumer to guide our decisions. The connection between outdoor and the Dead has always been there, and the relationship is real. Tubbs felt like the right place to start considering the snowshoe trend and the overlap with its fan's love for the outdoors.
»Igloo | Grateful Dead Cooler
It's not a box of rain for Igloo that has led to increased sales in collaboration with the band, but a cooler that holds ice. Last year, Igloo debuted its Playmate cooler adorned with artwork depicting the Grateful Dead. "We have quite a few Grateful Dead fans at Igloo and spent time talking to many more," said Josh Militello, vice president sales, Igloo Products Corp. "Several traits stand out: love of the band and music, experiences watching them live, and passion for the outdoors, nature and the environment. All of these point to our Playmate cooler being a great companion to enhance the outdoor experience."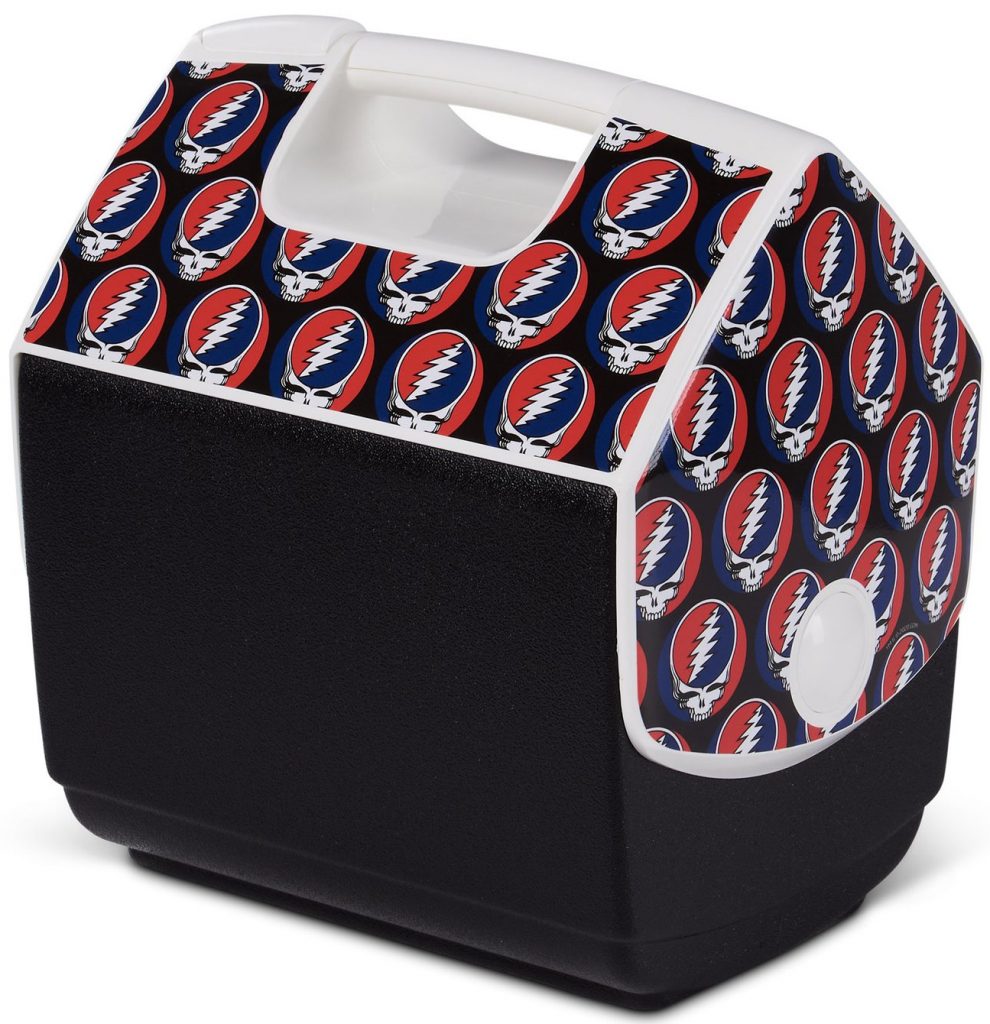 Over the past year, he said, the company's Grateful Dead product line has performed in the Top 5 of its licensed products, including collaborations with Disney, Star Wars, and others. "We're very pleased with the business results so far and love that we've been able to make so many Dead fans happy," he said Militello. "Our Grateful Dead designs are some of our best performers."
»Smartwool x Grateful Dead | Chris Benchetler Collection
Last fall, merino apparel maker Smartwool collaborated with the Grateful Dead and athlete/artist Chris Benchetler to bring his art to life in a line of socks and baselayers. Benchetler's "Fire on the Mountain" film helped inspire the company's 100 percent merino capsule collection, including PhD Outdoor Ultra-Light Crew Socks and PhD Ultra-Light Print Ski Socks, and comes complete with a Collectable Grateful Dead book and Fire on the Mountain soundtrack vinyl.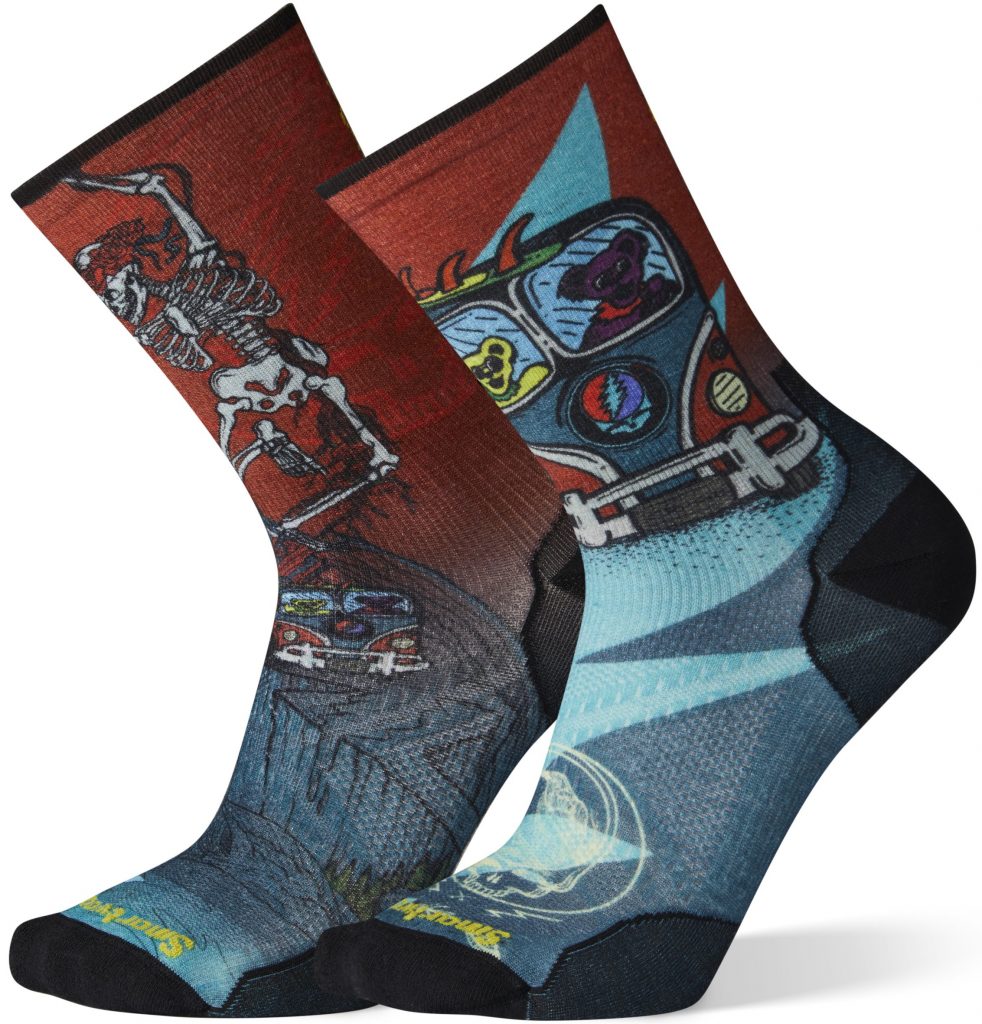 "The Grateful Dead is an iconic band with a loyal fan base, and we saw an overlap between those fans and our consumers," said Smartwool strategic communications manager Maggie Meisinger. "The Dead isn't one tangible idea or thing. It encompasses a unique ideology, a counterculture that's inviting and fun, enjoying the here and now, and seeking a better future for all. Being a Deadhead transcends age, helping people from all different generations connect and relate and why brands want to associate with them; the group crosses ages, demographics and geography and can introduce new, loyal audiences to the brand."
»Stance Socks
Smartwool isn't the only sock brand partnering with the Dead. Stance Socks has done four releases for its footwear in collaboration with the band, from athletic to outdoor to knee-high. Its best-seller in the collection, said Gregoriou, is the Trucker in the company's outdoor category.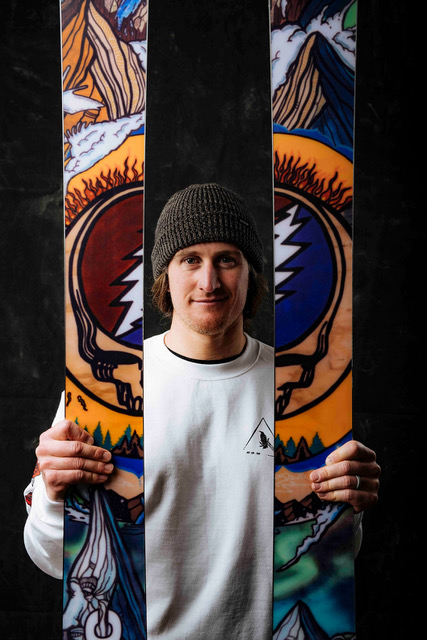 »Fire on the Mountain Atomic | TGR
Pro skier and artist Chris Benchetler's Fire on the Mountain film by Teton Gravity Research (TGR) blended skiing, snowboarding and surfing to a Grateful Dead soundtrack and helped spawn product sponsors.
When Warner Music Group began looking for a ski company for a Dead collaboration, the partnership began. Benchetler admits the way band members vibe off each other mimics his skiing approach—fluid and free.
"Mountain towns have long carried the torch for the Dead, and they wanted to interact more with that outdoor community," said Gregoriou, who tapped New York management consultant Brian Francis for ski industry connections. "They figured a custom ski might be the way to do that. Our team had explored snow-related product releases in the past, so tapping into ski culture seemed like a natural fit. There are endless similarities between their performances and how people ride down a mountain."
Francis reached out to TGR Co-founder Todd Jones, who suggested Benchetler. The ski collaboration expanded from there. Benchetler's sponsored Atomic created a limited-edition Dead version of his top-selling pro model ski, the Bent Chetler, with Benchetler creating the graphics. When the ski debuted in fall 2019, all 400 pairs sold out creating a ripple effect. 
Benchetler's sponsor Dakine created a line of custom Grateful Dead mittens and a backpack. Smartwool also joined in. Francis, who now heads merchandising for TGR, also parlayed the partnership into a line of TGR/Grateful Dead goggles, T-shirts, jackets, hoodies, bags, and prints. "TGR has a substantial merchandising program with us and reaches a lot of people," said Gregoriou.
"It's all just snowballed—one idea led to another," Benchetler added. "I wanted to make an edit for the Grateful Dead ski that felt creative, which led to a multiple product collaboration and then a full film."
Photos courtesy Grateful Dead, Tubbs, Igloo, Smartwool, Chris Benchetler, TGR