Retailers broadly delivered second-quarter results that handily topped Wall Street's targets and lifted their 2021 guidance as sales momentum remained resilient. However, supply chain concerns, marked by port congestion and recent factory shutdowns in Vietnam that could limit second-half growth, were widely discussed on recent quarterly calls. Insights from Dick's SG, Hibbett, Academy Sports, Big 5, Macy's, Kohl's, Foot Locker and Lululemon follow.
»Dick's SG's Inventories Up 7.2 Percent
Dick's Sporting Goods' inventory levels were up 7.2 percent at the quarter's close compared to the same period last year. Lee Belitsky, EVP and CFO, told analysts on an August 25th investor call, "Despite the industrywide supply chain challenges, our strong flow of product supported record quarterly sales that were ahead of our expectations. Looking ahead, our inventory is very clean, and we continue to aggressively chase product to meet demand. We are prioritizing supply chain continuity over costs and expect elevated freight expenses to continue through at least the balance of 2021 and have included the impact within our updated outlook."
Following strong second-quarter results, the chain raised its guidance to a range of $11.5 billion to $11.7 billion, up 33 percent at the midpoint versus 2019 and 21 percent versus 2020. Previously, sales were expected in the range of $10.5 billion to $10.8 billion, representing a gain of 22 percent against 2019 and 11 percent versus 2020.
Belitsky stated, "While recent trends continue to track positively, we are highly encouraged by consumer demand over the rest of the year. And our sales outlook balances this enthusiasm with the impact from the global supply chain challenges impacting product flow and availability, and it could affect our ability to capture the kind of upside sales we've had so far this year."
He said Dick's is facing "lower inventory than we'd like across the store," citing golf, apparel and footwear among categories affected. Lauren Hobart, president and CEO, said Dick's is "investing very aggressively" with its vendor partners and directly with its private-label brands to secure product.
"We are airfreighting where possible," said Hobart. "We're partnering with vendors and picking things up at their distribution centers where needed. Our team has excelled this past year in the flexibility of managing through some of these puts and takes because about every category has had some disruption over the past 16 months. I am very confident that for this holiday season, we will have products for athletes. And they've shown us that they will substitute when necessary. So if they come in for a specific brand or specific product, if we have products in like products, they're willing to do that. That's where our diverse category portfolio and brand portfolio helps us out."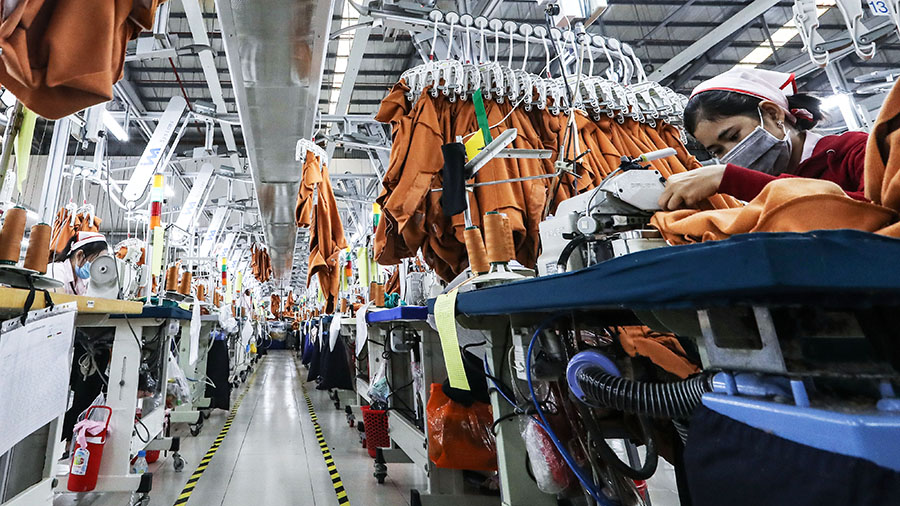 »Academy Sports' Inventory Climbs 24 Percent
Academy Sports & Outdoors' inventories were up 24.0 percent compared to the prior-year quarter, up 3.2 percent compared to Q1 2021 and down 7 percent versus the second quarter of 2019.
On its September 17th anaylst call, Academy's officials said that the chain still faces challenges in ammunition, but its stock position in some constrained categories has improved, including returning to in-stock in categories like bikes and fitness equipment. Ken Hicks, CEO, said, "There's been a lot of discussion about inventory availability and supply chain constraints. We've been working diligently with all of our vendor partners to ensure merchandise flow and allocations. Given our strong relationship with suppliers such as Nike, Adidas and Under Armour, we are in a position of sufficient supply right now. And while there will be challenges, we believe we have a good line of sight on what to expect over the next few months. The team is doing an excellent job navigating this dynamic environment, and we're excited about back-to-school and sports in the fall and holiday season."
Steve Lawrence, EVP and chief merchandising officer, said prioritizing receipts is helping mitigate the stock shortfalls. He stated, "We're still not at optimal levels across all areas. We're fully back in stock in many categories that have seen accelerated demand, such as fitness, fishing, bikes, apparel, and footwear. There are categories such as ammunition that are not 100 percent where we'd like them to be, but we have enough supply to start building back our inventory levels in stores. Going forward, we believe we have the strategies and pipeline of inventory, coupled with strong relationships with our key partners, to keep receipts flowing and driving sales growth."
Under its updated guidance, comparable sales are projected in the range of 14.0 percent and 17.0 percent, up from a prior range of a gain of 6.0 percent to 9.0 percent. That compares to a gain of 16.1 percent in 2020 and a decline of 0.7 percent in 2019.
»Foot Locker's Inventories Decline 9.5 Percent
Foot Locker's inventories at the end of the second quarter declined 9.5 percent to last year versus total sales increase in the period of 9.5 percent as strong demand outstripped the increase in receipts during the quarter. On a currency-neutral basis, inventory was down 10.4 percent, while sales increased 7.3 percent.
On the sneaker chain's August 20th analyst call, Dick Johnson, CEO, said Foot Locker is working closely with vendor partners to overcome the inventory challenges, but he noted that most product for the back-to-school season and early holiday is "on the water and will be available." He credited his internal team's efforts to secure inventory.
"I guess the good news is that we oversold our original sales plan, so we didn't make progress on our total inventory number, but the team has got it lined up pretty well," said Johnson. "And again, barring things that are completely out of our control, I think that we're in good shape from the back-to-school season and into the holiday season."
He nonetheless added that the factory shutdowns in Vietnam "will have a longer-term knock-on effect."
Foot Locker provided full-year guidance for the first time since the pandemic began as second-quarter results came in far ahead of Wall Street's estimates. For the year, Foot Locker expects to deliver a low- to mid-teen increase in comp sales.
»Hibbett Sports' Inventories Up 19.1 Percent
Hibbett's inventory at the end of the second quarter was up 19.1 percent compared to the prior year's second quarter.
Jared Briskin, SVP and chief merchant, said, "Inventory remains under pressure due to the increased sales volume and supply chain disruption. Our merchants are working tirelessly with our vendor partners to deliver what we have on order and secure additional inventory. Based on current projections and information, we expect inventory levels to be up to fiscal 2021 during the back half of the year but to remain below fiscal 2020 levels."
On its first-quarter conference call, Hibbett officials had estimated that its inventory position at the end of the quarter was approximately $80 million to $100 million below optimal levels, leading to lost first-quarter sales.
On its second-quarter call, Briskin said it's become "more difficult" to catch up given the supply chain constraints, but he also noted that the inventory flow still supports record historical growth. In the first half of 2021, comps were up 30.3 percent against the year-ago period and 63.4 percent against the first half of 2019.
Said Briskin, "I think we've effectively operated on a significantly lower amount of inventory, and our teams have gotten more comfortable in operating with a lower amount of inventory. So, I think it becomes more about the flow of that inventory, the trend rate and ensuring we have it at the right time. But that's where we're focused on now. We're controlling the things that we can control with regard to the supply chain, but we're very confident in the inventory that we have and the flow of inventory coming in."
Substitutions for out-of-stocks are also helping Hibbett to a degree. Briskin said, "We see more of an opportunity for substitutions. But at the same time, consumers frequently want what they want. So we've done a lot within our company to ensure that we can provide access to consumers. That's certainly paying off, but we are absolutely seeing, I wouldn't say necessarily, a full trade, but consumers are a little bit more accepting of similar products."
Hibbett significantly raised its guidance for the year. Comparable sales are now expected to be up in the positive mid-teens, up from the previous guidance range of positive high-single-digits to positive low-double-digits.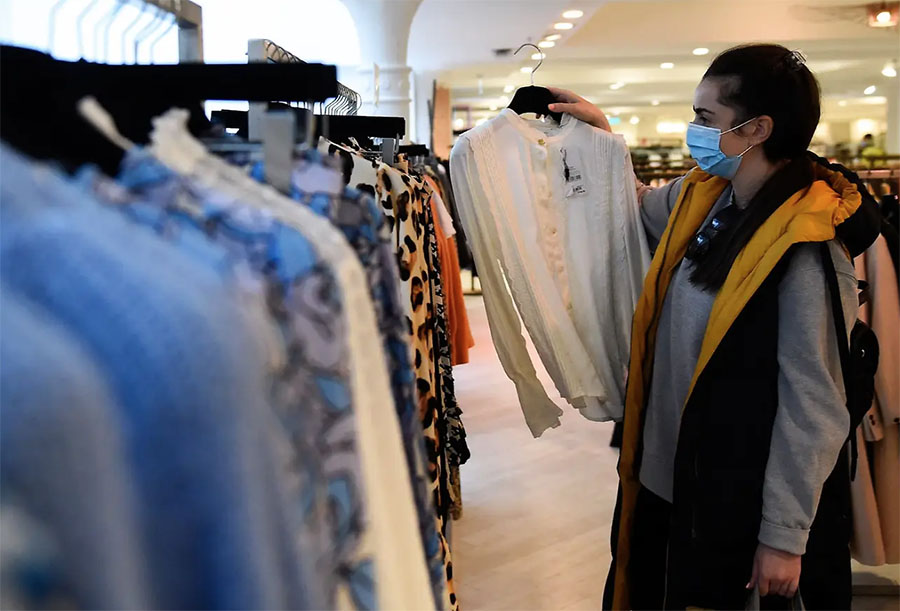 »Big 5's Inventories Down 5.6 Percent
Total merchandise inventories at Big 5 Sporting Goods were down 5.6 percent as of the end of the second quarter ended June 30 due to supply chain challenges and sales coming in at the highest quarterly levels in its history. On a two-year stack basis, sales were up 35.3 percent from the second quarter of 2019.
"Although sales performed at a very high level, we were still constrained by the widely reported supply chain disruptions facing many retailers," said CEO Steve Miller. "Our team is managing through a wide variety of issues throughout the supply chain, including staffing issues at our distribution center, which have caused delays in delivering product to our store shelves."
He reiterated his comments from Big 5's first-quarter call that he suspects it would "be some time before supply catches up to demand for many categories."
Big 5 predicted same-store sales for its third quarter would be flat to positive mid-single-digits. That compares to a same-store sales increase of 14.8 percent in the third quarter of 2020.
» Lululemon's Inventories Expand 17 Percent
Inventory levels at Lululemon grew 17 percent versus last year, below expectations for a 25 percent to 30 percent increase due to its top-line outperformance in the second quarter coupled with industrywide supply chain disruptions.
Meghan Frank, CFO, noted on Lululemon's September 8th analyst call that on a two-year CAGR basis, the inventory levels represent growth of 26 percent versus expectations for 24 percent to 25 percent revenue growth in Q3 on a two-year CAGR basis.
"As we've mentioned, we see some delayed inventory receipts due to issues at the ports and also the recent COVID-related closures of certain factories in Southern Vietnam," said Frank. "Our supply chain and product teams are working diligently to mitigate these risks by shifting production out of Vietnam where possible with our vendors who operate in multiple countries, prioritizing production to ensure key fall holiday styles are produced first, and strategically increasing our use of airfreight. At the end of Q3, we expect inventory levels to increase approximately 15 percent to 20 percent relative to Q3 2020."
She said that while this inventory level can support its increased revenue guidance, it is lower than it had initially targeted due to supply chain challenges.
For the full year of 2021, Lululemon now expects revenue to be in the range of $6.19 billion to $6.26 billion, up from previous guidance in the range of $5.83 billion to $5.91 billion. Sales in 2020 were $4.4 billion.
» Kohl's Inventories Up 1 Percent
At Kohl's, inventory at quarter-end was one percent higher than the prior year and down 25 percent to the same period in 2019, marking another ten-year high in turnover. Inventory ended the quarter lower than expected due to strong sales during the period and the industry-wide supply chain challenges.
On the call, Jill Timm, CFO, said that Kohl's is monitoring industry-wide supply chain uncertainties and cost inflation related to the supply chain.
"It is a fluid and evolving situation," said Timm. "We have experienced inventory receipt delays in many areas of the business due to temporary factory closures and port congestion."
She said Kohl's women's business has a disproportionate exposure to the supply chain disruption given its high penetration of private brands. Timm said, "We are managing the situation aggressively, leveraging our diversified global supply chain to ship production when and where appropriate and to prioritize and expedite orders while also maintaining a high frequency of pick-ups at the port and deliveries to our stores. Given the fluidity of the situation, we will remain agile and responsive with a focus on minimizing the disruption."
Kohl's raised its sales guidance for the year and now expects an increase in the low-20s percentage range compared to the previous expectation of mid-to-high teens percentage range increase.
» Macy's Inventories Decline 14.5 Percent
Macy's ended the second quarter with inventories down 14.5 percent compared to the second quarter of 2019 due to a combination of second-quarter sales far exceeding plan, internal efforts to improve inventory productivity and supply chain constraints.
"Our sales to stock ratio is healthy, and we remain focused on leveraging our data and analytics tools to most efficiently plan, place and price our inventory," said Adrian Mitchell, CFO, on its August 19th quarterly call. "Inventory churn for the trailing 12-months improved by 15 percent, while for the trailing six months, inventory churn improved by 18 percent. Of course, inventory productivity has benefited from constrained supply as a result of global supply chain disruption."
He added, "While we've been successful in meeting most customers' needs, reduced supply is ultimately detrimental, offering them a more limited selection. We anticipate improvements in many of these constraints by no earlier than mid-year 2022, after which we expect inventory levels will normalize and at healthier levels than they were before the pandemic to sustain margin benefits. However, our inventory strategy is still focused on chasing sales and exercising very disciplined buying behavior. In fact, even with the current constraints, we have been able to source more supplies and plan to successfully chase sales."
Jeff Gennette, chairman and CEO, stated, "We'll continue to mitigate supply chain shortages and other disruptions through surgical buying, close collaboration with our key brand partners and reduce reliance on manufacturers without transnational capabilities. We'll also continue to chase inventory to help us achieve higher sell-throughs, turnover and AUR. I'll also mention that our scale has allowed us to provide support for our brand partners because we were able to take on more of their inventory."
Photos courtesy Western Overseas Corp., Nikkei Asia, Business Insider