More Online Shoppers Want Free Shipping
According to the latest issue of the quarterly Consumer View report released by the National Retail Federation, 75 percent of consumers expect delivery to be free even on orders under $50, up from 68 percent a year ago. Baby boomers (born 1946-1964) demand free shipping the most, with 88 percent expecting it. That compares with 77 percent for Generation X (1965-1980), 61 percent for millennials (1981-1994) and 76 percent for Generation Z (1995 and later). Many consumers now consider shipping costs even before getting to the checkout page, with 65 percent saying they look up free-shipping thresholds before adding items to their online shopping carts. Consumers also want their products fast, with 39 percent expecting two-day shipping to be free, and 29 percent have backed out of a purchase because two-day shipping wasn't free.
---
Younger Generations More Open To Paying For Fast Shipping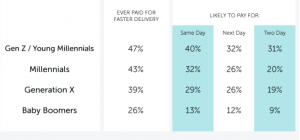 According to a survey from LaserShip, millennials and Gen Z are up to three times more likely to pay for expedited shipping, Overall, a third of those surveyed ranked fast delivery as the most important consideration when shopping online, and 63 percent of consumers expect their items to be delivered within three days. Half of shoppers surveyed have abandoned a shopping cart due to high shipping fees and the top reason consumers stop buying from an online retailer is because of high shipping costs. Free or discounted shipping is the second most important consideration for shoppers.
---
Taking Stands On Social Issues Now An Imperative 
Eighty-seven percent of retailers say taking a stand on social issues is worth the risk, and 83 percent believe not taking a stand can negatively affect their bottom line, according to RetailMeNot's 2019 Retailer Playbook. Also, 61 percent of consumers will recommend brands that align with their social values.
---
Nike And Adidas Land On Most Admired List
Nike ranked 13 and Adidas, 38, on Fortune's 2019 rankings of Fortune's top-50 World's Most Admired Companies. Among retailers, Amazon was ranked 2, Costco, 11; Nordstrom, 30; Home Depot, 21; and Walmart, 25. The report which surveyed thousands of executives across 52 industries to see how they rated their own companies and their competitors. The top ten were Apple, Amazon, Berkshire Hathaway, Walt Disney, Starbucks, Microsoft, Alphabet, Netflix, JPMorgan Chase and FedEx.
---
Seventy-Five Percent Of Brands Expected To Be Selling On Amazon In Five Years
According to a report from Feedvisor, the AI-driven, machine-learning and big data company, over half of brands (54 percent) are already selling on Amazon today, and nearly three-quarters (72 percent) of brands will be selling on the platform within the next five years. The analysis found that for 44 percent of brands selling on Amazon, more than half of their total e-commerce sales come from the platform. One-third of the brands (32 percent) selling on Amazon said it accounts for up to three-quarters of their overall e-commerce sales. A significant majority of brands both selling on Amazon (97 percent) and not currently selling on Amazon (84 percent) agree the most compelling benefit to selling on the platform is acquiring new customers.
---
Video Ads Are Most Frustrating to Ad Blocking Consumers
Over half of people who use ad blockers (51p percent) find video ads most frustrating when browsing online, according to a new consumer survey by Visual Objects, a portfolio website that showcases work from top creative firms from around the world. About one-third of people (30 percent) say video ads that interrupt streaming are most frustrating, and 21 percent find video ads before content loads the most frustrating.
---
Consumers More Confident In How Brands Handle Their Data Post-GDPR
Two in five consumers (41 percent) say they are more comfortable and confident that brands are handling their data correctly thanks to the introduction of the General Data Protection Regulation (GDPR) in May 2018, according to a study from the DMA. Furthermore, fewer people find themselves often questioning how a brand got their data in the first place than a year ago, according to the 'Consumer email tracker 2019' report. The research, conducted by the DMA and supported by dotdigital, delves into consumers' perceptions and preferences when it comes to the channel most (59 percent) prefer brands to get in touch through – email. In 2018, consumers believe they received less email than ever before, estimating this at around 57 per week to their personal inboxes – down from 73 in 2017 – and less than half of these (44 percent) are actually from brands.
Image courtesy NRF