Tributes poured across social media from former co-workers, footwear partners, tech investors, and political pundits following the death of Tony Hsieh, Zappos' visionary, at the age of 42.
Hsieh, who stepped down as Zappos' CEO in August after a 20-year run, died on Friday due to injuries suffered in a November 18 house fire in New London, CT. He was with his family when he passed.
A Harvard graduate, Hsieh initially tapped success in the dot com era by creating LinkExchange with a college roommate and selling that business to Microsoft in 1998 for $265 million. With his newfound wealth, Hsieh formed a venture capital firm, Venture Frogs, that invested in startups including Ask Jeeves, OpenTable and, most notably, Zappos.
Hsieh and Venture Frogs helped get Zappos, then called ShoeSite.com, off the ground in 1999, and in 2000, Hsieh became Zappos' CEO.
Zappos famously threw the retail footwear industry into upheaval when it began offering free shipping and unlimited returns on popular footwear brands as a startup back in 2000. The costly "free" option was seen as a marketing tool and a way to get consumers to overcome concerns about purchasing footwear without first trying them on. Competitors such as L.L. Bean and Nordstrom would only add free shipping in 2011. Today it's common practice.
Zappos had touted free shipping and returns as a core tenant of its customer service vision, which also included making customers feel comfortable with the then-new process of shopping online. Hsieh often described Zappos as a customer service company that "happens to sell shoes."
Indeed, friendly and reliable customer service was the hallmark of Zappos' focus on customer service. Rather than outsourcing call centers and warehousing, Zappos made them core in-house functions.
Phone numbers were displayed prominently on the website, and customers were encouraged to call Zappos representatives rather than e-mail. "The telephone is one of the best branding devices out there," Hsieh wrote in a bestselling 2010 memoir, "Delivering Happiness."
Employees were also encouraged to not work from a script but to be themselves. Some customer service teams even helped customers find shoes on rival websites when Zappos couldn't supply the desired product. The goal — to have customers say, "Wow!"
Zappos also became known for its corporate culture offering good compensation, though Hsieh insisted on a small salary for himself. Nap rooms, a petting zoo, frequent costume parties, and employees greeting visitors with cowbells and pom-poms were some of the traits found at Zappos' corporate office that was designed to encourage "weirdness" and foster creativity, fun and employee empowerment.
Hsieh eventually became well known across business circles for his unorthodox management style that largely centered around building culture and his mantra of "Delivering Happiness."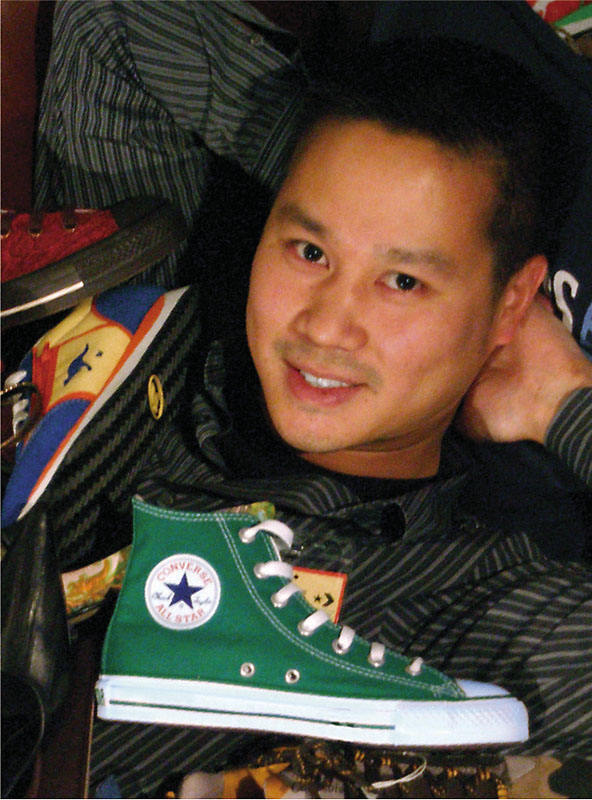 Under Hsieh, Zappos defined its 10 Core Business Principles:
Deliver Wow Through Service
Embrace and Drive Change
Create Fun and A Little Weirdness
Be Adventurous, Creative and Open-Minded
Pursue Growth and Learning
Build Open and Honest Relationships With Communication
Build a Positive Team and Family Spirit
Do More With Less
Be Passionate and Determined
Be Humble
Among the outside-the-box innovations created under Hsieh was Zappos' policy of offering employees the option, after the first week on the job, to get paid to quit in an effort to test their loyalty. In 2013, Zappos introduced "holacracy," a bold decentralized management style where decision-making was spread throughout the organization without traditional hierarchy. The structure shifted away from bosses and supervisors in favor of employee self-governance in an effort to keep the company from becoming too rigid, too unwieldy and too bureaucratic as it grew.
In 2009, Hsieh sold Zappos for $1.2 billion to Amazon, though he remained CEO until his retirement in August 2020. For years, he also worked to revitalize downtown Las Vegas, pledging $350 million in 2013 for redevelopment.
Zappos has asked anyone with a memory of Hsieh to e-mail CelebratingTony@zappos.com. Greetings will be passed along to his family.
The following are some tributes to Hsieh:
Kedar Deshpande, Zappos' CEO
"The world has lost a tremendous visionary and an incredible human being. We recognize that not only have we lost our inspiring former leader, but many of you have also lost a mentor and a friend. Tony played such an integral part in helping create the thriving Zappos business we have today along with his passion for helping to support and drive our company culture. Tony's kindness and generosity touched the lives of everyone around him as his mantra was of "Delivering Happiness" to others. His spirit will forever be a part of Zappos, and we will continue to honor his memory by dedicating ourselves to continuing the work he was so passionate about."
Jeff Bezos, Amazon's founder and CEO
"The world lost you way too soon. Your curiosity, vision and relentless focus on customers leave an indelible mark."
Former Zappos COO Alfred Lin
"Today is a sad day. The world lost a pioneer of company culture, the shoe industry, Downtown LV, web advertising, and also a gentle soul who gave a part of himself to countless people. We'll remember Tony for that and the happiness he brought to so many people."
DTP Companies
Hsieh founded to revitalize downtown Las Vegas
"Tony's kindness and generosity touched the lives of everyone around him, and forever brightened the world. Delivering happiness was always his mantra, so instead of mourning his transition, we ask you to join us in celebrating his life."
Nevada Governor Steve Sisolak
"Tony Hsieh played a pivotal role in helping transform Downtown Las Vegas. Kathy and I send our love and condolences to Tony's family and friends during this difficult time."
Blake Krueger, CEO and Chairman of Wolverine World Wide
"Tony's impact and legacy as a leader and visionary will resonate for years to come. His innovation helped shepherd the industry into the digital era, and he cared deeply about his employees and customers. It was an honor for Wolverine Worldwide and all our brands to partner with Tony, and we will truly miss the fresh perspective he brought to the footwear and apparel space. He will be missed."
Dave Powers, president and CEO, Deckers Brands
"Tony was a true trailblazer with his focus on customer service, innovation and culture. He was instrumental in proving that customers could trust and enjoy buying footwear online. He set the oath for us and the industry. Tony and his focus on company culture and community have been an inspiration for Deckers, and his Zappos team is a pleasure to work with. We are saddened by his passing but grateful for all his contributions to the works and the industry. He will be sorely missed."
Bob Philion, president and CEO, Puma North America
"Tony and the Zappos brand were clearly early adopters in the space. His vision paved the way for brands like Puma to develop strong consumer relationships without stores, which wasn't the norm at the time. His impact and contribution to dot.com retailing are only outpaced by what he meant to those who worked with him and shared his passion for the Las Vegas community. Tony left way too early, but his legacy will live on in many ways."
Tony Hawk, skateboarder and entrepreneur
"Tony Hsieh was a visionary. He was generous with his time and willing to share his invaluable expertise with anyone."
Ivanka Trump, entrepreneur and advisor to President Trump
(sold her footwear line on Zappos.com)
"Tony was a deeply original thinker always challenging me to reject conformity and to follow my heart. Tony was driven by the mission of delivering happiness, and he brought joy to all who knew him."
Andrew Yang, former 2020 presidential candidate and entrepreneur
"I am stunned. Tony Hsieh touched so many lives and inspired so many entrepreneurs. His impact and legacy will go on and on. I met his family in Las Vegas, and am thinking of them today. RIP Tony. You will be missed."
Peter Pham, co-founder and partner, Science
"Tony Hsieh was special. Just look at Twitter and how every person he interacted with talked about him. He was the most successful person I met who never took himself too seriously. His generosity was ridiculous. This is the photo that I'll remember him by."
Kara Swisher, tech journalist and co-founder, Recode
"I visited Tony Hsieh at his downtown Vegas digs many times, but this in 2014 was particularly fascinating. Admiring all the truly oddball creations, he leaned in, smiled his impish grin and whispered to me: "It's all a simulation." Maybe so, but he was a weirdly wonderful one."
Chris Sacca, investor and former judge on the TV Show Shark Tank
"Tony Hsieh might be the most original thinker I've ever been friends with. He questioned every assumption and shared everything he learned along the way. He genuinely delighted in making anyone and everyone happy."
Jason Fried, co-founder and CEO, Basecamp
"Tough news about Tony Hsieh. From the first moment I met him, he surprised me. He was an artist with a CEO title. Wonderfully creative, kind, generous, and irreverent. A model for how to live. He was a wonder."
Ali Partovi, NEO CEO and former founder, LinkExchange
"Tony Hsieh, my partner and co-founder of LinkExchange, has died. Tony, I miss you. ❤️ You were among the most creative people I've known. I'll remember your unique combo of genius and mischief and your infuriating ability to bet against all odds and win."
Max Levchin, Entrepreneur
"A truly original thinker, a brilliant entrepreneur and a kind-hearted and generous friend to so many."