Rawlings Sporting Goods Company, Inc. a subsidiary of Jarden Corporation, unveiled the 2015 Rawlings Gold Glove Award winners for both the American League and the National League during a live, hour-long "Baseball Tonight – The 2015 Rawlings Gold Glove Award Announcement Show presented by Golden Sport" on ESPN2.
"The Rawlings Gold Glove Award continues to be one of the most iconic awards in all of sports," said Mike Thompson, executive vice president of marketing for St. Louis-based Rawlings. "Only 332 total major-league players can call themselves 'Rawlings Gold Glove Award' winners, reaffirming this Award platform as the definitive industry standard honoring defensive excellence at the highest level of baseball."
Recognized as the best defensive players at their respective positions, this year's class of honorees includes nine past winners of the Rawlings Gold Glove Award, including St. Louis Cardinals catcher Yadier Molina with his eighth consecutive win. Three World Series™ champion Kansas City Royals players are also being honored: catcher Salvador Perez, who secured his third straight Award, first baseman Eric Hosmer also for his third award, and first time awardee shortstop Alcides Escobar.
First-time honorees include second basemen Jose Altuve of the Houston Astros and the Miami Marlins™ Dee Gordon, shortstops Alcides Escobar of the Kansas City Royals and Brandon Crawford of the San Francisco Giants, left fielders Yoenis Cespedes of the Detroit Tigers (before joining the New York Mets) and Starling Marte of the Pittsburgh Pirates, center fielders Kevin Kiermaier of the Tampa Bay Rays and AJ Pollock of the Arizona Diamondbacks, and right fielder Kole Calhoun of the Los Angeles Angels of Anaheim.
Each manager and up to six coaches on his staff vote from a pool of qualified players in their League, and cannot vote for players on their own team. In 2013, Rawlings added a sabermetric component to the Rawlings Gold Glove Award selection process, as part of its new collaboration with the Society for American Baseball Research (SABR). The SABR Defensive Index™ comprises approximately 25 percent of the overall selection total, while the managers' and coaches' vote continues to carry the majority.
Below is the complete roster of 2015 Rawlings Gold Glove Award winners from each League, and the number of Rawlings Gold Glove Awards each player has won in his career: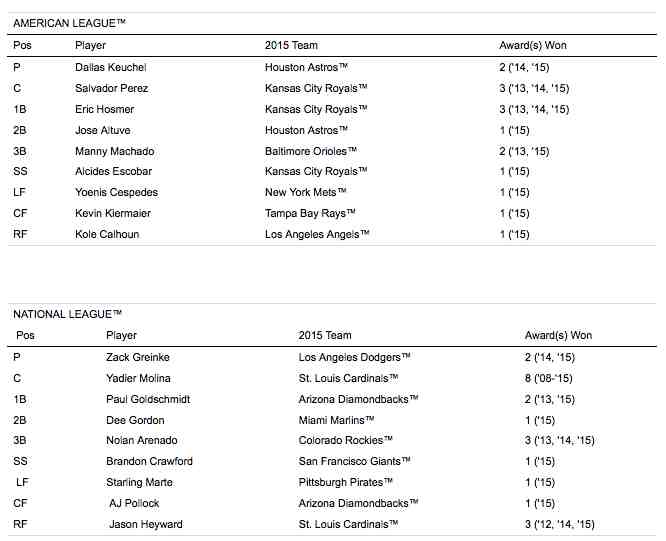 In addition to recognizing this year's winners at its ceremony in New York, Rawlings will honor Hall of Famer Whitey Ford with its Lifetime Achievement Award and Joe Torre with the Rawlings Heart of Gold Award for work with his foundation, Safe At Home. In addition, 10-time, Rawlings Gold Glove Award-winning centerfielder Ken Griffey, Jr. will be inducted into the Rawlings Gold Glove Award Hall of Fame as part of the night's festivities.
Fans can now vote for the Rawlings Platinum Glove Award™ presented by the Society for American Baseball Research (SABR) winner in each League on Rawlings.com. Fans can only select one player per league among the 2015 Rawlings Gold Glove Award winners to take home the "best of the best" honor, to be unveiled at the 2015 Rawlings Gold Glove Award Ceremony presented by Gold Sport Collectibles on Friday, November 13, 2015, at The Plaza Hotel in New York City.