By Thomas J. Ryan
Puma warned that the fallout from the coronavirus outbreak would impact first-quarter results but otherwise delivered another stellar quarter with healthy momentum across categories and regions.
Bjørn Gulden, Puma's CEO, said, "I am very proud of what the team has achieved and think this performance shows the global potential of the Puma brand."
In the quarter ended December 31, sales climbed 20.6 percent on a reported basis to €1.49 billion ($1.61 bn) and 18.3 percent on a currency-adjusted basis. All regions and all product divisions contributed with double-digit increases.
By region, on a currency-neutral basis, sales climbed 17.6 percent to €566 million ($611 mm) in the Americas, 23.2 percent to €468.3 million ($505 mm) in EMEA and 14.5 percent to €444.3 million ($479 mm) in Asia/Pacific. By product category on a currency-neutral basis, sales were up 22.3 percent to €663.0 million ($715 mm) in footwear, 16.0 percent to €583.3 million ($629 mm) in apparel and 13.6 percent to €232.2 million ($251 mm) in accessories. Sportstyle, Running and Training as well as Motorsport saw the highest growth rates.
Gross margin improved to 47.3 percent in the quarter from 47.1 percent the prior year. Small positive mix effects, as well as slightly positive currency effects, led to margin improvements.
Operating expenses (OPEX) rose 19.4 percent to €650.6 million ($702 mm) but were reduced as a percent of sales to 44.0 percent from 44.4 percent a year ago. The net increase was mainly caused by higher sales-related costs, including logistics costs, as well as higher marketing and retail investments.
EBIT (earnings before interest and taxes) jumped 46.8 percent to €55.2 million ($60 mm) due to strong sales growth combined with an improved gross profit margin and operating leverage. Net earnings surged 55.0 percent to €17.8 million ($19.2 mm), or €8 cents a share.
For the full-year, Puma's revenues climbed 18.4 percent on a reported basis to $5.5 billion ($5.94 bn) and expanded 16.7 percent on a same-store basis. All regions and product divisions contributed to double-digit growth.
In the EMEA region, sales rose 11.2 percent reported to €2.0 billion ($2.16 bn) and added 11.2 percent currency adjusted. As a result, the EMEA region exceeded the two billion Euro sales mark for the first time. The main growth drivers were Germany, Spain, Russia, and Turkey.
In the Americas region, sales advanced 20.6 percent reported to €1.94 billion ($2.1 bn) and grew 17.9 percent on a currency-adjusted basis. Both North America and Latin America contributed to double-digit growth rates. Currency exchange effects for North America were positive, while especially the weakness of the Argentinian peso led to a negative currency effect on sales for Latin America.
The Asia/Pacific region delivered the strongest sales growth of 26.0 percent reported to €1.56 billion ($1.68 bn) with a currency-adjusted increase of 22.8 percent. Growth was mainly driven by China and India.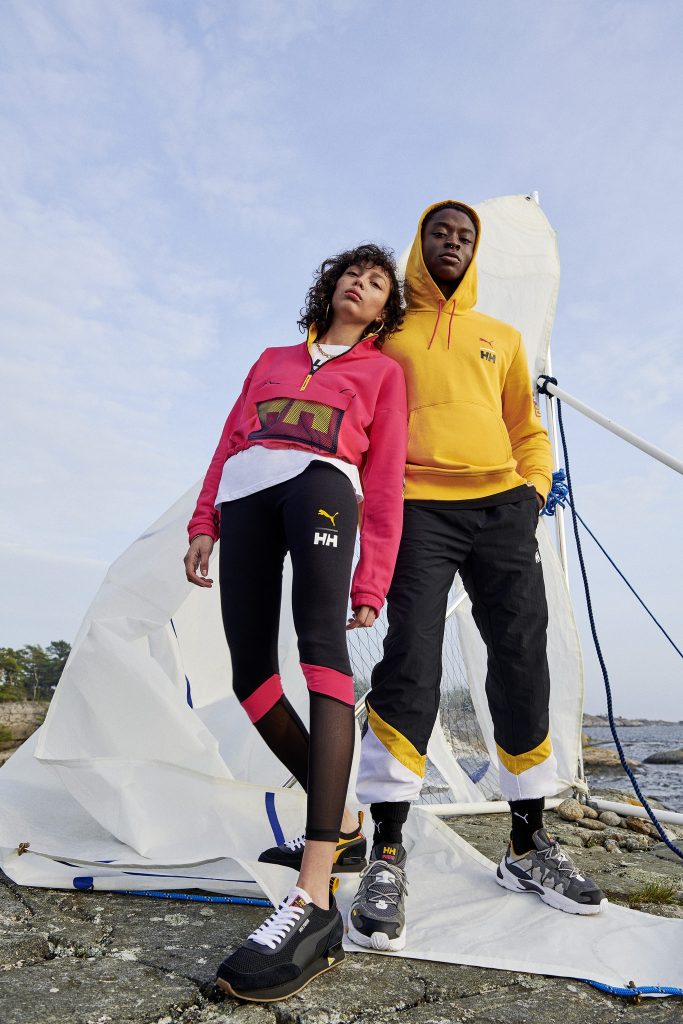 In the Footwear division, sales increased 16.8 percent reported to €2.55 billion ($2.75 bn) and grew 15.6 percent on a currency-adjusted basis. The strongest growth was achieved in the Sportstyle, Running and Training, and Motorsport.
In the Apparel division, sales rose 22.6 percent reported to €2.07 billion ($2.23 bn) and tacked on 20.5 percent currency adjusted. The gains were also driven by strong growth in Sportstyle, Running and Training, as well as Motorsport categories. Sales exceeded the two billion Euro sales mark for the first time.
The Accessories division showed a sales increase of 13.5 percent reported to €881.1 million ($951 mm) with 11.1 percent currency-adjusted growth. Higher sales of legwear, bodywear and Cobra golf clubs contributed to the increase.
Puma officials told financial analysts that basketball and women's collaborations are delivering better than expected results in addition to establishing credibility in key segments for the brand. Officials also revealed plans to relaunch performance running and introduce yoga offerings in 2021.
Wholesale continued to drive growth with an increase of 15.0 percent, currency-adjusted, supported by a strong performance of key accounts. Puma's direct-to-consumer (DTC) sales climbed 22.0 percent currency adjusted to €1.4 billion (1.51 bn), driven by same-store growth in Puma-owned stores, new stores and continued strong growth of e-commerce. DTC represented 25.4 percent of total sales in 2019 compared to 24.3 percent in 2018.
Puma told analysts e-commerce revenues in the year grew more than 50 percent, rising to 6.3 percent penetration. Puma officials guided one point of increase in overall DTC penetration annually with a long-term potential of reaching 30 percent of sales.
For the year, gross margins improved 40 basis points to 48.8 percent. Operating expenses increased 17.8 percent overall but were down slightly as a percent of sales, to 41.3 percent from 41.5 percent.
EBIT improved 30.5 percent to €440.2 million ($475 mm) in 2019, slightly above the upper end of Puma's upwardly-revised EBIT guidance of €420 million to €430 million. Net earnings climbed 40.0 percent to €262.4 million ($283 mm), or €1.76, in 2019.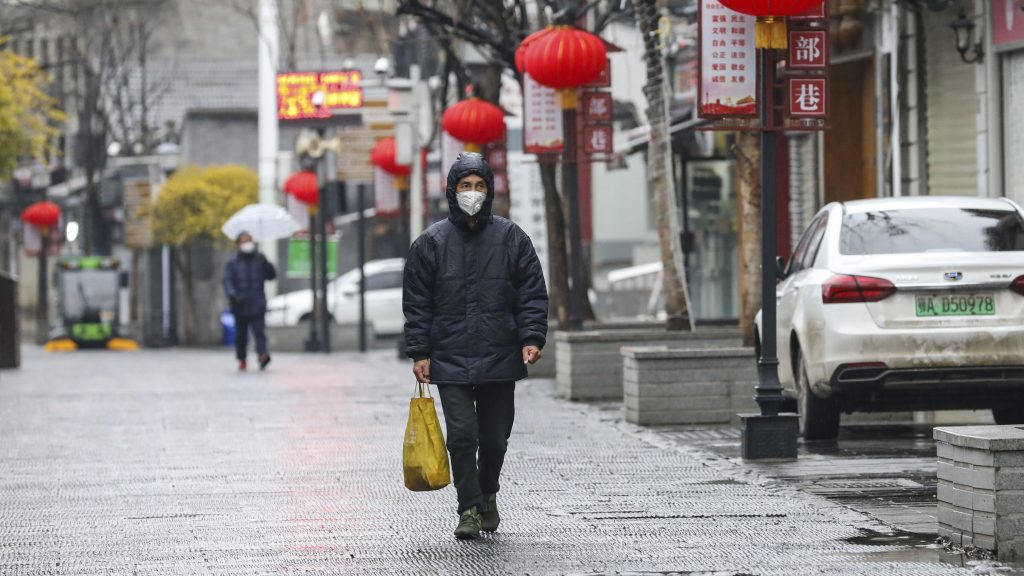 Looking ahead, Puma expects currency-adjusted sales growth of around 10 percent. Gross margins are expected to show a slight improvement over last year's rate of 48.8 percent, and operating expenses are expected to increase at a slightly lower rate than sales. Based on the current exchange rates, EBIT for 2020 is projected in a range between €500 million and €520 million, representing a gain between 13.6 to 18.1 percent from €440.2 million in 2019. Net earnings are expected to show "significant improvement" over 2019.
However, Puma said the coronavirus outbreak, also called COVID-19, is expected to have a "negative impact" on earnings and sales for the first quarter. Gulden noted that the coronavirus has negatively impacted Puma's business since the beginning of February.
"This is especially true in China where more than half of both owned and operated and partner stores are temporarily closed due to restrictions by the local authorities," said Gulden. "Business is further impacted in other markets, especially in Asia, due to the decline of the Chinese tourism business."
China, Puma's most profitable market, represented between 11 to 12 percent of Puma's 2019 revenues. Only 18 percent of product is sourced from China.
The CEO added, "The uncertainty regarding the duration of the COVID-19 outbreak, and the total impact it could have, makes it difficult to forecast the business, but we are currently working under the assumption that the situation will normalize in the short term and that we then will be able to achieve our full-year targets."
On Wednesday, shares of Puma jumped 11.3 percent to €80.10 from €71.95 the prior day on the above-plan performance. The stock had already climbed 60.0 percent in 2019 to close the year at €68.35.
John Kernan, at Cowen, raised his estimates and price target on Puma to €84.00 from €81.00. He reiterated his "market Perform" rating due to valuation.
In a note, Kernan wrote that Puma's Q4 performance "confirms a robust 2020 is underway and Coronavirus impact is manageable." Order book trends, excluding China, are reported to be "very strong" and broad-based across regions and categories, supported by product pipeline momentum.
Puma footwear styles such as the Ralph Samson, Uproar and Clyde Hardwood in basketball; the RS-X, Rider and Cali franchises; innovation in soccer with Ultra and Future; the Speedcat OG in Motorsport; Xetic and Ultraride in running and training shoes; and the LQD Cell and Hybrid technology platforms; all position Puma to build further momentum in FY20. A significant range of retro classics, such as Rudolf Dassler collection, are also expected to support growth.
Kernan added that collaborations and strategic partnerships with leading brands, influencers and sport entities, including in all four major soccer leagues and participating in its first full NBA season after returning to the sport in 2018, position Puma's brand to further increase global visibility and participation.
Wrote Kernan, "The brand is a share gainer in all major global markets and has a robust product cycle supported by powerful collaborations, sponsorships and marketing."
After the fourth-quarter report, Piral Dadhania, an analyst at RBC Capital Markets, raised his rating on Puma to "Outperform" from "Sector Perform" and his target price to €90 from €70.
He noted strong EMEA and Footwear results were the main positive surprises in the fourth quarter but also noted that growth was broad based across segments, regions and channels. He particular sees untapped opportunities in Asia Pacific and the U.S. market.
"Puma is part way through scaling its Asia Pacific (specifically China) business, which should have above average profitability and should drive mid-term revenue and earnings growth," wrote Dadhania in a note. "It is also approaching the U.S. market with a successful approach in Lifestyle given its strong product offer and brand positioning in this category, as well as sensible use of marketing assets. Basketball is small in size, but is enabling Puma the opportunity to approach a new target demographic which over time could scale."
He added, "We also like Puma's brand momentum, high marketing ROI (particularly in social media channels and with high profile brand ambassadors), and above-average new product innovation. The pipeline for category and range expansion in FY20E and beyond looks promising, with a focus on Performance Running and yoga/lifestyle likely to further broaden its performance credentials and strength in lifestyle respectively."
On the expense side, Dadhania said cap-ex investments supporting central organizational expansion, including Puma's U.S. headquarters in Boston and global headquarters in Herzogenaurach, as well as additional logistics capabilities in Germany and the U.S. should peak in FY20E at €200 million, and free cash flow improvements should then arrive.
Wrote Dadhania, "Net, we believe the business shows above average revenue and earnings growth outlook to FY23E (10 percent and 16 percent respectively), and should achieve its 10 percent EBIT margin target by FY24E on our estimates."
Photos courtesy Puma, Puma x HH, Yahoo News UK