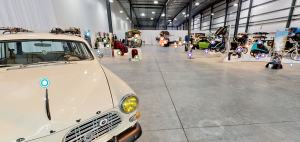 Active lifestyle brand, Thule, has created a comprehensive, interactive experience in place of their custom brand showcases for 2020. This unique approach combines an interactive global online sales tool, premium videos for new 2021 products, and a 360-degree virtual walkthrough of their retail showroom. These tools will provide their sales teams, retailers, and media with everything they would have seen in-person at their launch events. This new brand presentation for retailers and media is available now.
Due to the cancelation of their two product showcases and other trade and media events, Thule has created a complete online experience to showcase the brand, new products, and retail merchandising solutions. Thule has brought to life the brand, its portfolio of new products, and retail display concepts in a first-class presentation using an interactive global online sales tool, video presentations, and a 360 a virtual walkthrough of their retail space by category allowing viewers to navigate the area from their laptop, tablet or smartphone.
In 2019, Thule hosted their first Thule City to Summit product showcase in Denver, Colo. during the Outdoor Retailer Summer Market tradeshow, and the new format was hugely successful for the brand and set a new standard within the industry. "While the same event was planned for 2020, the cancellation of the physical trade show and limitations around travel and large events due to the Covid-19 pandemic created an obvious need for a virtual presentation like this," said Fred Clark, Thule Group Americas President. "Each element created lends itself well to a brand like ours as we have several categories with many different types of retailers and media to reach. We are excited to be able to showcase our brand using these new formats. This type of innovative technology that will certainly be a part of our industry in the years to come."
This virtual Thule experience brings together all Thule product categories using an interactive digital workbook complete with new product information and feature videos, dynamic navigation to cross-reference categories, and a link to their online ordering tool. This global sales tool is customized by region, including product assortments, and video voice-overs and copy translated into 13 languages.
In addition to the digital workbook, an interactive retail experience was designed by constructing a full-scale retail showroom in Thule's warehouse complete with their retail concept, new products, and vehicle vignettes in a first-class presentation. Using 360-degree walk-thru technology, viewers can navigate the space from their laptop, tablet, or smartphone. Like a digital map's "street view" experience, retailers have a first-person view of the brand's various merchandising solutions. Within the space, Thule showcases new "shop-in-shop" concepts for each category, allowing customers to visualize how the products and displays will look in a retail environment. Virtual PR presentations were developed to take media through the latest carriers and racks, rooftop tents, luggage and bags, and strollers, and other child carriers.
This new virtual experience for Thule offers its network of dealers, retail customers, and media an experience that is as close to a physical showcase as possible. The brand is excited to offer this new tool and looks forward to sharing what's in store for 2020 and 2021. Authorized Thule Dealers looking for more information about this tool and access are advised to contact their Thule sales representative.