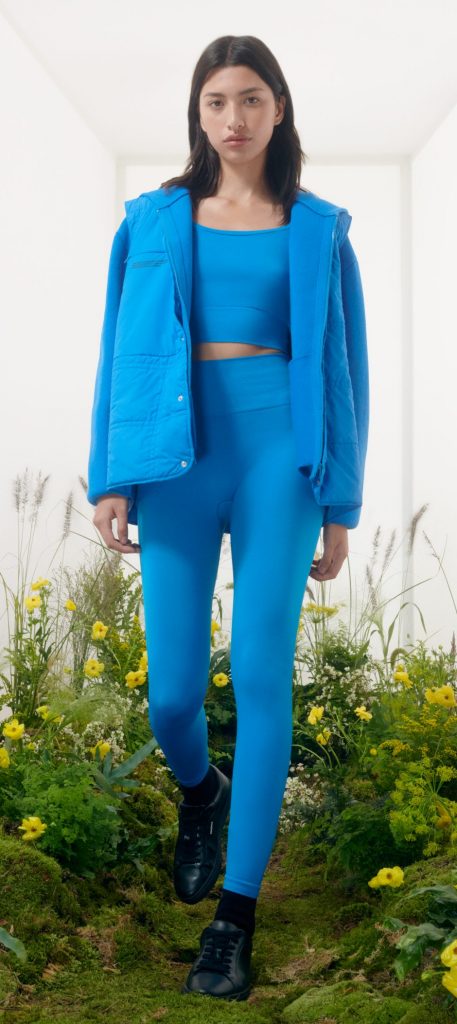 With the mission to find problem-solving materials that promote biodiversity, remove petro-chemicals and support a climate-positive future, materials science brand Pangaia introduced an improved range of plant-based activewear, Activewear 3.0.
Activewear 3.0 follows suit with the brand's material philosophy of "high-tech naturalism," using processes and sustainable chemistries to expand the functionality of its textiles.
The third iteration of its activewear line, which includes four key styles in three colorways, is the brand's most bio-based offering, made with 99.99 percent plant-based Evo Nylon and 30 percent plant-based creora elastane.
Hyosung's creora elastane offers 30 percent biobased content sourced from industrial corn, harvested in the U.S. Pangaia is the first brand to introduce the stretch fiber in an activewear range. 
The yarn is SGS-certified, guaranteeing that it is made with plant-based materials and produced in an eco-friendly environment. 
"Pangaia is highly regarded for their innovative approach to new materials and often referenced for leading the way in sustainable solutions," said Claire O'Neill, Hyosung European marketing manager. "As a textile solutions provider, we are proud that such a reputable brand has partnered with Hyosung to help realize its vision of developing an advanced collection of plant-based activewear its customers will feel good about purchasing and wearing."
The evolution of Pangaia's activewear range includes an updated look and feel designed to feel like a second skin with gentle compression. Each garment is treated with the brand's PPRMINT finish, so garments stay fresher longer.
The latest range includes four styles—bra, cropped top, shorts, and leggings—in black, foliage green and cerulean blue. 
For more product information, go here.