Black Diamond Equipment®, a global innovator in climbing, skiing and mountain sports equipment, is hosting the 26th annual fundraising party for the Utah Avalanche Center (UAC), scheduled for 6-10 p.m., Thursday, September 12. The event will take place at Black Diamond's Salt Lake City headquarters, at 2084 East 3900 South.
"Supporting the UAC for more than 25 years not only marks a milestone in terms of fundraising but also strikes to the heart of what Black Diamond is all about," explains Jess Powell, Black Diamond Equipment's event manager. "We are grateful in sharing a rich heritage with the UAC and greater Wasatch community of backcountry skiers and riders. This fundraiser serves as the unofficial precursor to the Wasatch ski season and brings together backcountry enthusiasts of all ages and abilities to celebrate the greatest snow on earth."
The UAC provides avalanche forecasting, awareness and education in the State of Utah giving backcountry travelers the tools they need to make wise decisions in the backcountry. Additionally, it issues daily avalanche and mountain weather forecasts for eight regions across the state, provides over 100 complimentary Know Before You Go avalanche awareness presentations each season, offers on-snow avalanche courses and manages a free avalanche skills e-learning program.
"We are extremely grateful to have a partner like BD who shares our vision and is committed to raising the standards of snow safety in the backcountry," says Mark Staples, director of the forest service at the Utah Avalanche Center. "Black Diamond's annual fundraiser is one of the most critical sources of funding for the UAC. Nearly 70% of our funding comes from donations, fundraising events and grants. Last year's event raised more than $92,000 and involved over 1000 members of the Wasatch backcountry skiing community."
Along with support from the Uinta Brewing Company and Dented Brick Distillery, the annual pre-season fundraiser bash includes food from Meier's BBQ and Catering and the live tunes of Herban Empire. There will also be a silent auction overflowing with gear, as well as grand giveaways for those who purchase advance tickets.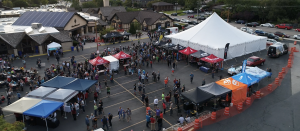 The event is outdoors and will be held rain, snow or shine. You must be 21 to attend or accompanied by an adult. No dogs are permitted. Tickets are $40 in advance. Student tickets are available at the door for $25 with a current, valid student ID. For more information, call 801-365-5522 or go to UtahAvalancheCenter.org. Tickets can also be purchased at the Black Diamond Store or online at uacparty.givesmart.com.
About Black Diamond: Black Diamond Equipment is a manufacturer of equipment and clothing for climbing, skiing and mountain sports. By consistently building innovative, standard-setting products and actively preserving the mountain/canyon environment, Black Diamond Equipment has assumed a leadership role in the international outdoor community. For more information on Black Diamond Equipment, visit BlackDiamondEquipment.com