Lee County, FL, October 31, 2019—More than 500 of the world's best sailors will take to the waters of Captiva Island over the next two weeks as they race for glory at the 22nd Hobie 16 World Championship event, held Nov. 1-16 at South Seas Island Resort.
The event features a jam-packed schedule across its 16-day duration, with plenty of opportunities for spectators to take in all the action from the resort's famed Sunset Beach, meet the world-class sailors, enjoy the resort's many amenities and explore beautiful Captiva Island.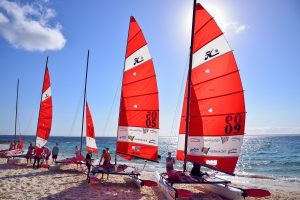 Racing will take place daily beginning Nov. 2, with intermittent starts from approximately 10 a.m. to 4 p.m. (weather/wind dependent). Spectators can experience the racing from the shore at Sunset Beach, or take a sailboat cruise out to the racecourse to get a closer view of the action, offered by Captiva Cruises for an additional fee. Parking passes for South Seas Resort cost $5 per car. Food and beverages will be available for purchase at the beach (cash only). To book a space on the spectator cruise, visitors should call Captiva Cruises at 239-472-5300.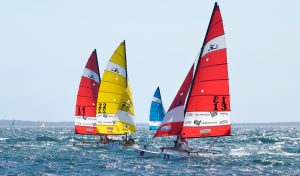 This is the first time in 35 years that Hobie, the leading manufacturer of premium kayaks, sailboats and watersport products, and the International Hobie Class Association (IHCA) bring the prestigious Hobie 16 Worlds back to the United States. More than 24 countries will be represented at this year's event, with sailors competing across three world championship disciplines: Women's, Youth and Open; and three additional disciplines: Masters Cup, Grand Masters Cup and Great Grand Masters Cup.
Sponsors include; The Beaches of Fort Myers & Sanibel, South Seas Islands Resort, Offshore Sailing School, Liros, Stilwell Enterprises & Restaurant Group, Hobie Polarized, Captiva Cruises, Sunny Island Adventures, Estero River Outfitters, Wicked Dolphin, Doc Ford's, Cabbage Key, Nautical Ventures, The Islands of Sanibel & Captiva Chamber of Commerce and the Hobie Cat Company.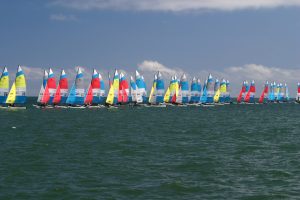 The Hobie 16 World Championship is the only sailboat class in the world to supply brand-new identical boats for all competitors to race. All sailors will compete on Hobie 16's, Hobie's signature 16-foot catamaran sailboats that have been on the market since 1972 and have been described as the best-selling sailboat in the world.
For a full event schedule and additional details about the 22nd Hobie 16 World Championship, please visit hobieworlds.com.