By Eric Smith
In the early days of the coronavirus, when shelter-in-place orders were announced and gyms around the country were forced to close their doors, Peloton Interactive Inc. was identified as a potential beneficiary.
Most analysts expected the fortunes of fitness equipment makers to rise as people sought ways to work out at home.
Things didn't go quite so well for Peloton initially. Supply chain issues plagued the company's ability to deliver product, as did restrictions on employees entering customers' homes to help them assemble their new equipment.
And when a Peloton employee at its New York City-based production studio tested positive for COVID-19, the company in early April decided to pause live production of its exercise videos at its New York and London studios through April 30.
Peloton's fortunes began to improve when the company announced it was able to reopen a week earlier than projected, and on April 22, Peloton held its largest class ever. More than 23,000 people tuned in for more than 10 minutes each to a live workout.
And as the company unveiled the results of its fiscal third-quarter earnings this week, it became obvious that Peloton has weathered impacts from the coronavirus and is poised to realize those great expectations.
"As you might imagine, the shelter-in-place and work from home realities have created a meaningful tailwind for Peloton and a broader ongoing consumer shift towards that home fitness experiences," John Foley, Peloton's co-founder and CEO, told analysts on Wednesday afternoon's earnings call. "While this tailwind is undeniably positive for our business financially, we are more proud of our member growth, the increased engagement of our members on our platforms, and the feedback we've received from our members about how Peloton has helped them maintain their physical and mental well-being in these difficult times."
…
Indeed, in just its third quarterly earnings report since going public, Peloton notched another revenue beat as the company grew its number of connected fitness subscribers 94 percent to 886,100 and its total members to more than 2.6 million.
Peloton, which released fiscal third-quarter earnings Wednesday afternoon, reported total revenue grew 65.6 percent to $524.6 million, topping Wall Street estimates by $33.5 million.
The company reported a net loss of $55.6 million but adjusted EBITDA of $23.5 million, representing an adjusted EBITDA margin of 4.5 percent. Earnings per share of a loss of 20 cents were short of estimates by 1 cent.
That put Peloton ahead of its own financial expectations, according to CFO Jill Woodworth.
"We previously said we expected to achieve profitability in fiscal 2023 a goal we have achieved far sooner than originally forecast," she told analysts. "The extraordinary events taking place over the past two months have measurably expanded our market opportunity and accelerated the ongoing shift to connected fitness. Our fiscal year 2020 profitability outlook demonstrates the strength of our financial model when scale and leverage are achieved. However, our underlying strategy is unchanged. We plan to continue to prioritize connected fitness subscriber growth and invest aggressively behind new products, software, fitness programming and international growth."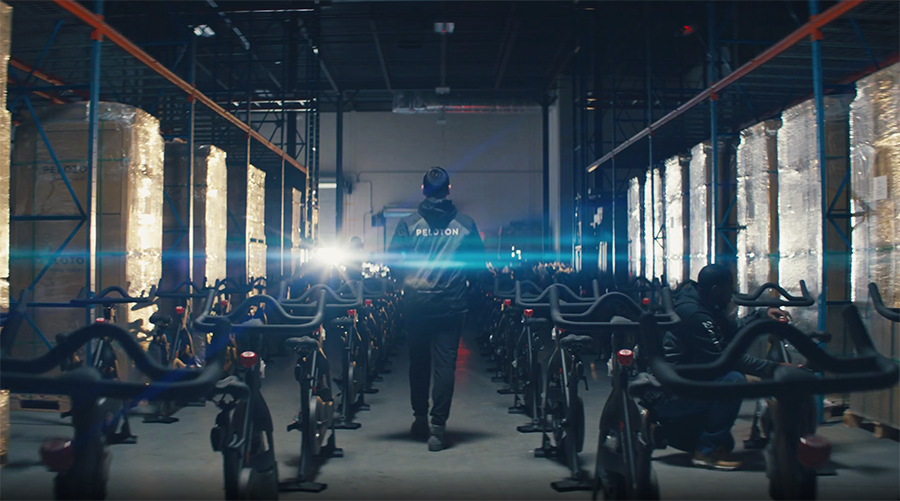 With the adjusted EBITDA profitability box now checked, Peloton can shift its focus to the remainder of the fiscal year. Unlike other companies that withdrew their guidance because of uncertainty surrounding the coronavirus, Peloton has gone all-in on forecasting an upbeat remainder of the year.
Based on the strong performance, for the fourth quarter, Peloton is estimating $500 million to $520 million total revenue with 128 percent growth at the midpoint and $55 million to $65 million in EBITDA margin at the midpoint of ranges.
Peloton also raised its full-year guidance for FY 2020 from 1.04 million to 1.05 million connected fitness subscribers based on 104 percent growth at the midpoint. It also now projects $1.72 billion to $1.74 billion in total revenue with 89 percent growth at the midpoint.
The company also projects $30 million to $40 million in adjusted EBITDA with a 2 percent adjusted EBITDA margin at the midpoint of ranges.
"Our Q4 guidance assumes we continue to pause delivery through the end of the quarter," Foley said. "If we resume in-home assembly sooner that will provide upside to our connected fitness subscriber count and revenue expectation put modest pressure on connected fitness product gross margin and leave adjusted EBITDA unchanged."
Shares of Peloton (Nasdaq: PTON) were up around 15 percent in Thursday's morning trading.
Photos courtesy Peloton