By Thomas J. Ryan
Peloton Interactive, in its first quarterly report since going public, reported a loss that was below Wall Street's targets, but revenues were better than expected due to a significant influx of new subscribers.
On a conference call with analysts, John Foley, Peloton's CEO, said the company is within "striking distance of profitability" but is still making sizeable investments in international expansion, new products, digital content, and additional Peloton studios to drive top-line growth.
"I believe if we pull back on growth, we could be profitable tomorrow," he said. "But that is not what the board and the leadership of Peloton believe we should do. We think this opportunity, globally, is so big that we think we're right on the right balance of investing for future growth."
The company, which sells a stationary bike, a treadmill and a subscription-based app for live and on-demand classes, logged a net loss of $49.8 million, or $1.29 a share, in the first quarter ended September 30, an improvement from a loss of $54.5 million, or $2.18, last year. Wall Street, however, was expecting a loss on average of 36 cents a share.
The steeper net loss per share a year ago reflects an increase in average shares outstanding due to the IPO that was completed on September 26.
The adjusted EBITDA loss widened to $21.0 million from $13.5 million, although the EBITDA margin improved by 283 basis points to 9.2 percent primarily due to operating expense leverage.
Revenue vaulted 103.4 percent year-over-year to $228 million.
Connected Fitness Product revenue was $157.6 million, representing 102 percent year-over-year growth and 69 percent of total revenue. Peloton said in a statement, "Our strong sales were the result of our effective brand and performance marketing efforts including a new marketing campaign highlighting our financing program for the first time. We also benefited from continued word-of-mouth referrals from our loyal Members, which remains one of our largest marketing channels."
Connected Fitness Product revenue also benefited from the launch of Tread, its treadmill offering, and initial expansion internationally, both of which occurred late in the year-ago first quarter.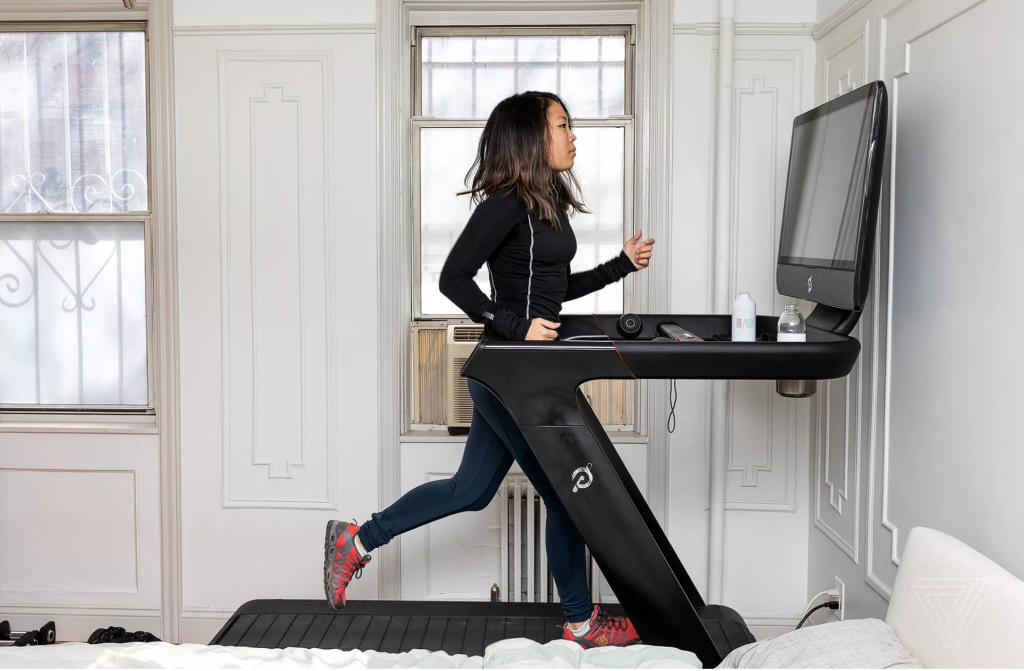 Subscription revenue grew 112 percent to $67.2 million, representing 29 percent of total revenue. Peloton's Connected Fitness subscriber base expanded 103 percent to 562,774 by the end of Q1, aided by a continued low average net monthly churn in Q1 of 0.90 percent. The subscriber count topped Wall Street's average expectations of 544,000.
Increasing member engagement with the platform is supporting subscription growth. Peloton saw 11.7 average monthly workouts per subscriber in the latest quarter versus 8.9 in the same period last year. Subscribers worked out with Peloton 19.2 million times in the quarter, up from only 7.1 million in the same period last year, representing 171 percent year-over-year growth. Peloton believes the increasing diversity of its content continues to drive engagement.
Peloton also ended the quarter with 105,856 digital subscribers, up 116 percent year-over-year.
Other revenue, which primarily consists of the sale of Peloton-branded apparel, was $3.3 million in Q1, representing 30 percent revenue growth, net of discounts, and 80 percent unit sales growth year-over-year.
Gross profit in the quarter was $105.1 million in Q1, representing 104 percent year-over-year growth. Gross margin was steady year-over-year at 46.1 percent.
Total operating expenses of $156.0 million grew 46 percent year-over-year primarily due to increased marketing expenses, expansion into new international markets and fitness verticals, and increases in payroll-related costs due to growth in headcount.
Peloton noted that it typically sees lower revenue in the first and fourth quarters of its fiscal year relative to the second and third quarters when the company benefits from holiday sales, New Year's resolutions, and colder weather. Therefore, operating costs as a percentage of total revenue in the first and fourth quarters, are typically higher.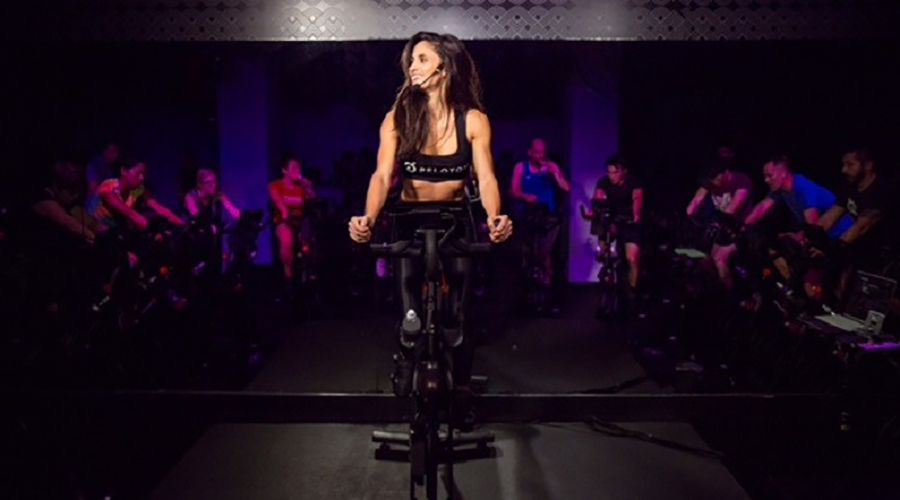 Total operating expenses were 68 percent of total revenue, compared to 95 percent in the prior-year period. The prior-year quarter included a one-time stock-based compensation charge of $32.6 million related to its Series F tender offer. Excluding this impact, the year-ago operating expense would have been 66 percent of total revenue.
Among the investments was the acquisition of Tonic Fitness Technology, a bike manufacturing partner, for $47.4 million in a deal that closed in October. Peloton said, "While the acquisition of Tonic brings some of our manufacturing in-house, we will continue to work closely with our other valued manufacturing partners. Tonic, founded by Andy Wu, has been designing and manufacturing innovative stationary bikes since 1985. Peloton began collaborating with Tonic on our Bike in 2013."
Peloton also revealed it will be launching in Germany on November 20, its second international market after the U.K.
Looking ahead, Peloton sees Connected Fitness subscribers growing 88 percent in the second quarter to between 680,000 and 685,000, above what Wall Street was expecting. It sees total revenue of $410 million to $420 million, up 58 percent at its midpoint.
For fiscal year 2020, Peloton sees 885,000 to 895,000 ending connected fitness subscribers, or growth of 74 percent at the midpoint. Total revenue is expected in the range of $1.45 billion to $1.5 billion, up 61 percent at the midpoint. Analysts were expecting $1.4 billion in revenue for the year.
On September 26, Peloton went public at $27 a share, down from the $29 where it priced the evening prior. Shares closed Tuesday at $22.74, down $1.87, or 7.6 percent.
Market observers said investors are looking more closely at paths to profitability from digital start-ups rather than placing a premium on growth. Uber Technologies Inc., Lyft Inc. and Slack Technologies Inc. are among some other recent IPOs trading below their IPO prices due to similar concerns over money-losing start-ups.
Photos courtesy Peloton