During a Barron's Investing In Tech conversation, Peloton CFO Jill Woodworth discussed the expanding total addressable market for at-home fitness, the brand's pending move into lower-priced bikes, challenges presented by COVID-19, and its controversial holiday campaign.
"We've certainly been the beneficiary of frankly a very tough time for the global economy and the United States, in particular, has been hit pretty hard with COVID-19," said Woodworth. "So it's bittersweet. But, I think, what it's done is really accelerate the adoption of at-home fitness much faster than we anticipated."
Investors are also paying more attention to the at-home fitness trend. She added, "People are starting to believe the trends that we saw years and years ago."
Shares of Peloton closed Thursday at $64.49 after starting the year at $28.40. The company went public in September 2019 at $29.
Woodworth noted that Peloton is also benefiting from the wide-scale closure of gyms for safety reasons with fitness boutiques, in particular, facing challenges reopening.
She said Peloton still hears similar questions from investors on the total addressable market. The CFO said, "How big can you be really? How many $2,000 bikes can you sell? What is the addressable market? That's been the big question since day one."
The change has been many investors are now wondering how much of Peloton's recent strength may be "pulled forward" due to the pandemic.
Asked whether a vaccine's arrival would dry up demand, Woodworth answered, "Not at all."
She said Peloton is disrupting the fitness category through digital streaming media just as digital has upended gaming, music and movies. With Netflix and other services arriving, over 90 percent of movies were being viewed in the home versus in movie theaters even prior to COVID-19, Woodworth noted.
"We believe that fitness is that last brick & mortar category to migrate to the home and COVID-19 has just accelerated that," she said. "And we believe that over time, if you can have a better experience in a better location at a better time, then we think the value proposition of what we offer will win out over time over brick & mortar."
She added, "There is nobody rooting more for a vaccine, or for people to get back to their fitness regimes than we are. But we do believe that this trend will continue with or without COVID-19 or a vaccine."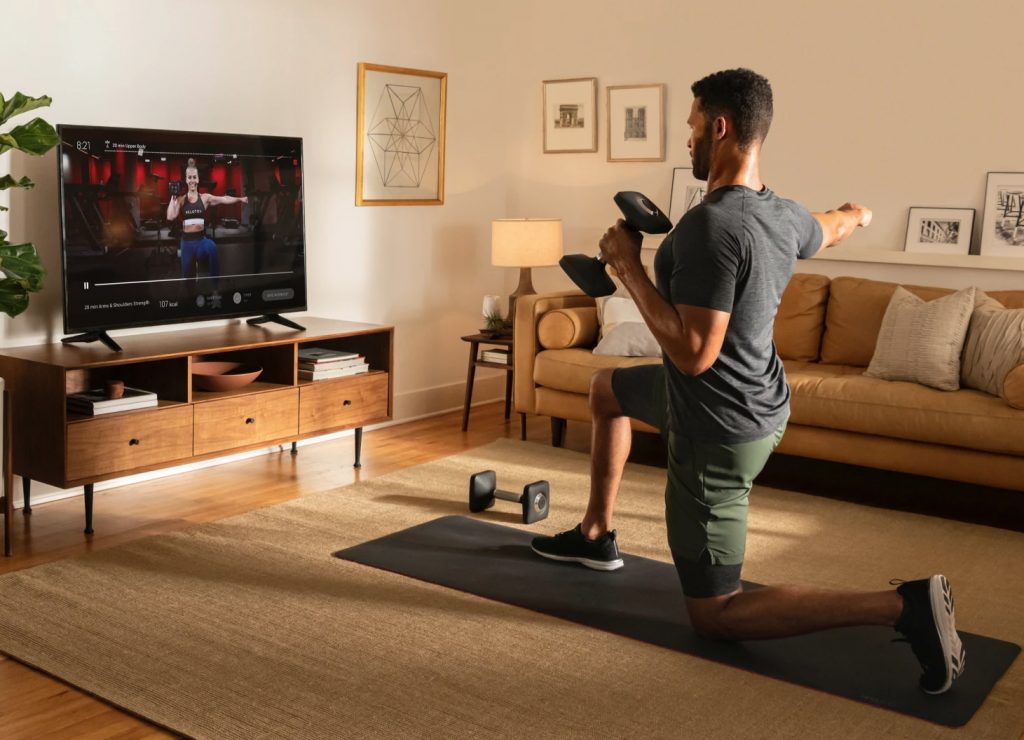 Peloton Is A Technology-First Company
Probed about a new crop of competitors in the at-home fitness space, Woodworth said Peloton sees itself more as a "very multifaceted technology company" rather than a media company. She said the combination of "great hardware and great interactive software" that supports the strong content is the core of what differentiates Peloton's experience from others in home-connected fitness.
"It's the leaderboard, it's feeling other people around you, it's getting the 'high five', it's being able to video chat with a friend who's 3,000 miles away while you're taking a ride together," said Woodworth. "I think that is really the glue that makes this a really unique experience and what differentiates our platform from others."
Indeed, she said Peloton scores many benefits with its focus as "a true technology company, not a company that was born as a fitness equipment manufacturer or a company that was formed from creating content or from brick & mortar studios."
The technology-first focus helps continually deliver advanced experiences including recently adding a new feature that allows users to ride in groups with people that have mutual interests. Woodworth said, "We were an experience born from technology first and foremost, and that comes through with our platform."
One way the company is introducing consumers to the Peloton experience is through the Pelton mobile app, which costs $12.99 monthly for one person versus the $39 monthly Connected Fitness subscription that covers multiple members in a household.
The app was originally built as a companion app for Connected Fitness members when they were traveling and became more important when Peloton added yoga, meditation and other activities to the content platform. The app excludes access to metrics and some other features, but Peloton has found that the app is serving as a lead generator for new prospects. She said, "We do see a large number of people who try the digital app that end up falling in love with the instructors, the community and then goes on to purchase a Bike or Tread."
Peloton's app also recently became available to stream on a user's Roku device, joining other ways the app can be accessed via partnerships with Samsung's Android TV, Amazon Fire TV and Apple TV. Said Woodworth, "We want Peloton available on every screen in your hand and in your home."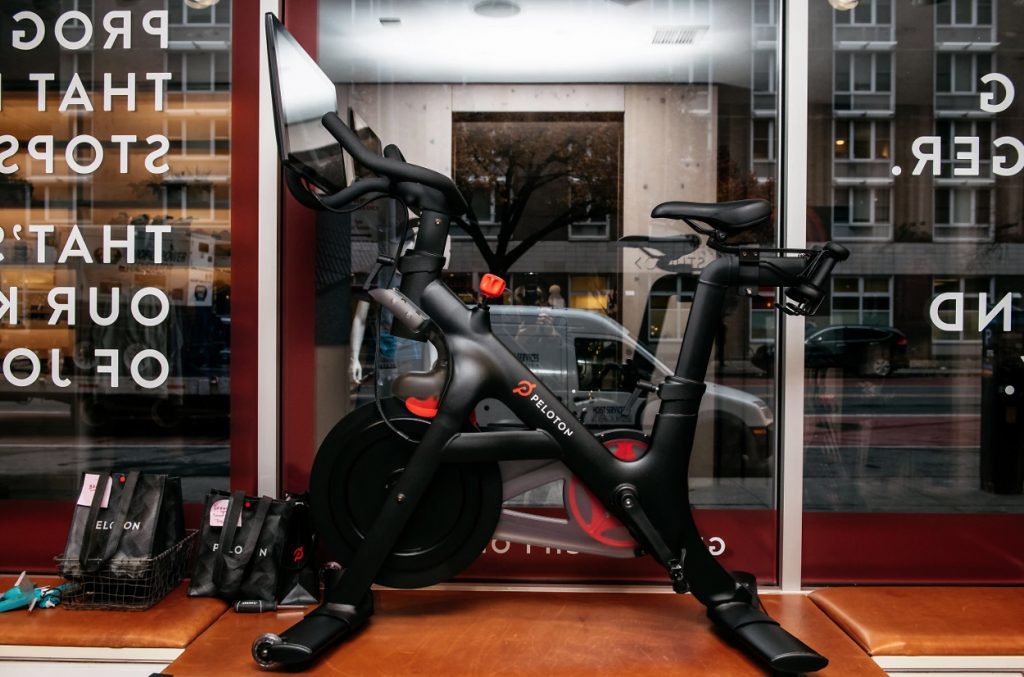 Peloton Developing Lower-Priced Tread
Woodworth reiterated Pelton's ambition to come out with a lower-priced Tread. The current Tread starts at $4,295 and Peloton is looking to come out with one priced more in line with its existing bike. The brand's stationary bike starts at $2,245. CEO John Foley first hinted at an investor conference last December that a "mass-market" treadmill would arrive in the coming years.
Woodworth noted that there are over 30 million treadmills in U.S. homes today, and over 5 million treadmills are sold every year. Peloton sees the running and Boot Camp category at two to three times the size of the bike category. Woodworth said, "If you ask John Foley what his favorite workout is, it's not cycling, it's Boot Camp because it's a full-body workout. We believe we can create an experience that is a portal to a full-body, highly-efficient 30- to 45-minute workout that accomplishes all of your fitness goals in one class."
Rowing, the CFO added, "could be interesting" as a new category over time, but the total addressable market is seen as "much smaller" than cycling and "much, much smaller" than running and Boot Camp that's addressed by treadmills.
Peloton Stirs Controversy With Holiday Campaign
Woodworth was also asked about the controversial "The Gift That Gives Back" ad that ran last holiday season only to receive a massive backlash on social media. Critics charged the ad depicted an already thin woman working out on a Peloton bike for a year to shed weight and stay young only for her image-obsessed husband.
The CFO first noted that Peloton always runs ads around the holiday season with the item often given as a gift. Said Woodworth, "We see very high sales volumes between Black Friday all the way through New Year's resolutions and into February.  That is really our peak period of demand and so we've always done holiday spots."
But she admitted that the ad's message about the benefits of wellness didn't come across.
"What we were really trying to convey was that Peloton is more than just exercise," said Woodworth. "I believe our members understand this. It's more about just fitness. It's certainly not about losing weight. It's about mental well-being, mental health, overall well-being … And I think that message just got lost. And so it taught us a lot about making sure that the message that we're hearing is the message that everyone is going to hear."
She also believes the reaction reflects "a lot of the baggage" the fitness industry has long harbored. Woodworth elaborated, "It's generally been centered around weight loss, lose weight quickly, fad-products … And that's just not how we see ourselves. We don't sell ourselves that way. And I think it was also just a representation that people think if you give someone the gift of fitness, that you're giving them the message that they need to lose weight, and that's never been any part of our brand."
Other insights from the conversation:
Order-to-delivery turnaround times slowly improving: Peloton's order-to-delivery turnaround times for its most popular bikes were reportedly ranging between 7-to-11 weeks in June due to high demand and has improved to 7-to-9. Woodworth said a "significant uptick" in COVID-19 cases in several parts of the U.S. are impacting delivery. Woodworth said Peloton has doubled its supply chain capacity with both third-party manufacturers and Tonic, the former manufacturing partner that the company acquired last year. She suspects normalized order-to-delivery times of 2-to-3 weeks will return by the end of summer. Woodworth said, "We hate disappointing our new members with weeks and weeks of wait time to get their bike. So, it is our number-one focus as a company right now."
Content production back in the studio: Peloton has resumed content production at its new studio, Five Manhattan West, in New York City after having instructors broadcast content from their homes early on amid the pandemic. The new studio is a 35,000-square-foot facility with four fitness studios. Woodworth said Peloton doesn't anticipate continuing to use at-home instructor workouts because the production quality is significantly higher in the studio and necessary camera and technical equipment crowded instructor's homes. Woodworth added, "I don't think that that will be part of our plan in the long term, but it definitely opens up our eyes that maybe there are more creative ways we can continue to foster those really deep relationships that our instructors have with our community."
Photo courtesy Peloton