Patagonia ranked third and L.L. Bean fourth in this year's Axios Harris Top-100 Poll's survey ranking the public's perception of the 100 most visible U.S. companies. Nike, Adidas, Under Armour and Dick's Sporting Goods also landed on the list.
Patagonia, which has earned extensive media coverage for its environmental stewardship efforts, earned a score of 81.4 and moved up six spots from nine in 2018's rankings. L.L. Bean moved up from 15 with a score of 80.7. A score above 80 rated a company having an  "excellent" reputation. Only five other firms – Wegmans, Amazon, Walt Disney, Publix and Samsung – scored at 80 or above.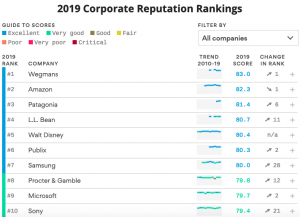 Among age groups, Patagonia ranked second with Gen-X and third with Boomers. L.L. Bean rated fourth with Gen-X.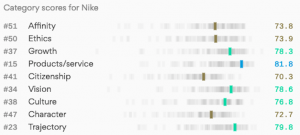 Among other firms in the active space, Nike ranked at 35, tumbling from 12 in 2018. Nike still scored a 76.0 and rated at a "very good" reputation level. Nike stoked some controversy  over the last year with its ad campaign supporting Colin Kapernick while also seeing a number of executives resign due to complaints about poor workplace misconduct that some saw tied to the #MeToo movement. Nike scored particularly low in Citizenship, Character, Affinity and Ethics while higher in Products/Service, Vision and Trajectory.
Nike did land as the company with the second highest reputation among Millennials with a score of 82.5, second only to Wegmans. The remaining top-ten brands with the all-important Millennial crowd were Microsoft, Best Buy, Google, Procter & Gamble, Amazon, Nintendo, Chick-fil-A and Nestle.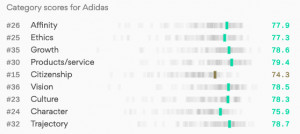 Adidas ranked higher on the overall top-100 list, at 27 with a score of 77.3. No year-ago comparison was available. Adidas scored much higher in Affinity, Ethics and Character than Nike but lower in Products/Service. Adidas  has a relationship with the eccentric rapper, Kanye West, for its Yeezy line but has largely stayed away from controversy over the last year.
Under Armor landed at 44 on the top-100 list with a score of 75.2. No year-ago comparison was available. The company, also facing headlines due to some workplace issues, scored particularly low in Citizenship. On the positive side and despite a slowdown in its sales growth, Under Armour ranked 9th on the Velocity List, which measures a company's momentum.  (Momentum is calculated by % saying the company is "on its way up" minus the % saying "on its way down.")
Dick's Sporting Goods, making the list for the first time, landed at 68 with a 72.5 score. Dick's also performed best on Products/Service and notched only a "fair" rating in Citizenship. The retailer earned attention for its move to remove semiautomatic rifles from its doors and stop selling any firearms to individuals under 21 following the Parkland, FL school shooting. Among specialty retailers that exclude Amazon, Wal-Mart and Target, Dick's placed eighth. Home Depot, Hobby Lobby, Lowe's, Ikea, Best Buy, Kohl's and Nordstrom all ranked higher. Macy's, Dollar General, JC Penney and Sears ranked lower.
Amazon came in at two among companies, well above its broad-line competitors, Wal-Mart, at 79, and Target, 72. Amazon also ranked first on the Velocity List measuring momentum with the highest ratings for Trajectory, Growth and Vision. The e-commerce leader, however, dropped from the top spot and fell out of top 10 rankings for Ethics and Culture amid a year of tabloid attacks on its CEO, backlash from Whole Foods employees, rising reports of fake products being sold online, and other controversies. Axios wrote in its study, "Amid a high profile search and last minute cancellation for HQ2, and the ensuing fallout with Alexandria Ocasio-Cortez and company, America still loves its smiling boxes, but are beginning to grow uneasy with Amazon's reach and power."
The polling was conducted in two sessions between November 2018 and January 2019. In the first, 6,118 US adults were asked to name two companies with the best and worst reputations. In the second stage, the 100 "most visible companies" were ranked by 18,228 adults via several measures of corporate reputation.
The full report is here.