In today's hard-pressed, brick & mortar retail world, it's much harder to leave a family legacy for the next generation to take over the business. More likely, it's a pile of unpaid invoices, back rent and perhaps leftover inventory. But with time-honored values, business sense and a focus on customer service, thriving family-first retailers do exist.
SGB Executive caught up with two outdoor specialty retailers, one on the East Coast and one out West, whose businesses are thriving.
Outdoor Sports Center
Wilton, VT
It's truly all in the family for the Outdoor Sports Center in Wilton, VT. The family-owned and operated retail store has been serving the Wilton area since 1965 for snowsports enthusiasts, cyclists, paddlers, climbers, backpackers, and more and is now in its third generation as a family operation.
The store was founded by John and Sidney Maxwell, who met in the 1930s while skiing and then started a ski club. They opened the Ski Hut in the late 1950s, and by 1983, under the guidance of their son, Jack, they moved to the store's current location at 80 Danbury Rd.
Jack's sons Scott, 40, and Will, 38, shown below, now help run the store with their mother, Linda, who handles accounts payable. Scott oversees buying and the retail business, while Will handles IT and advertising. And with 35 full-time employees, they're continuing the family's goal of growing both the company and local interest in all things outdoors.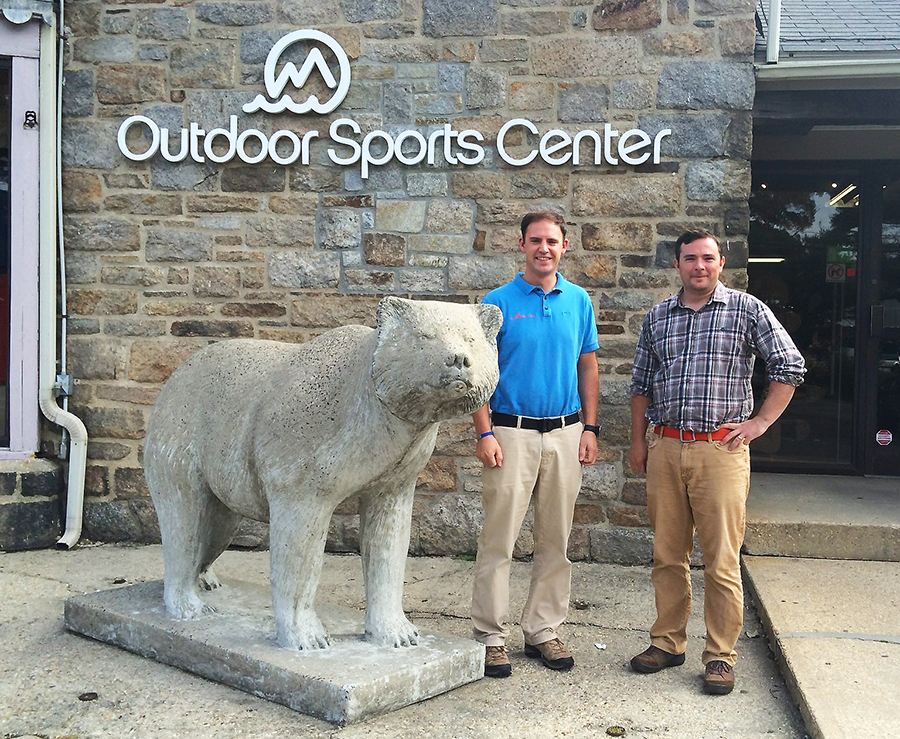 "I had no idea what I'd end up doing in life," said Will, who, since graduating from the University of Colorado, has worked at the store full-time since 2008. "It just worked out for me."
He added the workload split works well and that Jack still helps out quite a bit with the store's operations. "He's had a pretty active role until just recently, but he's still the top dog," he said.
He continued that they try not to mix family and work but that sometimes the two overlap. "It's not easy to separate sometimes, but it hasn't affected any of our relationships," he said. "We have struggles and disagreements, but at the end of the day, we're family."
They treat their customers like family, and their connections throughout the local and sports business community fostering a real sense of camaraderie. They were also one of the first stores in the area to have stand-up paddleboards, seeing the category grow from selling four boards a year to over 100.
With some employees having worked there for 30 years, Will said that experience pays off. "We've all been on every ski and boot we carry, which makes a difference," he said.
As for an official passing of the torch, he added, that's still a work in progress but that they have a great team in place. "Dad hasn't finalized any plans yet, but he's thinking about retiring sometime," he said. "The store's his life's work. It takes a long time to walk away from something like this."
And he admitted that, while there are several longtime family businesses in Wilton, the trend does seem somewhat rare in today's world of outdoor specialty retail. "Especially with the industry transitioning to manufacturers playing a role in retail by selling direct and opening factory stores," he said. "Shops like ours are usually started by enthusiasts who see it through, and it sometimes hard to convince the legacy behind you to take the reins," he added.
But that's certainly not the case with the Maxwells, especially with Scott's sons Crosby, 5 and Wren, 3, running around the store, and Will's kids, Griffin, 6, and Calla, 4. "They hang out here for sure," he said. "If things go well, hopefully, we'll still have a shop here in 30 years. But who knows? Griffin wants to be an astronaut right now, and tomorrow it will be a policeman."
Steamboat Ski & Bike Kare
Steamboat Springs, CO
One retailer going from generation to generation is Colorado's Steamboat Ski & Bike Kare, a 25-year-old ski and bike shop founded by Jackson Hole, WY, transplant Harry Martin, who used to run Hoback Sports in Jackson.
In 2020, Martin, who is still involved in the company, passed the store's torch to his sons, Foster, 25, and Will, 19, shown below. The two men inherit a well-established ski and bike shop, which offers rentals, retail and repairs for bikes and skis and employ up to 20 in peak season. Will is the store's marketing manager and Foster the general manager.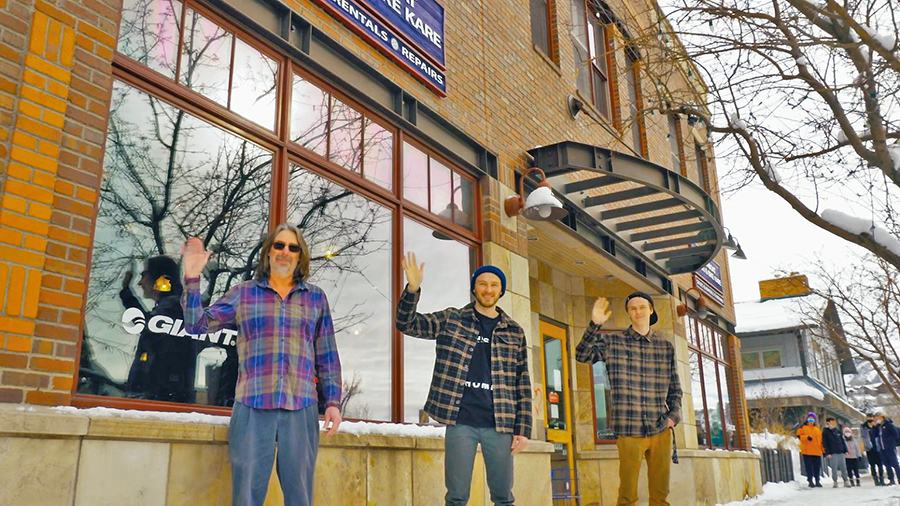 Happy in his new role, Harry did try to figure out how to retire and step aside for some time. "I waited to see if they were interested and committed to taking over," he said. "They're both into it and committed to customer service, which is what we've always prioritized."
He slowly plans to turn more of the business over to his sons, and combining business with family is working well. "If anything, we can talk more frankly to each other," he said. "We seem pretty good at separating our personal life from our business life."
It helps that they both bring something to the retail table. Foster started building a new website and E-commerce platform for the company at Southern Illinois University. "In high school, I wanted to leave Steamboat, but the longer I stayed in Illinois, the more I realized I wanted to come back to Colorado," said Foster, who graduated with a business management degree. "I figured I could probably help out by taking some of what I learned on the technical side and apply it to the store. "Dad never pushed me. He always let me figure out where I wanted to go. But it was a natural fit."
And Harry's happy for the fresh set of eyes. "He's brought some good new ideas as far as budget and inventory," Harry added.
Both sons helped revamp the company's website this year to create a robust e-commerce platform that augments the two brick & mortar stores. "We've had inventory on our website for four years, but we pushed it hard during COVID-19 with in-store pick-up, and our sales did great," Foster said, adding that bikes did exceptionally well over the summer.
For Will, working in the store was always his end goal. "I always wanted to take over and help run it since I could first talk," Will said. "It's all I've ever wanted to do."
He added working with his dad is pretty easy. "We try to keep things separate at the dinner table, but work sneaks in a little for sure," he said. "It's not too much different from working for a typical boss, but little things can get frustrating because he's my dad."
Added Foster, "It's not fair to my mom to always talk about business at the dinner table."
With two stores, one downtown and one on the mountain, and growing online sales, the three remain busy, with the store continuing its tradition as a locals' favorite for all things skis and bikes. "Harry started this business on customer service, and it's one of the things we adhere to — quality, old town service," said Foster. "We're always putting the customer first."
"I like working with and for my dad," he added. "I appreciate the flexibility — if something personal comes up, he's accommodating. But that's the culture of this store."
One thing he's sees is his father's willingness to implement new ideas. "He's stubborn and has been doing things the same way for more than 30 years," Foster said. "He's not always keen to change and listen to new viewpoints. But he trusts me when I come up with something new."
Whether that means warrantying items or going that extra mile, such customer service touches have never been more important than this year, he added. "June was our busiest month in 25 years," Foster said. "August and September slowed down because we sold out of everything, but this year has been one of our busiest ever."
Both Foster and Will want the family tradition to carry on. "I hope to be able to pass this down to my kids," Foster said.
Photos courtesy Outdoor Sports Center, Steamboat Ski & Bike Kare