By Eric Smith
Tiger Woods' failure to make the cut at the recent U.S. Open surely disappointed golf-viewing fans around the world. But his poor showing in the opening two rounds of this well-watched event, though not surprising given his recent play, was an even bigger letdown for the golf industry as a whole.
Yes, television ratings were up for the event—the U.S. soccer team failing to appear in the World Cup might have helped, as did the social media outburst over Phil Mickelson's moving-ball penalty. Still, no Tiger on the weekend always means less buzz swirling throughout the golf world.
"When [Tiger's] playing the game—and particularly when he's in contention during tournaments—not only is it a bonanza for that particular tournament, but it's also a bonanza for whichever network happens to be televising the event that weekend," Steve Mona, CEO, World Golf Foundation, told SGB. "It's also very positive for the industry generally because he's creating interest in the game."
That phenomenon might be changing. Despite the lack of Tiger TV time over June 16-17—the pinnacle of the golf season because of the high-profile U.S. Open and also because it was Father's Day weekend—the industry is faring well when it comes to participation as well as the sales of golf hardgoods and softgoods.
In this second of a two-part series on the state of the golf industry, SGB looks at golf equipment and apparel sales, each one serving as trailing indicators of an increasingly healthy industry.
Production Lining Up Nicely
Plenty of factors contribute when the manufacturing, distribution and sale of golf gear all trend upward, but the strengthening U.S. economy and the sport reaching new participants via nontraditional means appear to be leading the way. Golf participation is indeed growing after its post-Great Recession dip, as SGB outlined in the first article of the series, Sweet Spot: Golf's Evolution Striking Right Balance.
An estimated 23.8 million people played golf on a course in 2017, in line with 2016 and the second straight year of leveling off after a four-year decline from the 2012 total of 25.3 million players, according to the National Golf Foundation. And the number of people involved in an off-course form of golf—driving range, simulators, etc.—grew 7 percent last year to 21 million, according to NGF.
Equipment and apparel figures are still catching up with this turnaround, so while some sales figures paint a solid albeit flat view of the market, other stats are lagging. In 2017, sales of golf equipment, excluding shoes and apparel, totaled $3.57 billion, down about 1 percent from $3.6 billion in 2016, according to the National Sporting Goods Association.
Sales of golf shoes increased slightly to $251.2 million in 2017 from $250.6 million in 2016, while sales of apparel decreased slightly to $1.627 billion in 2017 from $1.647 billion in 2016.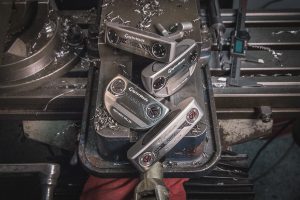 But golf equipment and apparel manufacturers have gotten off to a good start this year. Hardgood retail sales increased 9.5 percent in May, according to Brett Andress of KeyBanc Capital Markets, who last week published a note to investors citing the most recent statistics from Golf Datatech LLC about on/off-course reports and aggregating point-of-sale data from key golf retailers.
"With weather seemingly still tracking favorably and an easy June compare on the horizon, we now see 1H18 setting up for +LDD [low-double-digit] growth," Andress wrote. "Encouragingly, on-course outperformed (+mid-teens industry retail growth) as weather broke following anecdotes of delayed fittings into May, and total channel inventories remain well below historical levels."
A look at two leading golf manufacturers bolsters the upbeat forecast. Callaway Golf Co.'s first-quarter profit and sales were well above Wall Street expectations. Net earnings jumped 142 percent to $63 million, or 65 cents a share, beating Wall Street's consensus target of 51 cents. And revenues rose 30.4 percent to $403 million, ahead of the consensus target of $372 million.
Meanwhile, strong demand for Titleist golf clubs helped drive parent company Acushnet Holdings Corp.'s strong first quarter. The company reported first-quarter net income of $41.5 million, up 8.9 percent year-over-year, primarily as a result of lower tax expense, partially offset by higher interest expense and lower income from operations.
"We feel strongly the golf industry is structurally in a good place with supply and demand more in sync than we have seen in many years," CEO Dave Maher told analysts on the first-quarter earnings call.
Retail Status Hard to Read
While the suppliers are performing well, the next link down the supply chain—retail—is a little harder to gauge. PGA Tour Superstore reported to SGB that the company is off to a strong start in 2018 with double-digit comp stores sales growth for the first four months of its fiscal year. The company is seeing growth across all categories, with clubs and footwear segments leading the way.
Looking at the entire retail picture, at the end of 2017, there were 678 off-course golf specialty stores in the U.S. (down 5.6 percent from 2016), operating about 6.2 million square feet of retail space, according to NGF.
Golfsmith's bankruptcy was one driver behind this decline. Dick's Sporting Goods acquired the company in late 2016 for $70 million and then opened Golf Galaxy stores in their place. Dick's now operates 94 Golf Galaxy stores in 32 states, with approximately 2 million square feet, though the company doesn't plan to open new Golf Galaxy stores in 2018 and doesn't break out Golf Galaxy sales in earnings reports. Dick's declined to comment on any specific sales trends for this report.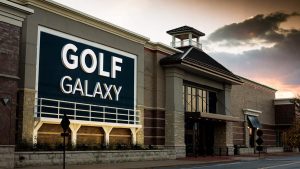 "The reduction in golf specialty retail stores dating back to the Great Recession is a trend that mirrors declines in other retail sectors and also reflects a societal shift toward increased online consumption," NGF wrote in the foundation's 2018 Golf Industry Report. "As a result, many brick-and-mortar golf specialty stores are moving toward experiential offerings—e.g. lessons, club fittings, and leagues—rather than just focusing on selling products.
Thanks to experiential offerings (more on that below), the outlook for golf equipment and apparel sales remains positive.
According to a March report published by Allied Market Research, "Golf Equipment Market by Type and Distribution Channel: Global Opportunity Analysis and Industry Forecast, 2017-2023," the global golf equipment market size was valued at $8.2 billion in 2016, and is expected to reach $9­­.7 billion by 2023 with a compound annual growth rate of 2.6 percent from 2017 to 2023.
Online Channels and Secondary Market on Target
Online purchases continue to make up a higher percentage of total golf merchandise sales, according to NGF. "More than one-third of golfers purchased golf-related merchandise online in 2017," the foundation wrote in the 2018 Golf Industry Report. "Golf balls and apparel make up the majority of online purchases."
"That part of the industry has certainly evolved, like many other industries that have retail components to it," World Golf Foundation's Mona said. "It's moved from brick-and-mortar to online."
While traditional retailers were reluctant to discuss golf sales—in-store or online—for this report, e-tailer Global Value Commerce, which was founded in 2001 with the "vision of bringing structure and stability to the preowned golf market," was happy to share the company's successes.
Ed Byman is president and CEO of the online seller of preowned golf equipment. GVC, which runs the consumer-facing website GlobalGolf.com, is headquartered in Raleigh, NC, with distribution centers in Salt Lake City, UT, and Toronto, Ontario. Across all three locations, the company employs 140 employees and has grown in each year of existence, Byman said.
That growth is the direct result of not only more golf newcomers and veterans alike choosing to purchase equipment on the secondary market in hopes of saving money, but also a continuing resurgence of the sport.
"The golf industry today is becoming more and more healthy," Byman said. "Although the weather was dismal in the Northeast and on the East Coast early in the season, we're seeing that rounds of golf begin to recover. And we think we've hit that point where rounds are becoming more stable and starting to see some growth in retail."
One area of success for GlobalGolf.com—and perhaps a blueprint for other retailers—is the company's demo program. A golfer can try clubs for a fee for two weeks, and then either send them back or buy them outright with the demo fee taken off the purchase price. The ability to try before you buy has been a winning value-add for Byman's company while also helping ensure golfers get into the right club.
This is critical for growing participation in a sport that might be easy to play but is decidedly hard to play well, in addition to being perceived as expensive.
"If someone doesn't mind playing with something that's slightly used, we generally save people 40, 50 percent depending on the condition of the club," Byman said. "More importantly, we also support trade-in programs with PGA golf professionals and other retailers that allow them to take trade to sell new equipment. For every dollar taken in trade, there's five or six dollars that are spent at the register. We think we're helping to grow the sale of new equipment as well."
"Experiential Offerings" Carrying Load
Because of rapid off-course growth, most notably the popularity of Topgolf, equipment and apparel sales are bound to remain steady if not improve as more people swing clubs and strike golf balls. This is especially true if they make the transition to a course, something golf's stakeholders are hoping for.
"Anything that increases people's interest in the sport, which Topgolf obviously does, is good for the sport," Larry Weindruch, NSGA director of public affairs, told SGB. "If it gets more people playing, then it can be a gateway to the green grass."
And it's a gateway to higher sales of equipment and apparel. Topgolf, which SGB detailed in the first part of this series, not only buys equipment for locations around the world but also sells gear through a retail arm.
Another "experiential" company, GolfTec, is helping grow the sport and equipment sales at the same time. The Englewood, CO-based company helps individuals find the right set clubs by analyzing their swing mechanics and identifying customizable drivers and irons to match. In other words, said Joe Assell, the company's CEO, GolfTec is in the "golf improvement business."
GolfTec, which was recently acquired by a Japanese public company called Golf Digest Online, has seen eight straight years of same-store sales growth, Assell told SGB. "This year is proving to be even more of a breakout year with people pouring through our doors," he said. "Expert coaches combined with cutting-edge technology combined with convenient locations, which is a real key, is a winning combination for us."
That winning combination is also a win for the golf manufacturers, as evidenced in the aforementioned solid first quarters they reported and also GolfTec's ability to grow golf club sales and participation in the game.
"Equipment sales are very strong. We're thrilled with our equipment sales growth this year," Assell said. "Consumers' rising awareness of what's out there in terms of getting the best golf club for you and it's affordable."
A firsthand view of the number of people coming into GolfTec facilities to improve their swing and find clubs that will also help them improve gives Assell a bullish outlook for all aspects of the sport.
"The state of golf right now is just fine," he said. "It's solid and slightly growing—and it's growing in different ways. Golf participation is up the last couple of years if you include off-course. With that, there are more people playing golf and there's more participation in golf, which is fantastic."
What Else is Driving Sales?
Equipment and apparel sales are always at the mercy of weather, which can either push sales upward or wreak havoc on everything from clubs to a less expensive but equally vital golf necessity—golf balls.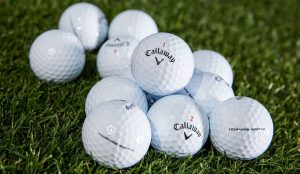 "Golf ball sales, for instance, follow weather patterns pretty dramatically because most golfers are going to lose, on average, around four balls per round, so they're going to go through golf balls," Mona said. "But if they're not able to get out there and play, then they're not going though golf balls."
Another X factor lies in golf apparel trends—sales are harder to track because non-golfers buy golf clothing and some golfers wear non-golf shirts, shoes and hats.
For example, softness in golf rounds during the spring had no bearing on Perry Ellis International's golf sales in the first quarter. In addition to Perry Ellis' own golf apparel lines and separate brands, the company licenses trademarks from such stalwarts as Callaway, PGA Tour and Jack Nicklaus, which helped the company's revenues rise 5.4 percent to $255 million from $242 million in the first quarter of fiscal 2018.
Golf apparel was clearly a key to this growth, Perry Ellis CEO Oscar Feldenkreis said on the company's May 31 conference call with analysts.
"Rounds of golf really doesn't have a major impact on the golf lifestyle sportswear business, to be honest with you," he said. "It probably affects a little bit more of the country club, green grass distribution. … There you can find a little bit of softness. But remember, most of the golf courses in which we're open are in the Southeast and West Coast; [they] are open all year round and they have actually done much better."
Golf continues to perform better following the immediate aftermath of the Great Recession. And as Mona said in the part one of this series, the sport's core group is continuing to play rounds, buy new and used equipment, spend money on apparel for play on the course or lunch at the clubhouse. All of which bodes well for the industry—on-course and off-course participation, in addition to sales of equipment, footwear, apparel and accessories.
"As long as we keep that committed number of stable golfers at around 20 million, the spending will follow," Mona said. "They're going to buy golf balls; they're going to buy golf clubs and that's really what drives it."
In part one of the series, SGB examined sport's participation levels and how associations, private companies, grassroots organizations and local course operators are working to ensure golf continues its current rebound by addressing the needs of core players while also attracting the next generation.
Photos courtesy GolfTec, Golf Galaxy, Acushnet Holdings Corp. and Callaway Golf Co.