On is forming partnerships with Roger Federer and other athletes as well as starting to open its own retail stores. However, David Allemann, On's co-founder and executive co-chairman, told investors Tuesday at ICR Conference 2022 that the Swiss running brand is focusing on product innovation foremost to differentiate from the competition.
"We are a premium sports company, so it all starts with the product," said Allemann. "We've seen thousands of people stepping into On shoes, and the first sentence that we most often hear afterward is, 'Wow, this is different.' So it comes down to real differentiation."
On went public last September, and ICR Conference 2022 represented its first public investor meeting.
Allemann noted how On was created by Olivier Bernhard, a three-time world champion and six-time Ironman champion. Bernhard placed pods underneath shoes to support a "cushioned landing, followed by an explosive push off."
The shoes created a "radical running sensation" that Allemann likened to how the arrival of full-suspension mountain bikes changed the biking experience and how carving skis have changed the snow experience for skiers. Said Allemann, "We have a feel that is also an engineering solution that changes the sensation of running. Not just a better material underneath your foot, but a patented engineering solution."
Allemann said the unique feel of the On shoe has helped drive strong word-of-mouth for the brand since its founding in 2010. The company has found that On fans recommend the brand to three to five of their friends. Allemann said, "On's feel is a bit contagious and addictive."
He said On's three co-founders, including Caspar Coppetti, are focused on the brand's long-term vision, but much of the daily focus is on product and innovation.
"It's the core of what we do," said Allemann. "We spend one or two days per week in the lab with development teams and our product team. It's key that you keep innovating."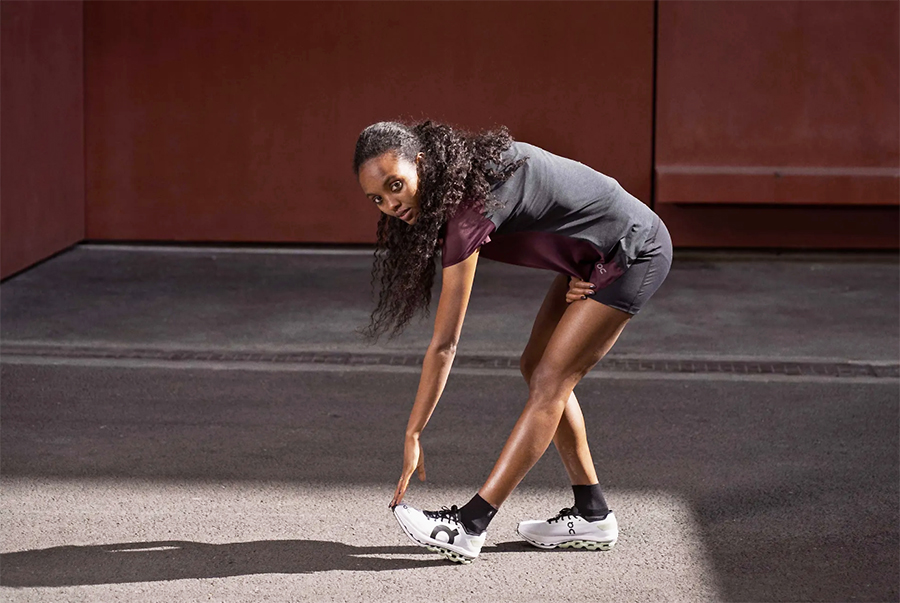 The success in innovation was recently highlighted by the achievements of the ultra-light Cloudboom Echo. Seventeen On athletes competed in the shoe at the recent Tokyo Olympics, and Helen Bekele Tola, shown in photos, wore the Cloudboom Echo to win the bronze medal at the 2021 Berlin Marathon.
On said, it is broadening its reach within running with the more-cushioned Cloud Monster and Cloud Runner, both launching this spring. The brand has also expanded into the outdoor performance and lifestyle footwear categories and apparel.
On's visible technology and aesthetic also "turns heads as well," and that's helped the company find recent success with more lifestyle models such as its Cloud Nova and The Roger in its Performance All Day category.
Allemann noted that On has more than 200 "creative talents," including product designers, fashion designers, art directors, storytellers, and UX designers that help bring style to the brand's performance story. At Foot Locker, On shoes have proven to be so popular with store associates that FootLocker's management has started to outfit its entire staff with On shoes.
Allemann said, "I think what's unique about On is that we bring performance, innovation and creativity together."
Asked about On's strategy around distribution, Martin Hoffmann, CFO and Co-CEO, said On "very much puts the customer at the very center of our strategy and we believe omni-channel and omni-channel journeys continue to be a reality in the future as well."
On initially focused on the run specialty channel to reach runners and gain credibility in the run space. It's now in over 8,000 doors, including about 1,000 showcasing On in-store shops.
At the same time, On was a "digital native brand from the start" with its own e-commerce sites now contributing between 35 percent to 40 percent of sales, one of the highest in the industry. The strong online distribution, said Hoffmann, provides proximity to and significant data on customers. Online is also delivering "healthy margins" for the company.
On is just starting to open its own stores, including a flagship in New York City as well as seven locations in China. In some China locations, apparel accounts for about a quarter of the mix. Said Hoffmann of owned retail, "We feel that's an opportunity to excite our customers and it's actually already a profitable journey as well a great acquisition channel."
Hoffmann added that all three channels – wholesale, owned retail and e-commerce – are "playing a strongly integrated role in acquiring new customers but also serving our existing customers."
Asked about On's wholesale distribution strategy, Hoffmann noted that one way On defines success is by counting how many runners are wearing On shoes in key running routes globally, citing Zhongshan Park and the Hudson River in New York City as examples.
But On is seeking expansive distribution, noting that runners are buying their shoes at Fleet Feet, Nordstrom and on on-running.com. He added, "We want to be there for all of them."
Distribution at REI further provides access to outdoor enthusiasts while stores like Dover Street Market in Los Angeles and the Net-A-Porter online site provide access to fashion tastemakers.
He said, "Working with our wholesale partners has been a very important part of our success and we are fully committed in continuing building strong partnerships with our retail partners. At the same time, we are expanding our product assortment, starting in Running to Outdoor and Performance All Day and also into apparel. This opens up the opportunity to work with even more retail partners, for example, a Foot Locker, without actually competing with our existing partners. So it's a very, very thoughtful approach."
On's management was also asked about their ability to deliver on targets set in its IPO, including 25-25 percent top-line growth, 60-percent-plus gross margins and high-teens adjusted EBITDA.
Hoffmann answered, "It's really the strength and the robustness of our business model that is playing out across" channels, geographies and product categories.
On channels, Hoffmann noted that On has focused on omni-channel model from the start with and "we've been very happy with it in terms of achieving growth, fast scale and a physical brand presence."
On geography, Hoffmann noted that On benefited from coming from a smaller country, Switzerland, because it had to pursue global expansion quickly and that's helped the brand to quickly reach more than 60 countries.
"We didn't have the comfort of a big home market where we could grow for 12 years without setting foot abroad," said Hoffmann. "So the U.S. is now more than 50 percent of our business with incredible momentum. Europe is very strong. For example, the U.K. showed big momentum in the last year. Asia and China in particular are our fastest growing business. So it's a portfolio that has proven to be very stable in the last two years as well."
Finally, Hoffmann said On stands to benefit from its "very conscious" category expansion from Running into Outdoor and then to Performance All Day lifestyle offerings. He said the lifestyle offerings in particular has "proven to unlock completely new customer groups fast" and tap youth culture.
Added Hoffmann, "I think the important thing is we always trace everything back to performance. So we have Performance All Day product fully built on our running technology because that's the credibility."
Photos courtesy Helen Bekele Tola/On Running