NPD presented its 2020/21 snow season year in review to the ski industry this week. Hosted by its sports industry analyst Dirk Sorenson and outdoor industry analyst Laura Hills, the presentation included market dynamics that shaped the 2020/21 snow season, dove into COVID-19 and the impact from social distancing mandates, category trends, categories hardest-hit, and categories that soared.
"A lot of consumers switched their behaviors this past season," said Sorenson. "Relatively distant activities like skiing, especially categories like Nordic and Backcountry, did well."
After starting the presentation with a recap of overall sporting goods sales trends, including the bigger apparel growth from the "cozy and indoor" categories which included sweatshirts, golf and cycling, which dominated outdoor growth, and apparel, linked to everyday fashion that suffered from consumers having "no place to go," the presentation dove into snow sports, which posted robust growth during the period.
Among its findings, snow equipment sales overall were up 13 percent, led by Alpine Touring rising 116 percent and Nordic jumping 159 percent. "Year-over-year dollar growth in those categories more than doubled," said Hill.
The category leaders were followed by Accessories, up 20 percent and led primarily by backcountry items, Snowboards, rising 14 percent, and Alpine, up 8 percent.
"Nordic was the shining star during the pandemic, with a $61 million change," said Sorenson. "Consumers turned to cross-country activities as an alternative to not having a snow season. There were more dollars sold in the category this season than the last two combined." Specialty retailers accounted for 80 percent of Nordic's growth," he continued.
Clocking in at $462 million, the Snowboard category was up 35 percent in e-commerce sales adding to its largest growth. Specialty snowboard sales rose 4 percent. Splitboard sales, Sorenson added, grew 92 percent, with sales almost double, paralleling the general growth in the Backcountry category.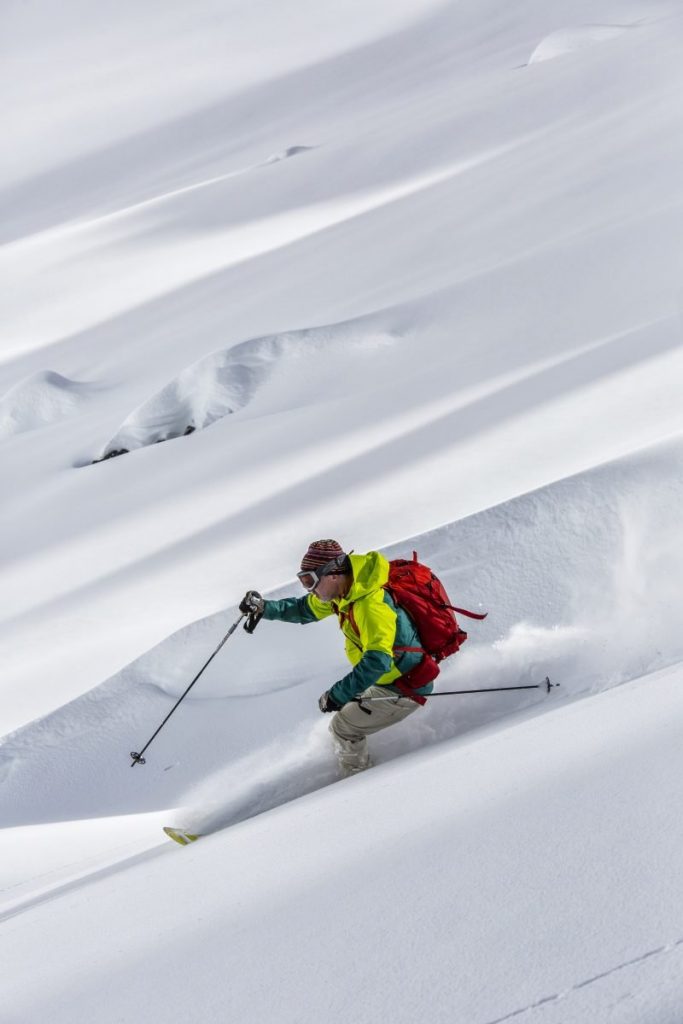 But resort-bound consumers were wary at the start of the snow season. Snowboard and Alpine equipment sales declined 4 percent and 10 percent, respectively, through December 2021, but rebounded 45 percent and 39 percent, respectively, up 14 percent and 8 percent for the season. This indicated "increased consumer confidence as more people were vaccinated and restrictions slowly eased," said Hill.
Diving deeper into the Alpine category, the period saw 29,000 more AT bindings sold for Alpine skis, indicating consumers' willingness to put AT bindings on conventional Alpine skis. This was echoed by flat ski sales growth of 11 percent and system skis by just 0.5 percent. Dollar share by waist width, the 80mm to 100mm category, remained popular. NPD data also showed that while online sales grew across the category, Alpine equipment experienced greater growth than Alpine Touring. AT sales increased 140 percent at specialty retailers and 80 percent online compared to Alpine which rose 5 percent at specialty and 36 percent online. "When it came to backcountry gear, people wanted the customer service that comes with specialty dealers," said Hill.
Accessories
Consumers also made purchases to augment activities, with categories including Sports Racks up 61 percent to $32 million. "People bought core items early and then began purchasing other items to enhance those core activities," Sorenson said.
In all, the Accessory category was up 12 percent, led by Snowshoes, up 121 percent and Backcountry Accessories, up 87 percent. Goggles were up 9 percent led by Giro, Smith and Oakley. Helmets finished the season up 3 percent.
Following general apparel trends, the biggest losers in the snow sports category were outerwear tops, down $363 million, and specialty items purchased at ski areas. "Some of the categories that were challenged were the products people buy at resorts, like insoles and socks," said Hills. Adding that across the country, retail sales at resorts were down 20 percent to 30 percent. "Resorts took some hits in traffic, which parlayed over into lost retail sales."
Consumers were willing to pay full price. The average sale price for Alpine gear rose 4 percent, AT gear 7 percent, Nordic 11 percent, and Accessories 22 percent. "Where supply had become limited, consumers showed a willingness to seek out those items and buy them at full retail," said Hill.
Other key takeaways included consumers reinvented their snow activities by investing in different gear; a surge in backcountry-related sales, which might subside as resorts return to full capacity; and COVID-19 introducing many consumers to new snow and other activities.
"As we slowly inch back to normalcy, some consumers will go back to their pre-pandemic activities of choice, but we expect many will remain engaged in their newly added snow and outdoor pursuits for the long haul," said Hill.
Photos courtesy Osprey