A new category is fueling the world of cycling, and it doesn't have to do with increased participation from the pandemic. It's the category of gravel, or cross, riding—a mix between mountain biking and road riding that takes place on long, meandering dirt roads.
The reason behind the boom is that riders can ride without fear of traffic that often accompanies road riding.
"We see gravel riding as a natural evolution of road riding," said Pearl Izumi's Global Brand Manager, Andrew Hammond. "On one hand, you have off-the-beaten-path adventures with fewer cars and on the other, an event scene that reaches a wide range of participants personal goals and motivations."
According to data from The NPD Group, year-over-year sales of cyclocross/gravel bikes are up 96 percent through March 2021, with the category capturing 35 percent of the overall road bike category, second only to performance road bikes.
"Gravel designs have been a rapidly growing class of the road bike category of bicycles," said Dirk Sorenson, executive director, NPD. "Consumers have been purchasing more utilitarian bike designs instead of bikes that designed for more specific needs. Cyclists can envision riding a gravel bike on trails, fire roads and paved roads. The utility is very compelling to the cyclist looking for a do-it-all option."
In a Retail Channel Study recently conducted by Cycling Industry News, 21 percent of bike shops surveyed said they planned to carry more gravel bikes in-store to address the increased interest. "You know something is here to stay when Shimano dedicates a groupset to it," said GrindEnduro.com's Paul Errington, referencing the gravel-specific GRX groupset recently launched by Shimano.
The category's allure is also bringing consumers to the same retail stores. "The gravel category is gaining huge momentum everywhere," said Jon Cariveau, marketing director for Moots, a manufacturer of gravel bikes based in Colorado. "It's one of the quickest-growing segments of the industry. Gravel bikes appeal to riders that come from the road and mountain bike side of things. It's a great middle-ground to avoid traffic and get out on an adventure no matter the distance."
Which has kept Moots inventory flying off the shelf. "Our growth in the category has been strong and steady over the last five years," continued Cariveau, adding Moots is nimble enough to address trends like the gravel category before the big brands. He added that gravel sales currently make up for about 50 percent of all its sales.
Like Moots, Italian bike maker Pinarello has also seen robust growth in the category, internationally and domestically, and has added SKUs accordingly. "Over the last several years, we've seen exponential growth in the gravel segment," said Pinarello USA Senior Marketing Manager Kim Rogers. "We've invested considerably to excite our existing and new consumer base embracing the gravel scene. As there are no signs of this segment slowing down in the foreseeable future, we'll continue to innovate in the segment."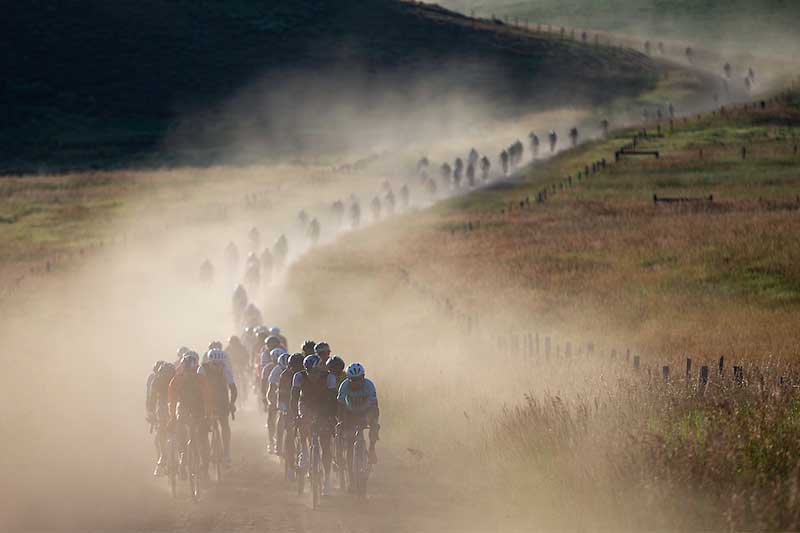 All of this has also led to increased accessory sales.
Pearl Izumi's Hammond said the brand had made significant changes to its product line to address the boom in apparel to accommodate gravel riders. "We don't see the trend slowing down and have adapted by making sure that our product range can cross merchandise between traditional disciplines so riders can choose to approach a gravel ride in whatever combination of tight, loose and casual gear they feel most comfortable," he said.
Throw in the general boom in biking associated with the pandemic, and it has doubled growth, spawning other product categories to rise, ranging from apps to websites.
Gravel bike events are also experiencing a boom in participation, including the 200-mile Dirty Kanza held in Emporia, KS; the Garmin Unbound Gravel, founded in 2006 when gravel grinding was beginning to catch the interest of the endurance cycling community; the SBTGRVL, an event entering its second year in Steamboat Springs, CO, with riders competing for more than $28,000; and the Roubaix Hell of the High Rockies, a pro-am race offering 21 categories over 36-, 53- and 70-mile gravel courses.
"Gravel riding is very conducive to races and other group rides, with a great community of riders that make everyone feel welcomed," said Owen Gue of The Cycling House. "The gravel sections are great, the scenery is beautiful and the community of racers, volunteers, business owners, and residents make participants feel welcomed and part of something special."
Adds SBTGRVL Co-organizer and former pro racer Amy Charity, whose event sold out the first day, "I think this new market segment is going to be around for a while. It's just such a natural addition to the road biking scene."
Event organizer Life Time echoes this, fueling its push for such events as Garmin Unbound Gravel, which it produces, "Gravel is booming globally, but especially in North America, from its birth in the Midwest to the Front Range, Pacific Northwest, and even the South," said Marketing Director Michelle Duffy. "The roads are safer than paved roads, traffic is minimal and it takes you places you'd never otherwise see, on un-intimidating terrain. And its culture is rooted around community connections."
Photos courtesy Garmin Unbound Gravel, SBTGRVL