By Thomas J. Ryan
Nike Inc. on Thursday introduced a Consumer Direct Acceleration strategy designed to further drive digital engagement with consumers across channels and consequently drive online growth.
The move comes as online sales skyrocketed 79 percent on a currency-neutral basis in the fiscal fourth quarter ended May 31 and Nike saw a nearly triple-digit acceleration in member digital demand. But online wasn't enough to offset the physical impacts of COVID-19 that saw 90 percent of Nike's own stores outside of Greater China and South Korea closed for roughly eight weeks in the quarter.
As a result, Nike showed a loss of $790 million, or 51 cents a share, in the quarter as sales tumbled 38 percent, and markdowns were required to clear inventories.
On a conference call with analysts, John Donahoe, Nike's president and CEO, described the Consumer Direct Acceleration as the "digitally empowered phase" of its Consumer Direct Offense strategy with the rollout accelerated due to the pandemic.
Donahoe said in his comments, "Over the past few years we have shifted from a legacy wholesale distribution model to investment in a model that gives our consumers a more premium shopping experience, and this is a change that has catalyzed our digital growth as part of our true Consumer Direct Offense, and COVID-19 has shown that our strategy is sound."
Donahoe added in answer to an analyst's question, "The Category Offense is working, right? Triple Double makes complete sense and our growth drivers are spot on. And they were working, frankly, when we came into the pandemic, and the pandemic in many ways was a stress test for them, and it really proved that our current strategy is working. So what we're talking about here is how do we take what might have taken us three to five years to make happen and make it happen in two?"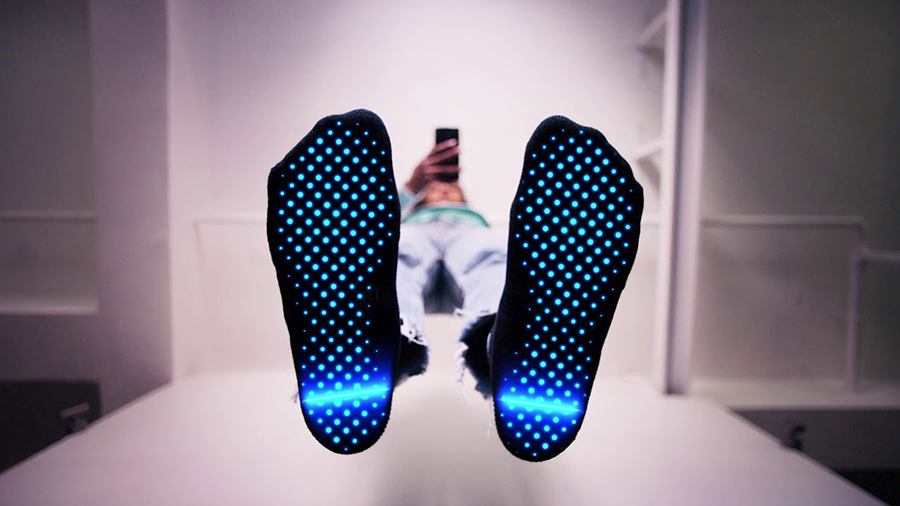 "A more digitally connected Nike is a more valuable Nike," said Matt Friend, EVP and CFO, in describing the Consumer Direct Acceleration push. "The underlying value proposition of Nike's Consumer Direct Offense is that the consumer adoption of digital across all aspects of life now provides Nike with an opportunity to create deeper, more direct consumer relationships at-scale, without disintermediation."
The Consumer Direct Acceleration program targets three areas:
The marketplace of the future;
New consumer construct; and
End-to-end technology foundation.
The Marketplace Of The Future
Creating a marketplace of the future focuses on further melding digital and physical spaces. Donahoe said Nike's vision is to create a "clear and connected digital marketplace" that drives "deeper and more meaningful" relationships with consumers.
"Our OneNike marketplace strategy leads with Nike Digital in our own stores and embraces a small number of strategic partners who share our vision to provide a consistent premium shopping experience," said Donahoe. "Connected data, inventory and membership will give consumers greater access to the best of Nike with more speed and convenience than ever."
The shift will accelerate online growth with the help of more digitally-engaged physical stores and both its own and select wholesale partners. Donahoe noted that Nike in fiscal 2018 set a goal to reach 30 percent digital penetration at both owned and partnered websites by fiscal 2023, up from 15 percent at the time, and it now expects to reach that goal during fiscal 2021.
He also said Nike now more firmly believes the overall business will reach 50 percent digital penetration. Nike officials had made a similar prediction in late 2018.
A major focus in creating a marketplace of the future will be on further interaction with Nike members across physical and digital.
"We look at everything through the eyes of the consumer," said Donahoe. "And consumers, as you know, are becoming accustomed to getting what they want, when they want it, how they want it, right? And this pandemic has really demonstrated the shift toward digital being at the center of everything they do, but they want modern and seamless experiences. They don't necessarily just want to buy digitally and have it shipped from home. You're seeing during the pandemic, and we believe it will continue. They want to buy it on their digital device and go pick it up in the store. Or with soft goods like apparel, they may want to reserve it online and try it on in the store. They may want to be in a store and buy something that is not in the store because of inventory and the associate uses a digital device to buy it and gets shipped home. And, so, consumers increasingly want a consistent, seamless physical and digital experience, and that's what we're committed to providing."
The Nike Live concept that's built around member engagement was referenced as an example of where Nike is heading.
Said Donahoe, "We've talked about membership as a growth driver and differentiator before, but now we'll align our business to make it central to everything we do."
Finally, Nike will be opening between 150 and 200 smaller-format, mono-brand stores with integrated online-to-offline capabilities in North America and EMEA. Said Donahoe, "We believe this will be additive to what's in the market. These mono-brand stores will accelerate the growth trajectory of Nike's largest market share opportunity like Women's and Apparel, driving long-term profitability."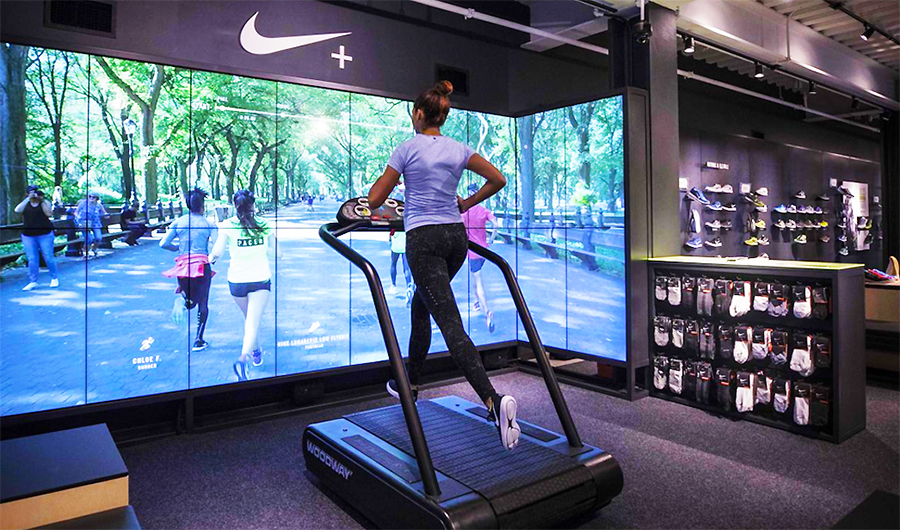 New Consumer Construct
Second, Nike is shifting to a "new, simpler consumer construct" and realigning its focus around three areas: Men's, Women's and Kid's.
"We know that our consumers don't see themselves as only runners or yoga practitioners," said Donahoe. "They don't think in terms of performance versus sportswear. Instead, we know how they shop across Men's, Women's and Kid's."
The shift will enable Nike to be "more specialized" in targeting consumers and support reinvestment in its Women's and Kid's businesses. The CEO also cited apparel and "emerging health and wellness" as opportunities that could be better targeted by a simpler alignment.
Said Donahoe, "These intentional organizational focuses will touch every area of our business including innovation, product creation, marketing, merchandising, and distribution. Through this new consumer construct, we can serve performance sports with more specificity while also broadening the definition of sports. This approach allows us to better focus on the individual consumer and unlock new opportunities to more nimbly serve their exact needs."
As an example, he noted that Nike has less than 10 percent of the Women's Apparel market in the U.S., but Women's grew in the fourth quarter two times the rate of Men's. Donahoe said the simplified targeting "will allow us to align our organization and focus our resources more directly on that opportunity as well as on others, and so we view it as acceleration, and I think it will result in more directly connecting and building deeper consumer relationships."
End-To-End Technology Foundation
Finally, Nike plans to emphasize building an end-to-end technology foundation to accelerate its digital transformation.
"Simply put, we will more aggressively leverage technology to make Nike better," said Donahoe. "This single integrated technology strategy across our business will accelerate how we serve consumers. Specifically, we'll speed up and unify our investments across demand sensing, insight gathering, inventory management, and more. This simplified approach will unlock more efficiency for the business while driving speed and responsiveness as we serve consumers globally."
In his comments on the fourth quarter, Donahoe pointed to how digital accelerated as stores were closing including driving $1 billion in annual digital revenue in both Greater China and EMEA for the first time.
On digital engagement, workouts on the Nike Training Club app more than tripled, peaking in April at nearly 5 million workouts per week during the month. Since February, the Nike Commerce App has been downloaded more than 8 million times, triple last year's level. For fiscal 2020, SNKRS reached $1 billion in global demand for the first time. Nike's "You Can't Stop Us" digital campaign has received more than 2 billion impressions to-date.
Said Donahoe, 'Across all 12 of our key cities, Nike remains consumer's number one favorite brand."
Digital Delivering High ROI
Matt Friend noted that Nike's shift to a more digital and direct business is financially accretive to Nike, including the success delivered over the last seven quarters prior to COVID-19's emergence.
"As compared to our long-term financial model, Nike has driven higher constant-dollar revenue growth and roughly double the annual gross margin expansion on an operational basis excluding the impacts of foreign exchange headwinds and tariffs. The current economics of this transformational shift illustrates my point," Friend said. "On average, a sale of an incremental unit via digital generates double the revenue versus a sale to wholesale with a higher gross margin, translating into two times the operating income dollars," he continued.
Friend reiterated that Nike believes owned and partner digital could grow to 50 percent of its total business "in the foreseeable future," with a "measured investment" in mono-brand stores further driving growth and better targeting growth opportunities in Women's and Apparel.
Said Friend, "We are calling this next phase of the Consumer Direct Offense an acceleration for a reason because it will drive greater growth, it will scale Nike's direct consumer connections in our most profitable channels driving higher consumer lifetime value, and it will enable us to reposition our resources to accelerate our transformation to a digital-first company."
Photos courtesy Nike