"It was the best of times; it was the worst of times." That quote, by Charles Dickens, could sum up the topsy-turvey paddlesports industry this season as, like its bike counterparts, boat manufacturers are scurrying on the supply side to keep up with demand.
"I've never seen anything like it in my 25 years in paddlesports," said Scott Byers, marketing director of Confluence Outdoors, one of the category's largest players with brands Dagger, Wilderness Systems, Perception and Mad River Canoe. "Usually, we have a stockpile of product, but we're virtually down to nothing in inventory. We're bare-bones. Retailers have picked through everything we have."
The reason, he said, is a culmination of manufacturing issues that seemed to surface at the same time.
"It's compounded by so many factors, but it's all COVID-related in some fashion, from getting materials like plastic and components to labor shortages, shipping issues and a surge in demand," he said. "Whether it's getting the raw products for the materials or getting laborers back into place, it's all hitting at once and taking its toll. This is what happens when the perfect storm meets paddlesports."
It started with COVID restrictions that caused consumers to want to get outside on their local waterways, leading to a surge in demand. Then shutdowns and labor shortages from the pandemic caused the supply side to slip.
"Universally, there's a huge shortage of workers, whether it's in Asia or here," he said. "Even getting plastics and componentry has been an issue. Then throw in the Texas ice storm shutting down refineries making plastic, and it gets even worse."
When, and if, a product can get made, then comes shipping issues from shipping boats to the U.S. from overseas and getting them on the road here once they arrive. "All carriers are experiencing a shortage of drivers," he said, adding that they stopped taking orders after January 2021 to try to catch up. "Shipping expenses have gone through the roof."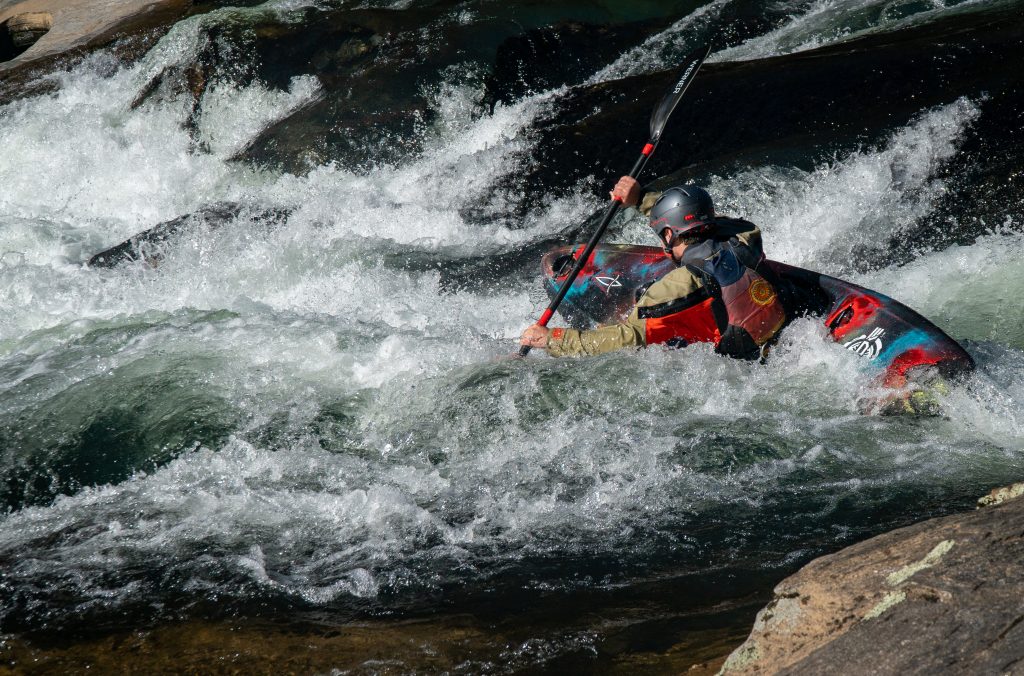 It's the same for inflatables as it is for hardshells.
Inventory of imported and U.S.-made products are tight," said Chris Callanan of AIRE, a maker of rafts and inflatable kayaks. "While we're able to fill orders, nearly all have been delayed from the original estimated dates, with some models now sold out until fall. Our projections on imported goods were good, but supply chain delays pushed more interest in U.S.-made products because we could initially get it out the door sooner. But then we saw a surge in demand for U.S.-made goods, which exceeded production capacity, so we're jammed up on U.S.-made products now until fall."
Callanan added that it experienced delays every step along the supply chain from lack of raw goods, production facilities maxed out, delays leaving ports of exit, and delays getting product out of ports of entry. "It happened to everyone," he said. "Our issues were not unique."
Fellow inflatable manufacturer Hyside agrees.
"Our inventory is close to completely sold out," said owner John Seiner. "We just completed stocking our retail dealers, so they may have a little more, but most of their inventory was sold out before they received it.
"The big problem we've faced is shipping delays globally," he added. "They've been taking up to two months longer than usual. Our vendors are having a hard time getting containers in Asia, and the delays at various ports have been difficult."
Though they might not have the international shipping issues to deal with, companies who make their products domestically are in a similar boat.
"Our demand is very high right now, so our production lead times are a longer, but we're constantly improving our processes to speed up production," said Emily Ledergerber of Alpacka, a maker of pack rafts in Mancos, CO. "Because we offer so many different options and custom builds, we've found making them to order is the best manufacturing solution."
As for projections heading into 2022, most manufacturers are hopeful they have a handle on it.
"We are confident about 2022," said AIRE's Callanan. "For imported goods, we placed purchase orders for delivery in October through December much earlier than we have in the past. We should be set up for Q1. We're also setting up POs now for delivery in Q2, which, again, is much earlier than usual. so we have a great game plan in place."
Alpacka is also ramping up its production processes to meet the continued demand better. "We're putting new practices in place to speed up our production lead times," said Ledergerber. "We expect the current bump in demand to continue."
Confluence's Byers said that forecasting for next season could be difficult and that it relies on the ability to read the market, which is as tough as trying to predict worldwide pandemic protocols. "If you've got that crystal ball, please share it," he said. "That's the question everyone is asking. You can't depend on past forecasts anymore.
"Is this the beginning of a Big Awakening for paddlesports? We certainly hope so, but we'll have to see. It's the strangest time I've ever seen in the industry. Almost every manufacturer seems to be leaving some money on the table," continued Byers.