The motto for Mad River Glen has always been "Ski it if you can!" It might as well be "Own it if you can" as well. Especially this year, where COVID-19 restrictions have seen its ownership shares sell like hotcakes at its newly refurbished base lodge.
"Anyone can buy in at any time, but this fall, we've seen the largest increase in share purchases we've ever seen," said General Manager Matt Lillard, reasoning it's because shareholders get prioritized ski access. "We sold more pre-season shares by a lot. I think it's because, in a reduced capacity environment, shareholders will always be able to ski."
In an era when other resorts are consolidating into single ownership (i.e., Vail Resorts) and pursuing pass partnerships (Epic, Ikon, Mountain Collective), Mad River Glen, located in Vermont, has remained "seriously independent," celebrating its 25th season as the country's only cooperatively-owned ski resort. What it might lack in fancy infrastructure and lifts, it offers one thing others don't, and that's the chance for skiers and riders to become ski moguls themselves by owning shares.
As such, it hasn't joined any Ikon or Epic-type resort partnerships, happy to remain independent. "That's not to say we can't," said Lillard. "We just haven't found a good match. We don't want to get into season pass wars. Everyone here likes it the way it is."
And the formula is working quite well. "I think it's met or exceeded most people's expectations," said Lillard, who moved back to his home state of Vermont a few years ago to run Mad River after running the municipally-owned Eaglecrest in Juneau, Alaska. "We have a core of about 2,300 shareholders who are invested emotionally and, to a small degree, financially, who are hugely committed to the ski area and truly care about our mission," he said.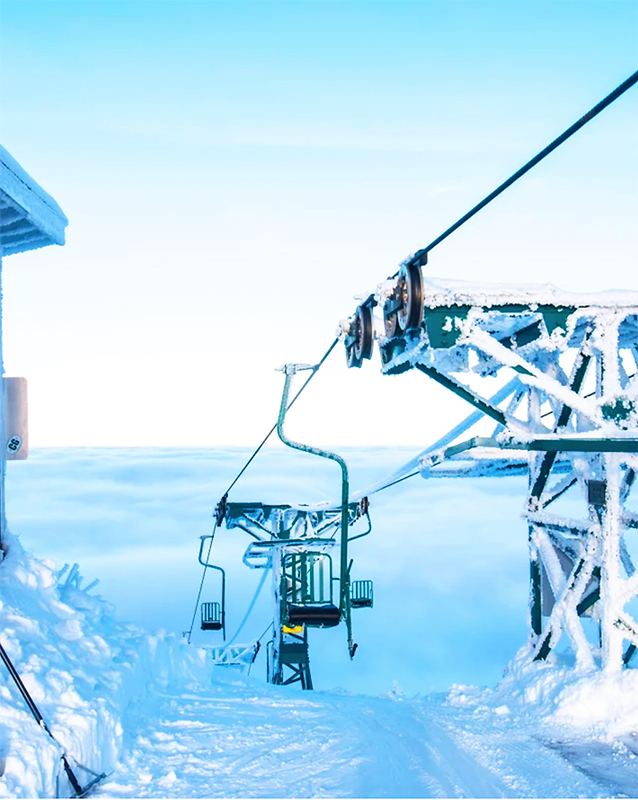 As for the shares, he added, the co-op does not actively campaign to sell them; it's a grassroots option that's always there. And the total number is capped in its bylaws at 3,000. "Selling shares have never been a huge priority," he said, adding that it tries to use the money for capital improvements but can use it for anything.
A year and a half ago, it finished a capital campaign that raised $5.5 million for improvements used this summer for a $3.2 million renovation to its base lodge and a new ski patrol and ski school building.
On an average year, he said, they sell 35-to-40 shares at $2,000 each, with up to 20 shares redeemed back to the co-op. "You can't sell them on the open market, but you can redeem them back to the co-op," he said. To date this year, they've sold more than 100 new shares. "I think being able to ski anytime you want to is what pushed people over the edge into buying this year," he said.
There are certain caveats to adhere to. You can't own more than four shares, and all shares get one vote. Owners also have to commit to spending at least $200 per year as an "annual purchase requirement," which can go toward the purchase of day tickets, rentals or a season pass at a 15 percent discount.
He said there aren't many drawbacks to the ownership structure. "It adds another layer of communication, but it's not that hard to do," he said. "People buy into the co-op because they understand our mission and want to keep it that way."
If they decided to change the ownership structure, he added — or if they wanted to venture outside their mission into real estate development, change their snowboard access policy (currently not allowed), or add a quad lift — then things could get more complicated. In 2007, two-thirds of the shareholders voted not to increase uphill capacity and instead rebuild its iconic single chair, the only single chair in North America that, when installed in 1948, was the fastest in the world.
While nonprofits and municipalities own other resorts, the only other close ownership example in the country is Bear Valley, CA, which formed a co-op among homeowners in 2014 to buy the Bear Valley Ski Area, only to be outbid by Skyline Investments. The co-op remains, and in 2018 purchased Bear Valley Cross Country and Adventure Company. Canada's Shames Mountain in Terrace, B.C., is also a co-op resort.
In a way, Lillard added, managing Mad River is similar to running Alaska's Eaglecrest, which is owned by Juneau's municipality. "I work for a board in board situations, which is voted on by the shareholders," he said. "At Eaglecrest, those shareholders are taxpayers, but not all of them ski. At Mad River, they're all skiers."
The ownership structure is undoubtedly unique.
"Co-op is not an ownership type we catalog in our database, but I think it's safe to say that co-ops are not wide-spread in our industry," said Adrienne Saia Isaac, marketing director of the National Ski Areas Association. "Mad River Glen is a very nifty exception to that."
It all came about 25 years ago, in 1995, when the ski area entered a new era, creating the first and only cooperatively owned ski area in the U.S. Now local skiers owned the mountain and controlled the resort's destiny and mission "to forever protect the classic Mad River Glen skiing experience by preserving low skier density, natural terrain and forests, varied trail character, and a friendly community atmosphere for the benefit of shareholders, area personnel and patrons."
His sentiment harkens back to the resort's founding in 1949 with the single chair by Roland Palmedo, a World War I and II Navy pilot who purchased 700 acres from the Ward Lumber Co. and turned it into a ski area. The Sunnyside double chair came in 1961, and the Practice Slope chair in 1971 before Truxton and Betsy Pratt purchased the resort in 1972. When Betsy decided to sell the ski area in 1995, she did so to the only people she could trust, Mad River's skiers.
Now entering its 25th year as a co-op, the results have piled up like its annual snowpack – paying off the original mortgage, creating a shared mission and vision for the resort and community, solidifying the business model and finances and reinvesting nearly $5 million in the mountain's infrastructure — including restoring the single chair lift and last summer's capital project improving the lodge. It's the only ski area in the U.S. on the National Register of Historic Places.
Coming off its 70th anniversary two years ago, Lillard said the resort doesn't have plans to celebrate the co-op's 25th milestone. Just keeping on keeping on seems to be reward enough.
"Having just completed a capital campaign and large building project, we're going to take a year or two off from anything major and work on updating our strategic plan," Lillard said. "Our shareholders just want to ski."
Photo courtesy Mad River Glen