At a session held during CES's first virtual trade show, Lauren Hobart, the president of Dick's Sporting Goods, (to become President and CEO effective February 1, 2021), discussed her team's herculean efforts to establish curbside pickup early in the pandemic and how the role of the store has changed.
"We went back in March thinking that survival was at risk," said Hobart at the session. "Retail was not meant to shutter its doors, and our entire chain shut down immediately. What's a really neat thing, in hindsight, is just looking at how our team pulled together and responded in ways that, frankly, were transformational and epic."
Her conversation with Deborah Weinswig, CEO, Coresight Research, was released on Tuesday as part of the event but taped on December 16.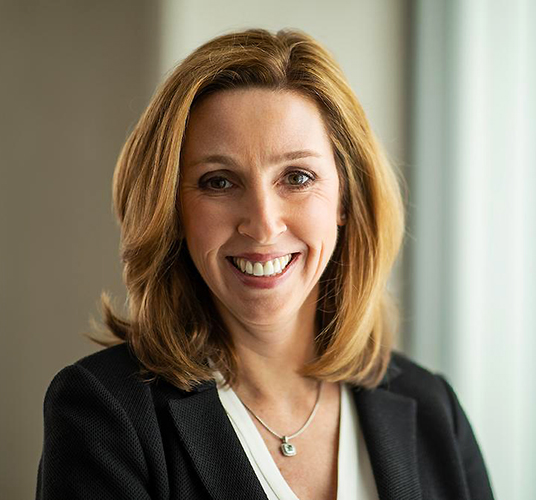 Hobart said Dick's had made significant technology investments, including bringing its online platform in-house a few years earlier, and had started to focus on consumer experience optimization as the pandemic emerged. Those investments helped its technology team to quickly pivot and establish curbside pickup "within literally two days."
Hobart described Dick's first attempts at curbside as "scrappy" for the customer experience, but that the step opened up access to inventory locked behind closed doors.
"Scrappy has become our favorite word this year," said Hobart. "But MVP (minimum viable product) out in the market…It was one of those things where you didn't have mobile alerts that you were there. You had to call in on your phone when you got there. But it did the job, and it unleashed hundreds of millions of dollars of inventory that would have otherwise stuck in our stores."
She noted team sports were "hugely impacted" by the pandemic, but curbside allowed Dick's to meet the consumers' needs as many began embracing outdoor activities to ride out the pandemic.
"The consumer started to become an outdoor enthusiast in every single way possible," said Hobart. "People started running, kayaking, biking, golfing, etc. All of those outdoor activities became so important, and our stores were able to fulfill that need curbside and with our technology platform. It was quite a special year, and I'm so proud of the team."
Strong demand for golf, outdoor activities, home fitness, and active lifestyle drove consolidated same-store sales in the third quarter ahead of a record-setting 23.2 percent. Brick & mortar store comps grew double-digits, and stores fulfilled 70 percent of online sales. E-commerce sales vaulted 95 percent in the quarter after climbing 195 percent in Q2. Curbside and in-store pickup expanded over 300 percent In Q3 compared to the in-store pickup in place the prior year.
Hobart expects curbside pickup to remain important post-pandemic given the customer's strong response.
"Curbside changed the game immediately by opening up all of our inventory from our stores in a way that people were able to access it. But it also, over time, became an incredible consumer benefit that I think went more from safety requirements to incredible convenience," she said. "And our stores became a hub of the omnichannel ecosystem which we've been talking about for some time."
Curbside pickup has also attracted new customers to Dick's. Hobart added, "Fundamentally, we plan on this being long term. We continue to innovate and improve the experience from curbside, but we think this is here to stay."
She added that curbside pickup and in-store fulfillment of online orders have made stores more relevant.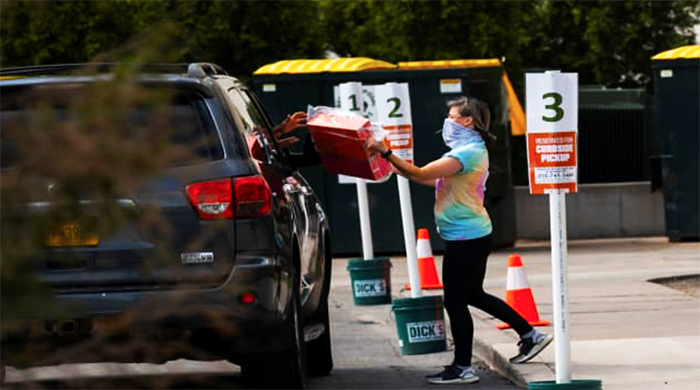 "I feel now that the store has become so much more the hub of this omnichannel ecosystem that we feel at the stores, and it is just a critical part of our future," said Hobart. "I was asked recently whether that means we're going to be exploding in the number of stores. No, that's not the case. But the stores are critical to our digital business. Over 70 percent of our packages are going through the store in one way or another, either out the front door, through curbside or out the back door shipped from the store. And that enables us to have inventory in the hands of the stores where they can serve three different athletes – the curbside athlete, the in-store athlete or the ship-from-store athlete. It's unbelievable how the role of the store has changed, and the store teammates have changed."
Hobart further highlighted how technology tools are helping store employees do their job.
Hobart said, "The relationship between our technology team and our store teammates is about the best I can ever imagine. They are the two closest functions. And that's because of just the empathy with which the technology group has tried to solve problems for the store teammates and make their lives easier, just on the back end."
Examples included adding key metrics to employee handheld devices so they don't have to go to the back room to retrieve them. Dick's added Wi-Fi to its parking lots to manage curbside orders and returns. A new Merch-Search function on handheld devices allows employees to locate suitable replacements for unavailable merchandise. And in-store contactless checkout was introduced this holiday season. Said Hobart, "It's been a non-stop engine of innovation."
Hobart also discussed how the company's Scorecard rewards program, which supports 70 percent of transactions at the chain, is helping turn new customers captured during the pandemic into repeat customers.
Asked about Dick's private brand strategy, or what the retailer refers to as "vertical brands," Hobart said the retailer decided to rename the program to vertical brands "very deliberately" because Dick's aims to position the brands at a higher level than the typical private label that may complement national brands. She said. "They are engaging consumer brands, and they have incredible quality. And so they have earned more space in our store over time by their own right. We're not just forcing it in."
She noted, for example, that Calia, launched in March 2015, has become the number two brand in women's apparel assortments "at a time when athletic apparel is on fire" because it "serves a different athlete." Calia is seen reaching a more mature customer, while its major national brands appeal to the younger female demographic. Hobart continued, "There's an athletic female who might be her mom"…"and Calia fits that need incredibly well."
She also called out DSG, a more expansive, opening-price point collection launched in 2019, which quickly became Dick's largest private label brand across categories. She said, "It's both of them, and many more to come. We think that we're solving unique needs in a very high-quality way."
Photos courtesy Dick's Sporting Goods