By Eric Smith
Lululemon Athletica Inc. in 2018 outlined a five-year vision of growing its core business in the low-double-digits annually, which included doubling men's, doubling digital and quadrupling international businesses between through the end of 2023.
So far, so good on that goal, based on the company's second-quarter earnings report issued Thursday.
"Momentum in the business remains strong across product categories channels and regions," CEO Calvin McDonald said on the earnings call with analysts. "We're now two quarters into our five-year vision, and I'm pleased with the strong execution and passion across the business to continue to deliver on our growth priorities."
That plan was centered on a host of growth pillars the company would need to execute—product innovation, omni-guest experience and market expansion. But something less tangible and more aspirational infused those business goals, a mindset that Lululemon is working to foster among its existing and prospective customers.
The company calls it the "sweat life."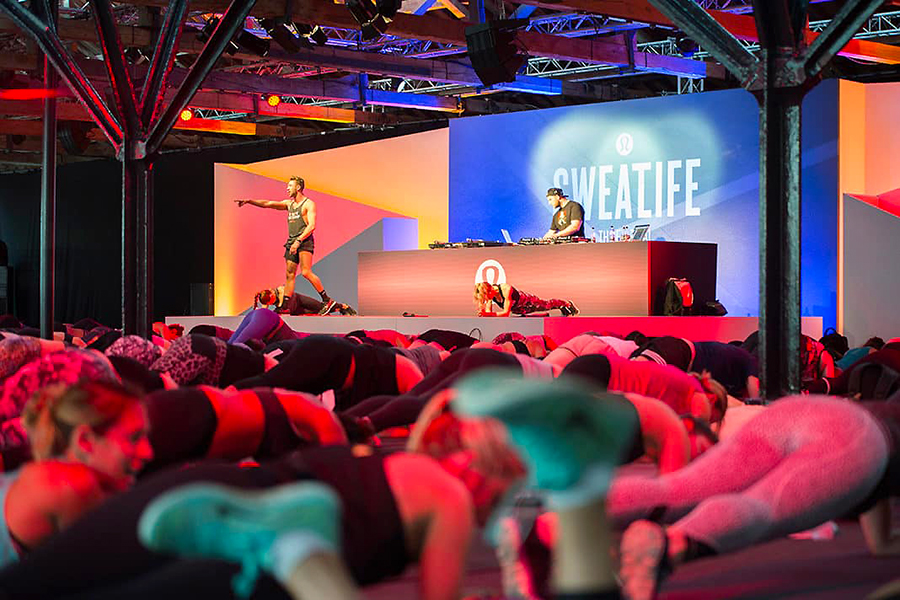 And it's a concept that Vancouver, BC-based Lululemon has been developing within its community—both the company itself as well as consumers who participate in a variety of activities and need the right garments to manage the sweat they work up, whether that's during exercise or the everyday stresses of life.
By creating an ecosystem of active consumers who then need quality apparel for their activities, Lululemon has found some white space in which to prosper.
"I'm proud to share how we are living into our vision to be the experiential brand that ignites a community of people living the sweat life through 'sweat, grow and connect,'" McDonald said.
The "sweat, grow and connect" mantra has permeated much of Lululemon's approach to the marketplace, according to McDonald and Celeste Burgoyne, EVP, Americas and global guest innovation. One example is the Sweatlife Festival, held again this year in London and Berlin, with an inaugural event planned for Paris in October.
"This amazing event brings together guests, educators, ambassadors and other members of the local community for a weekend of sweat classes, yoga, personal development and meditation," said Burgoyne, who added that the event promotes "being active, cultivating mindfulness and developing meaningful connections."
In addition to building a community of likeminded enthusiasts—a tribe, so to speak—Lululemon is doubling down on the sweat life as a driver for product innovation. The company is out to "create product with our unique positioning of solving sweaty problems for athletes," as Burgoyne told analysts on Thursday's call.
The sweat life again became the sweet life for Lululemon in the second quarter. The company on Thursday announced earnings per share for Q2 of 96 cents, beating analysts' expectations by 7 cents. Revenue of $883.4 million marked a 22 percent bump from the same period a year ago and beat Wall Street's estimates by $38.3 million.
Comparable sales grew 15 percent, or increased 17 percent on a constant dollar basis, from the year-ago quarter.
Also, direct-to-consumer net revenue represented 24.6 percent of total net revenue compared to 23.1 percent for the second quarter of fiscal 2018. And gross margin was 55 percent, an increase of 20 basis points compared to the second quarter of fiscal 2018.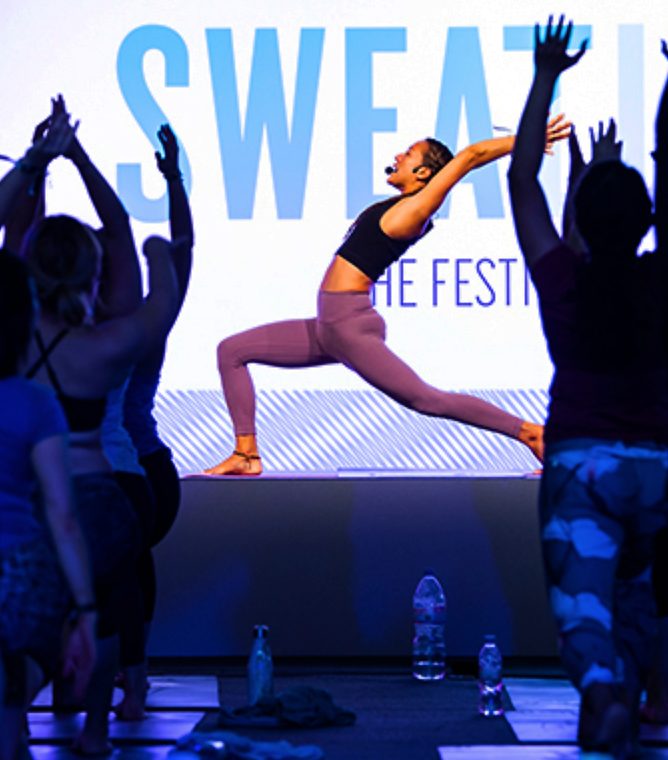 Lululemon also raised its third-quarter and fiscal-year guidance. For Q3, the company projects net revenue to be between $880 million and $890 million on a comp sales increase in the low teens, on a constant dollar basis. Diluted earnings per share are expected to be in the range of 90 cents to 92 cents. This guidance assumes 131 million diluted weighted-average shares outstanding and a 28 percent tax rate but doesn't reflect potential future repurchases of the company's shares.
For fiscal 2019, Lululemon now expects net revenue to be between $3.8 billion and $3.84 billion on a comp sales increase in the low teens, on a constant dollar basis. Diluted earnings per share are expected to be in the range of $4.63 to $4.70, based on a 27.5 percent effective tax rate. The same guidance assumptions apply.
Analysts were impressed with the company's performance and its upside for the next quarter and fiscal year.
Sam Poser of Susquehanna Financial Group LLLP on Friday wrote in a note to investors: "Exceptional 2Q19 results further demonstrate that LULU is the premier retailer in our (and likely any) coverage universe and is deserved of a premium valuation. FY19 guidance was raised and there are no signs of any deceleration in the momentum. Best-in-class execution and customer engagement (including a new loyalty program) and innovative product offerings should continue to drive top-tier results."
And Jim Duffy of Stifel wrote in his investment thesis on Friday: "LULU has created an aspirational vertically integrated and refined omnichannel model and we see sightlines to better than $7.50 earnings power by FY23 driven by outgrowth in international, digital and men's. We see potential for upside driven by whitespace opportunities and opportunistic repurchases. Against stiffening compares, comp deceleration is inevitable but with multiple untapped/underpenetrated growth levers, we expect low double-digit revenue growth can continue and expect a premium multiple holds."
The strong quarter led to Lululemon's stock soaring once again. Shares rose $14.73, or 7.8 percent, at market close Friday. But can the company's financial prospects—and its valuation—continue to rise? As Lululemon's executives might say, no sweat.
"All of us within the company are proud of what we've achieved," McDonald said. "As I travel around the world, I see guests responding to our products, our innovations and living the sweat life."
Photo courtesy Lululemon Athletica Inc.