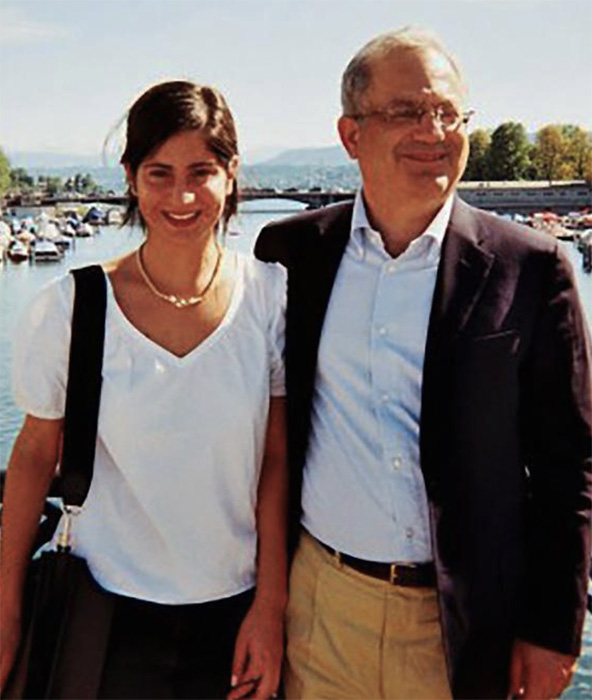 By Teresa Hartford
Atrue American dream story. The Irvani family founded Okabashi after coming to the United States in 1981. Inspired by Japanese concepts of reflexology and design, Bahman Irvani, pictured right with his daughter Sara, saw the opportunity to create a shoe that promotes foot health and wellness.
In 2017, Sara, in the lead photo, took over the family business from her father to become a third generation shoemaker and to continue to build on the legacy her father started—making the most comfortable and sustainable footwear in the USA.
Since 1984, the Okabashi family has owned and operated its shoe business in their hometown of Buford, GA.  The shoes have a loyal following with over 35,000 pairs of shoes sold. With more than 99-percent of American-worn footwear made abroad, Sara is proud to continue her father's dream making the 1-percent here in America.
The last time I spoke with Sara was for an article written for SGB in 2018 where we talked about her Founding Third Oak, the flip-flop division of Okabashi. I reached out to Sara last week to catch up with her from her home office in Georgia.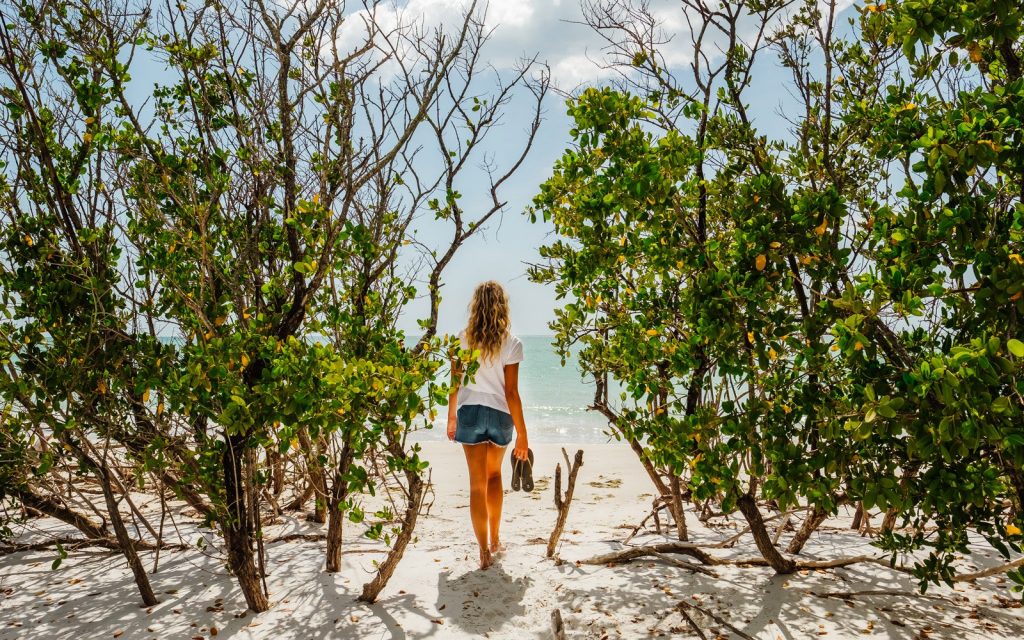 SGB | How have you been?  SI | Great! It's been an exciting time. We've spent 35 years now working on making a better product [footwear + sandals] and in a better way. And since we last spoke, the outdoor market has a new appreciation of what our company is all about. We're excited about it and to leverage the foundation to do what we can as a sustainable footwear manufacturer.
SGB | Since the beginning, your family has been manufacturing the Okabashi brand sustainably. SI | Yes, and sustainability to us, what it's meant, has evolved. It's been about being Made in the USA with a carbon footprint and as a family run business, it's also been about the values of not creating waste even before sustainability was a topic.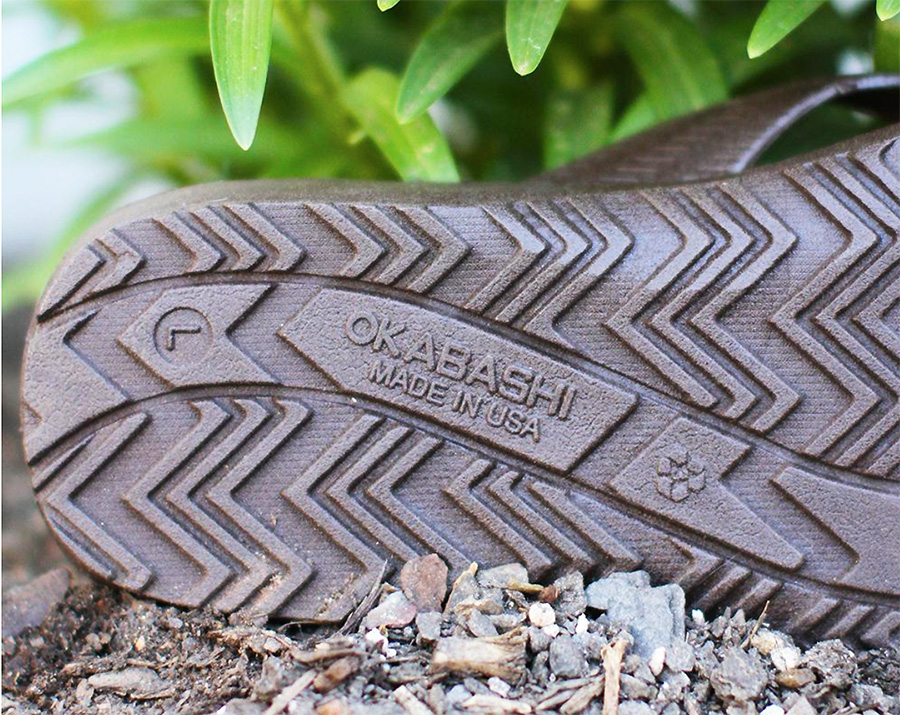 In the mid-90s, when our competition was moving off-shore and our own materials were getting more expensive, we made the commitment to keep our production in the U.S. And one of the ways was if we had a recyclable material then we could regrind any scraps and reuse them. Not only is it less wasteful, but it's been better for us as a company. It helps our bottom line as well. The journey has gone from the initial value point to the materials, to the point where only two months ago our material was certified as being biobased by the USDA.* It's been a journey but the thread lines have gone throughout the company.
SGB | Your factory in Georgia is a near zero waste manufacturing plant using 100-percent recycled material to make shoes + flip-flops. SI | Yes, and our sandals on average contain 20-percent  recyclable materials. We regrind the materials in our factory without any water or chemicals, remold and reuse the materials to create new shoes.
SGB | And as part of your recycling program, customers can send their worn sandals back to your factory and the materials will be recycled to make new sandals? SI | Yes. We have a circular program. We recycle pure scraps at our manufacturing facility and when a customer sends back to us their worn shoes, they receive a 15-percent discount off their next pair. To date, we have also given more than 100,000 pairs of shoes to survivors of natural disasters around the world from scrap materials.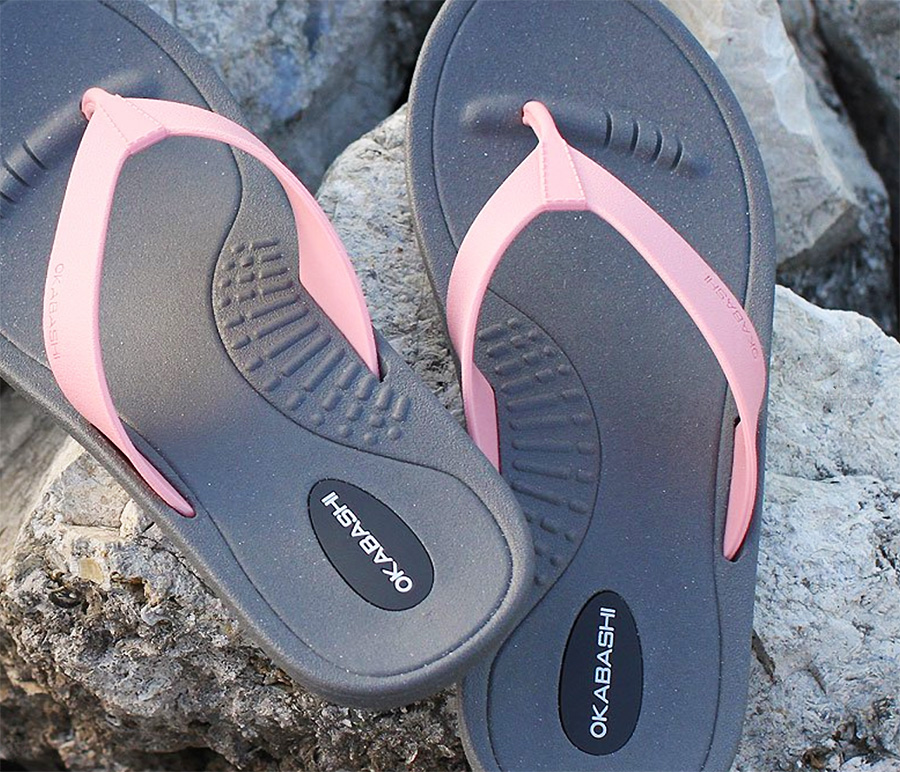 SGB | The big story for Okabashi is that the company is now Certified by the U.S. Department of Agriculture as a manufacturer of biobased products and you can label your products accordingly. The steps to receive certification are extensive.SI | They most definitely were. When we were thinking about which certification to get, the challenge for us was that there are so many different certifying bodies. The USDA really appealed to our brand because the agency chimes in with us on quality and if they recognize that in our materials, that's something that not only resonates with us as a company but hopefully our customers as well.
SGB | Sustainability is at the core of Okabashi and specifically the manufacturing process for your flip-flops. If I were a consumer, why should I choose the Okabashi brand? SI |When you are looking for a sustainably made flip-flop, you need to focus on the functionality, knowing where it's made with full transparency and with sustainable materials. More importantly, comfort is key and that is something we spend and have spent, a lot of time on over many decades—making sure that we create the perfect flip-flop with fantastic fit and incredible comfort.
We consider every component, how it all works together in the right way and pride ourselves in creating a fantastic flip-flop that is machine washable, slip resistant, colorfast, as has a reflexology-inspired heel cup.
SGB | The design is thoughtfully considered. SI | Very much so. Our designs are created in-house by our lead designer who is a classically trained sculptor. We focus on all of the elements. Other manufacturers may say that they use sustainable material and that's enough to sell a shoe and make the customer happy. For us, sustainability is only one aspect of the perfect flip-flop, and we have a long and strong customer following because of it.
SGB | There's a label attached to the Scout shoe that says it's made from a 'patented microplastic, a recyclable blend of plastic far more durable than other materials.' What is the material? SI | We've taken out the essence of petroleum-based plasticizer and replaced it with a soy-based plasticizer. The material is 45-percent soy as well as being recyclable. It's also Prop 65 and Reach Compliant and these aspects are unique to the material. We work very closely with a third-party to make the material, but we introduce our own recycled content from our shoes in our factory to make the Scout shoe.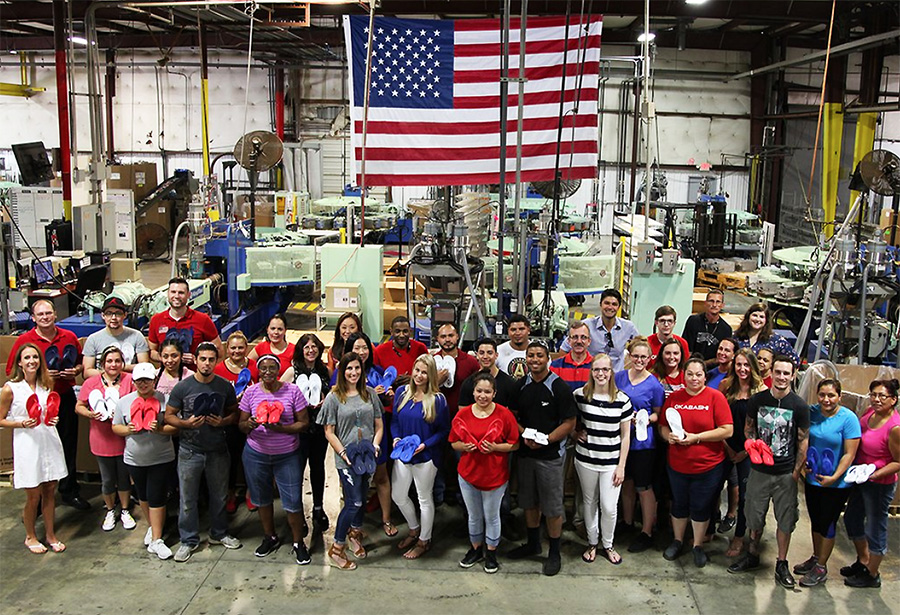 SGB | Are your employees also as committed to manufacturing sustainably? SI | When you think of where we're located, Buford, GA, were not the norm. We don't fit into the picture of what's typical for where sandals are made. It's hard to speak for our employees, but I very much believe that they are and I see evidence of everyone caring about what we make. When you think about it, it's not just me who spends the day focused on growing the company and making sure that sustainably Made in the USA has a strong fit for our company in the future. Our employees dedicate so much of their energy and their time to the manufacturing process. I think you would find that they care very much and that there is a sense of pride in what they are doing each day here at our company.
Today everyone understands that we are not taking the easy way out, and it's not always been the case that the public at large cares about either Made in the USA or sustainability. We've had to really be focused as a company and think creatively about how we make it happen. How do we stay lean and competitive so that no matter where the tide turns we can continue doing what we do best.
We have an open door at our factory and we welcome everyone to come and visit and see first-hand our sustainability practices There's full transparency. We will only make claims that are constant, consistent and authentic to our brand.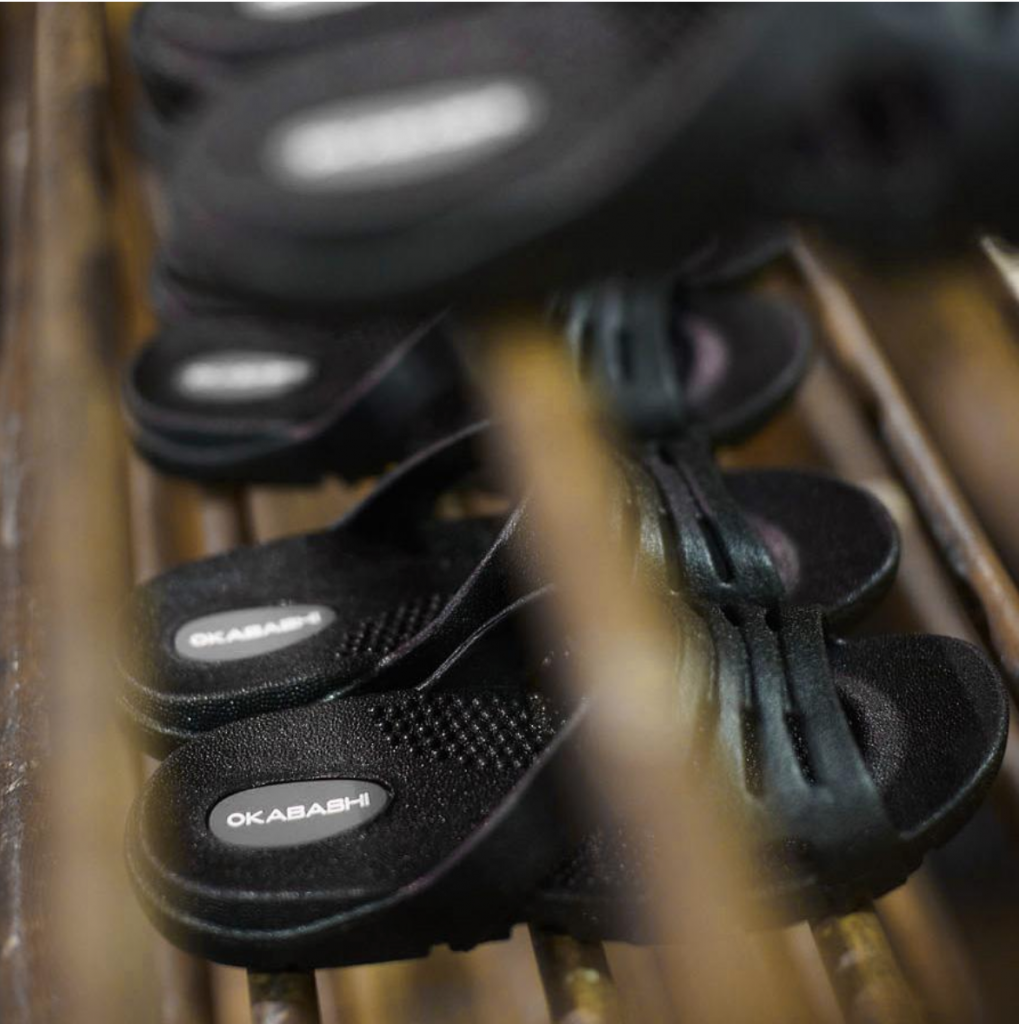 SGB | When you look at products with the claim they are sustainably made, what are the three key factors that you think about as a sustainable manufacturer, that you must have in to be a sustainably made product? SI | Sustainability is a complex topic. To gauge if something is sustainable there are three stages of the product life cycle—how is it made and what of, the durability, and where does it go after it's been used.
---
The Bio-Preferred Program is a USDA-led initiative that assists the development and expansion of markets for biobased products through two initiatives—mandatory purchasing requirements for Federal Agencies and Federal contractors and voluntary product certification and labeling.
Biobased products span a diverse range of applications. The USDA Certified Biobased Product label communicates a product's biobased content. Expressed as a percentage, biobased content is the ratio of non-fossil organic carbon, new organic carbon, to total organic carbon in a product. New organic carbon is derived from recently-created materials. The total organic carbon in a product consists of new and old organic carbon that originates from fossil carbon materials such as petroleum, coal or natural gas. More than 3,000 products have earned the USDA Certified Biobased Product label.
To learn more about the USDA Certified Biobased Product label visit biopreferred.gov. Photos courtesy Okabashi