Legendary Innovator Gert Boyle: Spanning Generations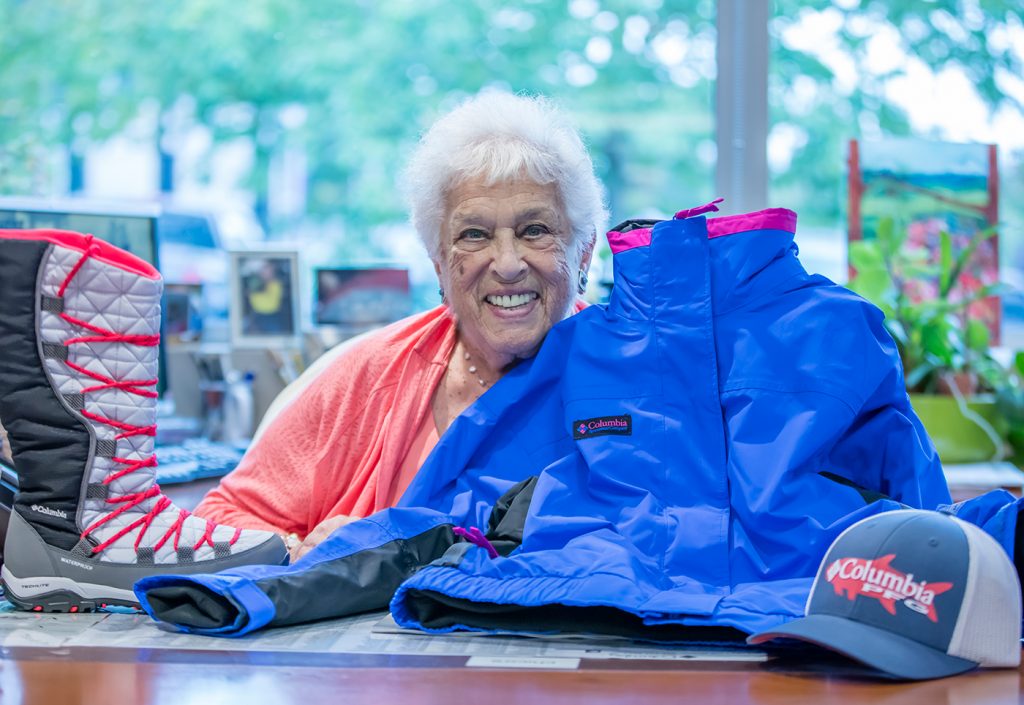 The First Lady of Innovation is more than an industry icon and philanthropist. She's a model for the power of the pioneering spirit — venturing into the unknown with vision and determination and leading by example for others to follow.
By Nancy Bouchard, Ph.D. and Teresa Hartford
Photography by Tiffany Renshaw
GERT BOYLE IS AN AMERICAN TREASURE. If she takes time out of her busy schedule to read this, chances are she'll laugh and make a witty, self-deprecating retort about her age, figure or relative position in the big picture of things. But no one can argue Gert's value to the outdoor industry, Portland, OR, the U.S. economy, international philanthropy and in making the world a warmer, drier and all-around more fun place.
SGB was fortunate to have a morning to sit down with Mrs. Boyle in her office and chat about the past, present and future of Columbia. We hope you enjoy the conversation as much as we did.
An American Success Story
Gert (you may know her as Columbia Sportswear's Chairman of the Board, One Tough Mother, Ma Boyle or Mrs. Boyle) is also an American success story. She's held the title of Columbia's Chairman of the Board (she never liked the word Chairwoman) since 1998 and, at the age of 92, she still goes in to work daily. From 1970 to 1998, she was the company's president. During Gert's tenure at Columbia (she was thrust into running the company when her husband Neal Boyle died in 1970), she's guided it to the $2.33 billion juggernaut [2015 net sales] it is today. Columbia brand sales alone, not including the A-list brands Gert and her son Tim have added to their portfolios — Prana, Mountain Hardwear, Sorel and OutDry — is a cool $1.86 billion globally [2015].
Gert epitomizes everything that makes America great. Born in Germany, Gert and her family fled to the U.S. to escape the horrors of Nazi Germany when she was 13. Sadly, her maternal grandmother didn't get out in time and was murdered in a concentration camp. Her father, the owner of one of Germany's largest shirt factories, had realized the threat of Hitler's Germany for Jews and began planning his family's escape in 1936. Only because his mother lived in San Francisco and his brother in Portland was the family able to obtain U.S. visas. They boarded a ship in July 1937 that took them through the Panama Canal (with a brief stop in Cuba), up the Pacific Coast to San Francisco and then on to Portland, OR. Gert didn't return to Germany for another 60 years.
While her family was only allowed to bring $20 out of Germany, nothing could rob her father of his entrepreneurial spirit. The family was enthusiastically American, and there was no doubt Gert's mother and father, Paul and Maria Lamfrom, would realize The American Dream. One of the first things the family did after settling in Portland was travel to Mount Hood to watch President Franklin D. Roosevelt speak for the dedication of Timberline Lodge. After settling his family, Paul borrowed money to buy the Rosenfeld Hat Company and went to work. He changed the company's name, picking Columbia after the mighty river that ran through the family's new hometown. In Germany, he'd employed hundreds; in Oregon, he turned his energy to operating the small hat store. Gert, her two sisters Hildegarde and Eva and her mother embraced their lives as Americans. Gert helped put hatboxes together with her sisters, and like many Oregon children of her era worked during summer months for local farmers, picking strawberries and beans.
"I found myself wanting to succeed for non-financial reasons. The more people doubted me, the more I wanted to prove them wrong."
-- Gert Boyle
A Family Business
Gert went off to college in the fall of 1943 — taking a train to Tucson to attend the University of Arizona. There, as the story goes, under a table after a fraternity party she met the love of her life, Neal Boyle, whom she married in 1945. Gert's father offered Neal a job with Columbia, and the small family (they'd had Tim by that time) moved back to Portland.
Gert's father and Neal worked well together and the company flourished. Her father was a "nuts and bolts" man who knew how to run a business, her husband a visionary with ideas on how to grow their customer base. Both were excellent salesmen. By the late 1950s, the men realized that the Pacific Northwest was attracting people who loved to hunt, fish, ski and hike. In 1959, they changed the name of the company to Columbia Sportswear, as they had started to sell outdoor products and ski wear.
The first foray from hats was gloves; Neal was then inspired by his friends and customers to design a fishing vest. Like most women of her generation, Gert had learned to sew as a child, and she went to work on the pattern and design. She didn't fish, but talked with people who did and came up with what would be one of Columbia's most successful and enduring products, The Henry's Fork Vest. Soon the company added rainwear to its lineup — a smart move in a region so famous for wet weather.
Gert's father died in 1964 and Neal took over as president. Gert's mother became more involved with the company's daily operations — she went to work every day until shortly before her death at the age of 86. When Neal stepped up to run the company, it had $300,000 to $400,000 in annual sales. Over the next six years he grew the brand. Gert stayed at home and raised the couple's three children, Tim, Kathy and Sally, although once her kids were in school she would go by the office to talk with her husband and mother and to greet employees.
In December of 1970, she would begin to play a much larger role.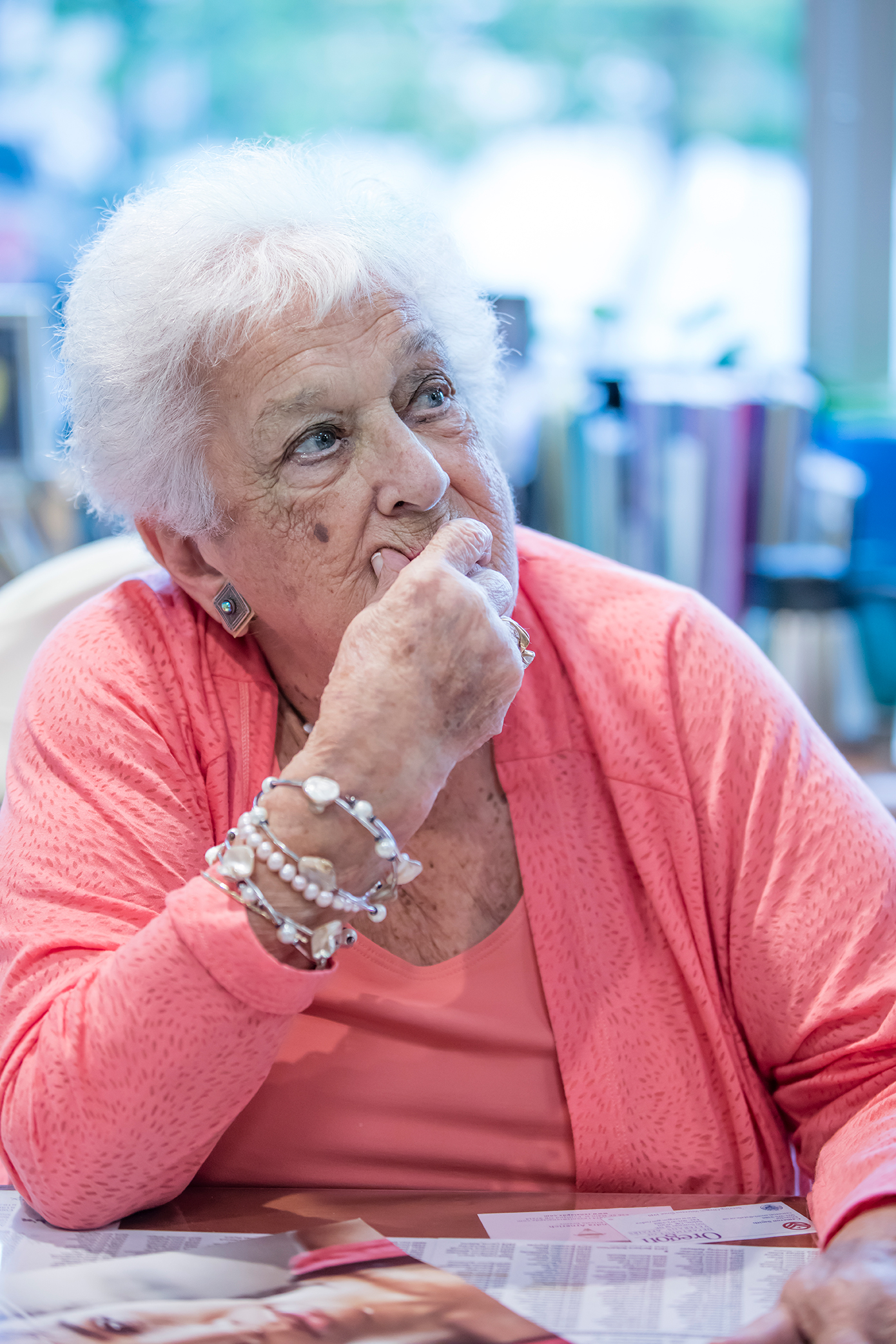 "Gert may be short in physical height, but her courage, her common sense, her perseverance and her business acumen made her tall enough to shatter all of the doubts, misconceptions and glass ceilings that stood in her way."
Mark O. Hatfield
Gert Boyle And Her Son, Tim Boyle, Step Up To Lead Columbia Sportswear
Tragedy struck when Neal died of a heart attack. Gert had no experience with running a company, but as she relates in her autobiography, "One Tough Mother," "If someone asked me to swim a mile, I would tell them I couldn't. But if someone took me out on a boat and pushed me out into the ocean a mile from shore, you better believe I would start swimming."
With the help of her son Tim, who had recently married and was a semester short of graduating from the University of Oregon, Gert went to work. At the time of Neal's death, the company had $800,000 in annual sales. A year later, sales fell to $600,000 and the wolves (bankers) were at the door. Gert, with her youngest daughter at home, considered selling the company. A potential buyer made an offer, but after reading the contract's fine print, Gert realized she'd end up with only $1,400. "For $1,400, I would just as soon run this business into the ground myself" was her famously quoted response.
Gert and Tim (who in good Boyle tradition did finish college) formed a Board of Directors to elicit advice and guidance from local businessmen. They slashed Columbia's product line and started manufacturing private-label products for well-known national outerwear companies, slowly pulling the company back from the brink — both Tim and Gert worked long hours. Gert bought a lawnmower with a headlight so she could take care of household chores after her long workday.
During Gert's tenure as president and CEO of Columbia, the company prospered. There were bumps, but the mother-and-son duo didn't give up. The company focused on quality, innovation, durability and the excellent customer service Paul Lamfrom and Neal had established. By 1977, Gert and Tim paid off the SBA loan and the mortgage on the company's building. There were about 60 employees and annual sales of nearly $1.5 million.
"Early To Bed, Early To Rise, Work Like Hell and Advertise."
-- Gert Boyle
Columbia Takes The Lead
With the rise of appreciation for outdoor activities, Columbia began leading the nascent outdoor industry in developing its own technology. In the early 1980s, Gert and Tim worked together to create the world's first three-in-one jacket, the "Interchange System," so people would have flexibility in dealing with the elements (the coat had a fleece liner that zipped out of a waterproof shell). The jacket was named after The Bugaboos, one of Tim's favorite mountain ranges, and sold more than five million.
Columbia had hit on a good formula. They made apparel tough enough to keep hunters, anglers and hikers warm. But they marketed to a much broader audience. As Gert deftly pointed out in "One Tough Mother," only about 20 percent of outdoor apparel bought in the U.S. is actually worn for its intended purpose and the other 80 percent sells to people who like the "rugged outdoor look." Gert also focused on "selling a great product at a fair price," a formula that helped Columbia grow when others faltered.
One Tough Mother
Gert and Tim's hard work, keen understanding of consumer demand and ability to pull together a great team spurred Columbia's success. But there's no doubt that the "One Tough Mother" advertising campaign in the 1980s and '90s that focused on Gert with her "Born to Nag" tattoo, and Tim as her private crash test dummy, sparked the imagination of the global public and upped Gert's rough-and-tumble media persona into cult status.
The first ads introduced Gert, then in her late 50s, with her trademark spectacles perched low on her nose, as an "Overly Protective Mother," but the game soon changed. "Bullheaded" soon replaced "Overly Protective." Then in the late 1980s, the ads got funnier and edgier. In one, Tim quoted Gert as saying that since the Bugaboo Jacket was such a great seller with its zip-out liner, jocks should sport zip-out fleece too. The ads started turning the humor toward Gert herself, with memorable lines like "Unlike our Chairman, It's uncomplicated and lightweight," or "Protective, but not overly warm, just like the parka."
Throughout the campaign, Gert got tougher and tougher, and Columbia's sales kept going up and up. The television advertising campaign was even funnier than the print ads. To prove the effectiveness of Columbia's apparel, Gert encased her son under an ice skating ring and drove over him with a Zamboni. In another, she orders Tim through a car wash (sans car) to make sure Columbia's latest jackets are truly waterproof. The mom-and-son duo was a hit with customers.
The ads made people laugh and showed Gert's willingness to poke fun at herself (she posed with emo spiked hair, alongside leather-clad bikers and clinging to a rock face). The company even manufactured Gert Boyle greeting cards. There was no doubt that Gert and Tim were willing to go the extra mile to ensure their gear was field tested and field worthy.
Gert Shows The World That Her Toughness Isn't Just Marketing Hype
But no one realized how truly tough Gert was until 2010, when three men kidnapped the then-86-year old in front of her house after pretending to be fans bearing gifts. The armed thugs forced Gert into her garage. Despite being roughed up (she was bound when the police arrived), Gert managed to trigger a silent alarm, signaling that she needed help. Even under such dire circumstances, she kept her wits about her. One of the kidnappers was wearing a The North Face jacket. Gert's statement as he was hustled into the police car? "I should have been suspicious to begin with — you're wearing the wrong brand!"
Gert's achievements in keeping people warm and dry in the outdoors are easy to identify. Under her tenure as president and then chairman of the board, Columbia introduced Omni-Tech, now one of the world's leading waterproof/breathable systems for rainwear.
Technology Drives Sales
Omni-Shade came to market a few years later, revolutionizing how people protect themselves from the sun in hot climates. Then Columbia set its sights on Omni-Freeze Zero, another groundbreaking technology that made fabrics "smart" by letting them react to the skin's temperature for cooling. Omni-Heat Reflective introduced small, shiny dots on the inside of the fabric, reflecting body heat to keep people warmer with less weight.
Over the last few years, Columbia has upped the ante with waterproof OutDry, a patented and exclusive lamination process that bonds a waterproof, breathable membrane directly to the back of a shoe's outermost layer creating a one-piece upper, and OutDry Extreme, an award-winning proprietary technique that eliminates a fabric layer for waterproof breathables and puts the waterproof membrane on the outside to prevent a "wet out."
For 2017, Columbia sets the height of the environmental sustainability bar with OutDry Extreme Eco, the first membrane made without the use of PFCs, and instead made from recycled plastic bottles and a dye-free fabric that saves 13 gallons of water per jacket.
Is Gert's focus on saving the world, one jacket at a time, something new?
Gert's Mission
Well, not really. It turns out she's been working on saving the world on her own time — with a tremendous amount of personal funds going to help abused children (CASA), cancer research and athletes with disabilities (Special Olympics). But Gert doesn't talk much about her philanthropic giving. In fact, her practice is to donate anonymously. But sometimes, staying behind the scenes is tough, just like her tenure at Columbia. In 2011, she anonymously donated $100 million to Oregon Health & Science University for cancer research. A local Portland newspaper dedicated its staff to unveiling the donor. Gert eventually fessed up, and said she didn't blame the reporter for outing her. She said she suspected the reason he'd revealed her secret was that he didn't know how to spell anonymous! Once again, Gert stayed behind the scenes until stepping up made sense. This time, she realized that by allowing her name to be associated with the donation, it might encourage others to step up for the cause. Through philanthropy, Gert makes sure that other people who may have not started out with a fair shake in life have their shot at the American dream too.
"Focus on what makes you unique. There is something that sets your business apart from your competitors — make the most of that difference"
-- Gert Boyle