By Thomas J. Ryan
Having gained traction in turning around the JackRabbit run specialty business, CriticalPoint Capital is moving deeper into sporting goods with the acquisition of Maine-based Olympia Sports.
Financial terms were not disclosed.
Olympia Sports will become part of JackRabbit, which the Los Angeles based private investment firm acquired in a distressed sale in February 2017.
Founded in 1975 in Portland, ME, Olympia Sports currently operates over 150 stores primarily in the Northeast U.S. while also serving online customers via its e-commerce site, Olympiasports.net.
JackRabbit will acquire 73 of Olympia Sports locations, and the acquired stores will continue to operate under the Olympia Sports' banner. The remaining stores will close.
JackRabbit operates 62 running specialty stores under the JackRabbit name as well as other banners in 18 states along with three e-commerce platforms: jackrabbit.com, clevertraining.com, and surfoutfitter.com. Clever Training, a provider of fitness technology and accessories, was acquired in May 2018.
With the addition of Olympia Sports, the consolidated company will operate 135 brick and mortar stores.
"We are thrilled to welcome the Olympia Sports brand into the JackRabbit family," said Bill Kirkendall, CEO of JackRabbit, in a statement. "Olympia has been a leader and household name in providing premium athletic specialty brands and sporting goods in the Northeast for 45 years. This acquisition continues JackRabbit's expansion and commitment to providing the most complete, high-performance product offerings, services, and experiences to the active lifestyle fan across all markets and channels."
Olympia Sports, founded by Ed Manganello, Sr. in 1975 with a focus on underserved small- to mid-sized markets in the Northeast and Mid-Atlantic regions, offers a mix of team sports gear as well as footwear and athletic apparel for fitness enthusiasts and sports fans. The locations range as small at 4,000 square feet, including numerous mall locations, to up to 15,000 square feet.
The stores are well-known for their attention to customer service as well as focused on premium brands. With the first door opening at The Maine Mall in South Portland, Olympia Sports expanded in its peak to about 230 locations by 2016 throughout the Northeast, Mid-Atlantic and Mid-West, with stores from Ohio and Virginia to Presque Isle.
Several locations have closed over the past few years as the sporting goods industry, overall, has been unsettled by the disruption caused, in large part, by shifts to online selling.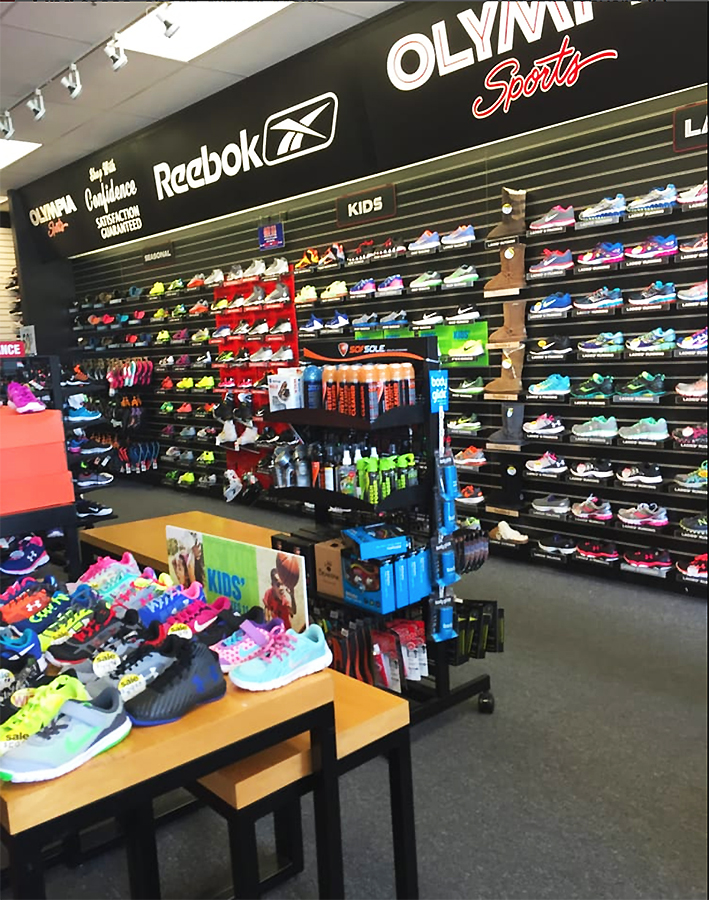 Like many other chains, Olympia Sports was likely impacted in recent years by excessive discounting and off-price selling in the marketplace caused by the liquidation of several sporting goods chains, including The Sports Authority, City Sports, MC Sports, and Sports Chalet. Many sporting goods chains have also felt the impact of major brands selling direct-to-consumers and broadening their distribution overall.
"We are pleased to partner and work with JackRabbit and CriticalPoint Capital on this transaction," said Ed Manganello, president at Olympia Sports and the founder's son, in a statement. "Olympia Sports, the Manganello family and our dedicated employees, have tirelessly served our customers and communities for nearly five decades. We want to thank everyone who has been involved in our success —especially our employees. We have accomplished great things together. We look forward to transitioning Olympia to the JackRabbit family and believe they will be outstanding stewards of the Olympia brand and its long-standing customers and vendors."
For JackRabbit, the acquisition of Olympia Sports signals a continuing rebound for the company since CriticalPoint Capital acquired the business in February 2017 in a fire sale.
Under its previous owner, The Finish Line, JackRabbit had been facing steep losses that coincided with an overall slowdown within the run specialty channel. Finish Line is also believed to have met internal challenges in its attempts to operate a chain of run specialty stores from a national level.
CriticalPoint Capital has closed several doors since acquiring 65 locations in the acquisition but has also invested in the business, including returning to opening new doors and making acquisitions. Additions have included Rogue Running, which operates one store in Austin, in November 2017, Seminole, FL-based Clever Training in May 2018 and Nashville-based Rhythm Running in September 2018. In 2017, a partnership was formed with Austin-based Rogue Training to bring advanced training methods to JackRabbit's stores.
Brad Holtmeier, partner at CriticalPoint Capital, in a statement, said synergies expected between Olympia Sports and JackRabbit were critical to the deal.
"Olympia Sports is a cornerstone investment and brand for the JackRabbit family of stores due to its success serving communities in the Northeast over the previous 45 years," said Holtmeier. "The combination of these two specialty athletic retailers is an ideal match and allows JackRabbit to expand its footprint and product categories further into athletic goods while maintaining its commitment to dedicated athletes and runners."
CriticalPoint Capital, Founded in 2013, and before the JackRabbit acquisition, made two acquisitions in the active lifestyle space—Organized SportsWear and My School Things. Both make physical education uniforms with customized silk screen printing and embroidery. In 2014, it acquired Electronic Materials Division (EMD), which makes plastic laminates from Rogers Corp.