Two of summertime's biggest tradeshows for paddlesports are just around the corner, The Big Gear Show and Outdoor Retailer Summer Market, with iCAST at the end of July. But after a hard-fought year during the pandemic and a changing tradeshow landscape, is the industry, and are retailers attending? To find out, SGB Executive takes a look at all three.
When the Big Gear Show, postponed after canceling its inaugural event last year, comes to Deer Valley, UT, August 3-5, it will do so with an eye not only for the bike and outdoor industry but also paddlesports. Much of this stems from its co-founders' history. Darren Bush owns the Rutabaga retail store in Madison, WI, and hosts its annual Canoecopia consumer show, and Sutton Bacon is the former president of the Nantahala Outdoor Center. Both also co-founded the now-defunct Paddlesport Retailer tradeshow, most recently held in Oklahoma City.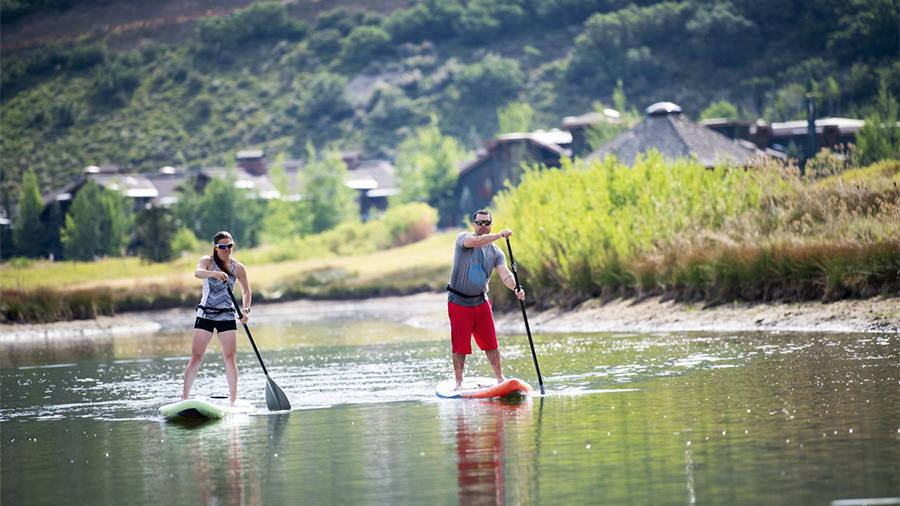 Formulated even before the pandemic hit, their idea for the Big Gear Show centered around outside instead of indoors, including letting retailers test gear where it's meant to be used: bikes on adjacent trails and boats on a lake next to exhibitors booths.
"Everyone's super enthusiastic and loves the concept," said Bacon. "Things are going as well as can be expected during an unprecedented time in paddlesports."
A year and a half ago, he said, factories were closed. Now companies are busier than ever, demand has never been higher, and inventory has never been lower. And while exhibitors might not necessarily show as much new product as they have in the past, the show's important for much-needed face time.
"There are a lot of new owners and other people in the industry," he said, rattling off companies like Jackson Kayak, Hobie, BIC, and Confluence all with new teams in place. "It's about reconnecting people together for the first time since COVID."
Those attending agree. Even though Wenonah Canoes and Current Designs "are booked out completely through next year," said manager Bill Kueper, the companies are exhibiting largely to network.
"We're sold out, so it will be more of a networking event, reinforcing our networks with both retailers and competitors," he said. "We haven't seen or connected with a lot of our dealers in person for almost two years. 
There haven't been any B2B or consumer events in person since the Oklahoma show two years ago." He added that a lot has changed in the past two years, with some stores closing, buyers changing and owners moving on.
They'll have one booth right on the water, he said, which will make it easy to catch up with retailers and let them see whatever new product they have. "It won't be that big for unveiling of product, but we will get some newer product in front of retailers," he said. "We'll also use it to get feedback and as a competitive intelligence opportunity."
Wenonah isn't alone. A quick rundown of registered exhibitors also includes TAHE (formerly BIC), Old Town Canoe, Ocean Kayak, Eddyline, Esquif, Bending Branches and AquaBound, PFD maker Astral, Yakima and others.
For others, however, it's still a question of COVID, especially for manufacturers north of the border. "Some of our staff won't be fully vaccinated in time and will be subject to a 14-day quarantine upon return to Canada, so we can't attend BGS or OR," said Level6 COO Kevin Cook, adding the only show they're attending is the Paddlesports Show in Lyon, France, September 29. He added that over the pandemic, they invested in webcasting and video equipment to host virtual showings, "which have been a big hit with our major retailers."
Another problem Bacon noted is staffing. "A lot of the people who aren't attending have sales that are up 100 percent, but their staffing is down 30 percent," he said, adding it's affecting both manufacturers and retailers. He added that people have also been busier than ever and might get burned out.
For their part, retailers seem to be on board with the new show and its waterfront setting.
"We fully support it as our official paddlesports buying show," said Rich Hill of Grassroots Outdoor Alliance. "Its demo-centric format lets our buyers see, feel and test gear in a way that allows them to be strategic."
Added Bush of Madison, WI's Rutabaga Paddlesports: "Why are we attending if we're already crushing it? Because business is contact-based. I want to sit in a chair next to a sales manager and talk/complain about their supply chain, listen to their side, experience some reciprocal empathy, do some problem solving, and share a cold beverage. That's how you get things done. It's a great way to springboard into 2022."
This year's Outdoor Retailer tradeshow, held a week later in Denver, shows less involvement from paddlesports brands, be it from decision deadlines earlier in the pandemic cycle or a general falling out of pertinence.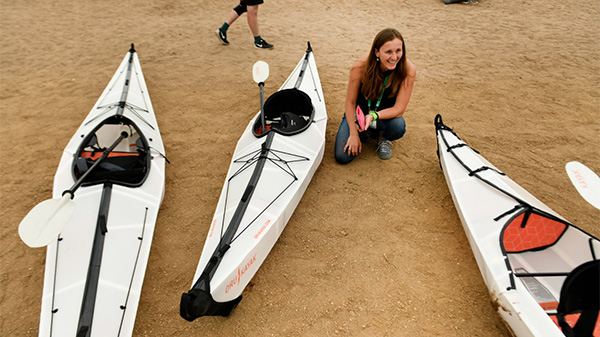 Still, a rundown of the attendee list as of mid-July revealed paddlesports brands Watershed, Airhead, Mustang Survival, Kokopelli, Gecko Brands, Aqualilly, Solstice, POP boards, Hurley SUP, WOW water sports, Big Mouth, American Del Advantage, DIY Brothers, and White Wolf Outdoors exhibiting.
"We had toyed with going to OR as we became serious about our paddling business," said Josh Horoshok, VP of Recreation for Mustang. "Since MTI was a longtime supporter of it, the merger cemented our decision to attend. We're excited to be a part of the outdoor business community and eager to meet and connect with more of it and help the community grow."
For others, it wasn't such an easy decision. "We had to make our tradeshow decisions months ago when an outdoor venue like the Big Gear Show seemed more plausible for everyone's COVID comfort than an indoor show," said Kueper. "OR seemed a little more of a risk, so we decided on the Big Gear Show as the safest bet we could make. And we wanted to be as inclusive to as many of our retailers as possible."
Historically, OR has been the powerhouse show for paddlesports brands, from its early days in Reno to its heyday years in Salt Lake City. And even before the pandemic hit, it enjoyed ample paddlesports following in Denver with demo expos on the nearby South Platte River. But participation from the category has been slowly waning due to cost, timing during the middle of consumers' buying season and a general re-aligning of priorities in a shrinking market segment.
But OR remains bullish on boats. "As the largest outdoor industry event taking place this year, exhibitors have access to the greatest mix of buyers and media, while retailers can shop across the largest array of products and categories," said show director Marisa Nicholson. "The show remains a key opportunity for retailers to connect with watersports brands and for the brands to build relationships and get their equipment in front of people. Paddling is one of the many outdoor activities experiencing incredible growth, with greater demand for both hard goods and accessories."
Meanwhile, the annual iCAST (International Convention of Allied Sportfishing Trades) tradeshow, produced by the American Sportfishing Association, held July 20-23 at Orlando, FL's Orange County Convention Center, has made its case known as a marquee event to attend for those in the fish kayaking sector.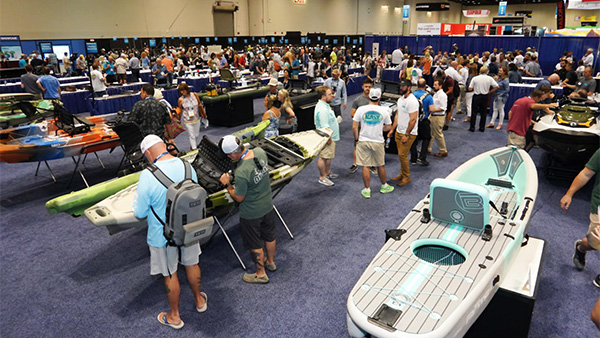 While this year's show follows a markedly toned-down performance from last year during the pandemic, it seems the place to be for those making angling craft. A rundown of more well-known exhibitors includes paddlesports brands Hobie, Pelican International, Wilderness Systems, YakGear, Apex Watercraft, Esquif, NRS, Sea Eagle, Bonafide/Native, NuCanoe, and Feel Free Kayaks.
"It's a significant show for anyone making fishing product," said Wenonah's Kueper. "Which is a huge, huge market for paddlesports."
While both iCAST and OR are both following their formula of providing educational seminars for manufacturers and buyers, so, too, is the Big Gear Show, with panels and presentations on everything from supply-side challenges to retailer hints and customer service.
"The important thing to address is how to convert all these new participants into enthusiasts, and we have an unprecedented opportunity to do so," said Bacon. "How do we prevent all these boats from just ending up in people's garages?"
Tradeshows, he added, are one way to do this. "The tradeshow business has forever been changed, which is one reason why we changed the format of our show. For boats, it's hard to make purchase decisions without seeing and trying them. The experiential component is huge. You have to wear things and put them on, and you have to get out in the boats."
Above all else, paddlesports is a people-driven sport, where everyone helps each other out on the water. And it's that way in business, also. 
"Business is so relationship-driven," Bacon said. "You have to meet your retailers face to face and brainstorm for the future. The days of big mass-attended tradeshows in convention halls are probably over, but it's still important for the industry to come together and talk about some of these things."
"Paddlesports is a very meaningful part of our event," he added. "And this year, it will be a great place to exchange war stories from the past 18 months."
Photos courtesy iCast, Big Gear Show, Outdoor Retailer