On a conference call with analysts discussing the Sweaty Betty acquisition, Wolverine Worldwide officials said the U.K-based women's activewear brand is expected to help Wolverine's own brands, including Saucony and Merrell, to further expand in apparel and across digital channels. However, the biggest opportunity it sees is tapping into the growth potential of Sweaty Betty and the overall women's activewear market.
Sweaty Betty was founded in the United Kingdom in 1998 as a digital-first brand. It now has 65 stores in the U.K. and Hong Kong and is expected to generate about $250 million in revenue this year. Online sales make up about 70 percent of revenue, with 80 percent being sold direct-to-consumer (DTC). Sweaty Betty CEO Julia Straus will stay on and report to Wolverine Worldwide President Brendan Hoffman.
The 23-year-old business was acquired for $410 million from L Catterton. a consumer-focused private equity firm. The deal was funded by cash and a revolving line of credit.
The acquisition marks a big push into apparel for Wolverine with its brand largely focused on footwear. Wolverine's brands include Merrell, Saucony, Sperry, Wolverine, Chaco, Hush Puppies, Keds, Stride Rite, Bates, and Hytest. It makes footwear under Cat and Harley Davidson through licenses.
On the call, Blake Krueger, chairman and CEO, described Sweaty Betty as "an incredible high-growth women's active and lifestyle apparel brand" that will further boost Wolverine's growth potential, bring a number of strategic competencies to the combined organization and be accretive to earnings in the first 12 months.
He said Wolverine had been eying the business for some time before it became available for sale.
"As you know, we take a very disciplined approach to acquisitions, and Sweaty Betty checks off all of our strategic criteria," said Krueger. "The brand offers a spectrum of growth opportunities in line with the tailwinds of prevailing consumer trends, especially in the performance product category. Sweaty Betty's strength in the DTC channel also aligns perfectly with our focus here."
He added, "I'm especially excited about the global potential as Sweaty Betty is a vertically integrated brand and brings what I call a 'complete package' that will quickly provide market leadership in a key segment. For many of our global partners, the brand comes with a proven store design and concept, a tremendous online business with a wealth of digital assets, and a DTC retail product flow. The fact that Sweaty Betty is located in London, only a few minutes from our European EMEA headquarters, is an additional plus."
"Our leadership team could not be more excited about adding the Sweaty Betty brand and its extremely talented team led by Julia Strauss to the Wolverine Worldwide family," said Hoffman on the call. "Sweaty Betty is a disruptive, fast-growing brand in the enviable premium women's activewear market."
Hoffman said the total addressable global activewear market represents over $200 billion in revenue and is currently growing mid-to-high single-digits with accelerated growth in key international markets. The premium women's activewear segment, Sweaty Betty's core market, is growing even faster, approaching double-digit growth.
"The market segment is benefiting from several established macro trends, including consumer focus on health and wellness and casualization, which have helped spur accelerated growth for Merrell, Saucony and several of our other brands, and are expected to continue. There is also an ongoing trend towards more premium products, incorporating higher-quality materials, cutting-edge innovation and design and sustainability. The confluence of all these powerful trends is contributing to Sweaty Betty's accelerated growth."
Hoffman added that Sweaty Betty is "taking market share within its competitive set and growing much faster than its core market."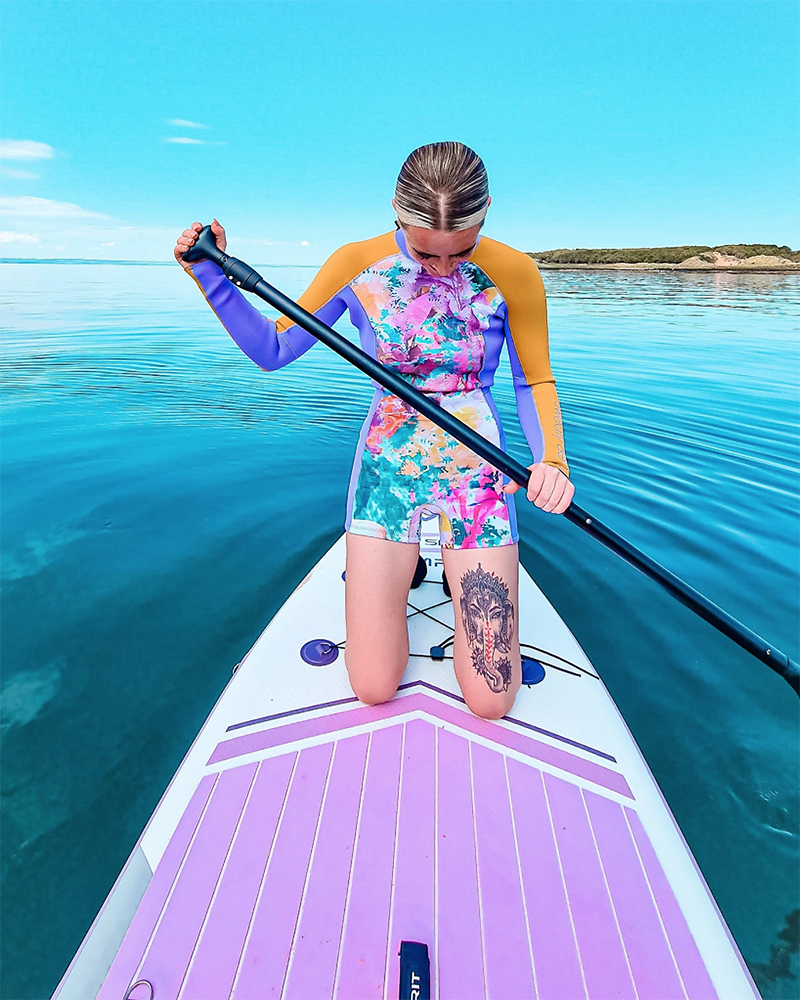 Sweaty Betty over the last twenty years has established "a differentiated brand position and distinctive product offering" that plays up "exceptional fit and fashion-forward patterns and colors."
Asked by an analyst how Sweaty Betty compares to the leader in the women's activewear space, Lululemon, Krueger said end-users are different with Sweaty Betty addressing ski, swim and biking activities rather than Lululemon's focus largely on yoga and run.
From a design standpoint, Sweaty Betty stands out for its use of color. He said, "It's a lot more exciting. Very feminine."
Sweaty Betty's management team includes a chief product officer who joined the company several years ago from the contemporary market and has positioned the product range beyond performance product with an emphasis on lifestyle offerings. He said, "We think it nails the way the trends are moving with everyone going back to work but still wanting to stay very comfortable. There's a lot of ways this brand differentiates itself."
Also standing out is Sweaty Betty's connection with consumers that's helped by its digital-first approach and in-store activations. Hoffman said, "Sweaty Betty is an authentic, purpose-led brand focused on empowering women through fitness and beyond with social media channels, in-store experiences, classes and events, charitable causes, and more."
Sweaty Betty's net promoter score with consumers is well above market average in applicable markets. The Sweaty Betty consumer also skews more affluent, spends considerably more on activewear than competitors' consumers and has a higher intent to purchase the brand in the future.
WWW believes its high consumer engagement is particularly helped because much of its growth has been fueled through DTC.
Hoffman said, "The team has invested in its digital capabilities and is driving impressive engagement online with its consumers, further strengthening our portfolio's digital competencies. The brand has developed a thoughtful and influential footprint of wholesale distribution as well with select partners like Nordstrom here in the U.S. This game plan has produced a highly relevant brand with strong brand equity and an aspirational passionate consumer."
The brand has an "incredibly strong foothold" in its home U.K. market with nearly all its stores based there and has only started to accelerate its growth in key markets like the U.S. and China. Hoffman said, "This gives us the opportunity to leverage our robust U.S. presence and infrastructure to support Sweaty Betty's growth here."
While the brand expanded into the U.S. in 2013, it closed all 12 of its U.S. stores during the pandemic. Its products are still sold through a partnership with Nordstrom that was launched in 2018.
Wolverine's global network of regional teams and partners will likewise support accelerated growth for Sweaty Betty.
Hoffman said several of Wolverine's other brands are expected to leverage Sweaty Betty's apparel expertise. He said, "Sweaty Betty has nailed the design, fit and materialization in one of the fastest-growing apparel categories in the market. And, we believe, many of our brands, Merrell and Saucony in particular, will benefit from these capabilities."
Conversely, Wolverine is expected to help Sweaty Betty expand into footwear. At least initially, the move into footwear would be a collaborative effort such as a Sweaty Betty collection from Merrell or Saucony rather than a stand-alone Sweaty Betty collection.
Wolverine expects Sweaty Betty to immediately add to its earnings and raised its full-year revenue forecast to a range of $2.44 billion to $2.5 billion, up from its previous expectations of $2.34 billion to $2.4 billion.
Wolverine raised its EPS guidance for this year by 4 cents to a range of $2.24 to $2.34 to account for the acquisition. For 2022, EPS accretion is expected to be at least 15 cents to as high as 20 cents.
Hoffman concluded "With this acquisition, we have simultaneously strengthened our brand's portfolio growth profile, improved Sweaty Betty's already robust prospects for growth and significantly bolstered our strategic competencies all while adding a tremendously talented team to the organization. Today we have an even bigger performance business and a bigger DTC and e-commerce business."
Photos courtesy Sweaty Betty