Led by athletics and seasonal categories, Shoe Carnival reported first-quarter results that far exceeded Wall Street's guidance and predicted record earnings for the second quarter.
"I could not be more thrilled with our fiscal first-quarter results. The team delivered a record-breaking quarter with the highest quarterly sales margin and EPS in the company's history," said Cliff Sifford, Shoe Carnival's Vice Chairman and CEO, on a call with analysts. "In fact, our first-quarter sales of $328 million eclipsed the previous record first quarter set in 2016 by 26.1 percent. But more importantly, our EPS at $3.02 beat our highest reported annual EPS of $2.92, which we reported in fiscal year 2019."
In the quarter ended May 1, sales climbed 122.7 percent to $328.5 million. Wall Street's consensus target was $274.36 million. Comparable store sales increased 125 percent versus 2020.
The gains reflected easy comparisons against temporary store closures in the year-ago period due to the emergence of the pandemic. First-quarter 2020 sales were down 42 percent. All stores closed effective March 19, 2020 as a result of the COVID-19, between late April and May 5, 2020, with over 50 percent of stores re-opened in states that relaxed or canceled stay-at-home orders.
However, comparable-store sales also increased over 31 percent versus 2019. Many retailers are providing two-year stack comparisons as a better indicator of underlying performance given the year-ago store closures.
"The first quarter of 2021 started out relatively slow due to a combination of colder, wetter weather in February versus last year and a delay in tax refunds," said Sifford. "However, as new spring products arrived, the weather became more seasonal, tax refunds and stimulus payments began to reach our customers and sales took off. Sales were further bolstered by the successful rollout of COVID-19 vaccinations and the decrease in the number of COVID-19 cases. The combination of these events gave our customers the confidence to shop brick & mortar stores again."
E-commerce sales increased 11.8 percent versus fiscal 2020 and 191.3 percent versus fiscal 2019. Sifford said e-commerce penetration continues to rise toward the chain's goal of 20 percent of overall sales.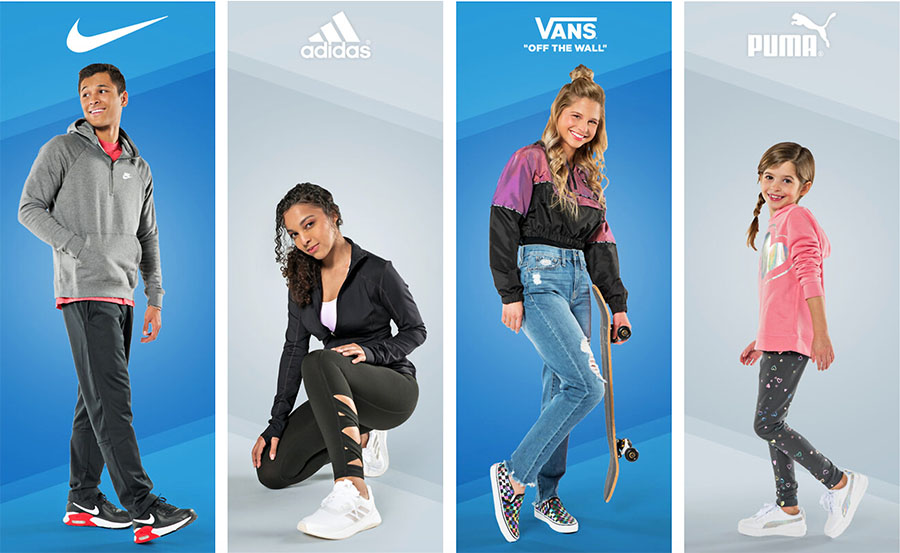 Adult Athletics' Comps Climb Mid-20s Versus Q119
Carl Scibetta, senior EVP, chief merchandising officer, said all merchandising categories were up ranging from 90 percent to 160 percent versus the same period last year.
Compared to 2019, adult athletics comped up in the mid-20s. Scibetta said Shoe Carnival continued to grow its leadership position in the athletic category in the off-price footwear space. He said, "Both men's and women's athletic had strong performances with sales driven by the basketball, skate and running categories."
He also told analysts Shoe Carnival stood to benefit from Nike's recent move to consolidate its wholesale distribution starting with October deliveries. In March, reports arrived that Nike was ending distribution to DSW, Urban Outfitters, Shoe Show, Dunham's Sports, Olympia Sports, and Big 5 Sporting Goods as part of a push toward emphasizing direct-to-consumer (DTC) and narrowing distribution to key accounts.
Sales in women's non-athletic categories were up in the high-20s for the quarter versus 2019. Women's sport and seasonal drove the category, but demand for traditional product categories, like dress shoes, have increased as communities began to reopen. Sales in women's dress shoes were down single digits compared to the first quarter of 2019; however, up triple digits when compared to 2020. Scibetta said, "We expect this trend to continue throughout the year."
Sales of men's non-athletic categories were up in the mid-20s versus 2019, led by men's casuals, seasonals and all boot categories.
Kids comps versus 2019 were up over 50 percent for the quarter. Sales in kids athletic and non-athletic were "very strong and we were particularly pleased with the results in kid sandals and infant shoes," said Scibetta. Sales in non-athletic were driven by casual and seasonal products. Added Scibetta, "Both girls and boys athletics also performed very well, consistent with what we have seen over the last several quarters."
Strong Vendor Partnerships Support Restocking
Scibetta said the gains were helped by success refilling stock in key categories due to its strong vendor partnerships. He said, "We were able to secure additional inventory in key demand product categories where we needed it most and we continue to work very closely with our vendors to ensure this continues and to help mitigate any impact from the global supply chain constraints."
Sifford said, "Our merchants, in partnership with our vendors, kept our inventories flowing and in line with our key trends and brands despite the ongoing supply chain issues the retail industry is facing. I believe the relationship we have with our key vendors is the definition of true partnership."
Product margins were up over 910 basis points versus Q119 and were boosted by a reduced global promotion strategy. Sifford said Shoe Carnival eliminated all low-margin promotional events, including its BOGO half-off for the quarter.
Sifford said, "Customers remain focused on certain categories and brands and they have faith Shoe Carnival will deliver those brands and categories with the breadth and depth we have always been known for. Our team's recognition that our customers were focused on these items and brands, along with our desire to make Shoe Carnival the retail headquarters for this product led to the decision to eliminate global promotions."
Gross margins for the first quarter increased 18.3 basis points to a record 39.6 percent compared. Merchandise margins increased 10.0 basis points and buying, distribution and occupancy expenses, which are generally fixed costs, decreased 8.3 basis points compared to the first quarter of fiscal 2020.
SG&A expense increased $17.8 million to $72.6 million, but decreased as a percent of sales by 15.0 percentage points to 22.1 percent primarily due to the leveraging effect of higher sales. The increase in SG&A costs primarily correlates with the company's record performance in terms of increased performance-based incentive compensation, general wages and variable costs that change with sales, such as credit card fees.
Net income came to $43.2 million, or $3.02, against a loss of $16.2 million, or $1.16, a year ago. Wall Street's consensus estimate was $1.40.
Sifford believes Shoe Carnival continues to benefit from its decision not to furlough store associates as the pandemic arrived. He said, "The decisions we made early in the pandemic to support our employees while redirecting their focus to e-commerce sales and fulfillment enable Shoe Carnival to reopen faster than many of our competitors, allowing us to welcome back our customers and give new customers an opportunity to experience our concept for the first time."
New customer acquisition is accelerating, achieving double-digit growth during Q1. Sifford said its Shoe Perks loyalty program "grew significantly" during the quarter with many first-time customers signing up and active members who achieved gold status increased in the low 20s. Gold members drive a higher average ticket and shop more often than other members. Said Sifford, "Much of the credit goes to our CRM initiative, which allowed us to nurture the bond we had with our existing loyal customers."
100 Remodels Planned With Athletic In-Store Shops
Mark Worden, president and chief customer officer, said the retailer planned to modernize approximately 100 stores by May 2022 in line with a previously-stated goal of modernizing two-thirds of its store fleet in the next three to five years. The remodels feature prominent athletic sections. Said Worden, "Consumers love our athletic shop in shops, a robust athletic assortment from the leading brands, the convenience of shopping multiple categories, and the modern shopping experience."
Inventories were down 8.6 percent on a per door basis at the end of the quarter. Officials said the chain is still seeing supply chain issues across the board but expects to be well-positioned for back-to-school selling.
Said Sifford, "All retailers, not just the footwear segment, are having issues getting product from factories and once product is through the factories, there are significant delays at all ports. However, we are in constant communication with our vendors to ensure a steady stream of product for our stores, and we are confident that we will have sufficient inventory for the back-to-school season and beyond. Based on our conversations with our vendor partners, we are expecting supply chain issues to normalize during the second half of the calendar year."
Based on second-quarter results to date and expected continued strength in gross profit margin for the remainder of the quarter, Shoe Carnival said it currently anticipates record EPS in the range of $1.00 to $1.20 in the second quarter against 71 cents a year ago. Sales are projected to land in the range of $268 million to $278 million, down from a record $300.8 million a year ago. Year-ago results benefited from stores reopening.
Photos courtesy Shoe Carnival