By Thomas J. Ryan
Nautilus Inc. reported its strongest year-over-year growth since becoming a public company as the at-home fitness trend took off during the coronavirus crisis. On a conference call with analysts, James Barr, CEO, said he sees both temporary and long-term boosts for the company.
The "undeniably temporary" components will be the impact of gyms reopening and increasing their capacity over the next 12-to-18 months. Demand is expected to soften from current elevated levels that drove 94 percent sales growth in the first quarter.
But he also anticipates "longer-term and perhaps even permanent" shifts.
Nautilus' research finds 12 percent to 25 percent of gym-goers saying that they will never go back to the gym while planning a focus on other solutions, including home fitness permanently. Nautilus also believes a portion of those that said they would eventually return to gyms when the gym experience becomes safer will not completely rely on gyms for their workouts.
"They were caught without options when the gym closure orders began and felt a loss of control in an important aspect of their life," said Barr. "In their new normal, we believe they will invest in home fitness solutions as a hedge against another outbreak and will balance their workouts between the gym and home differently than they did before the pandemic. Digital solutions will help by bringing aspects of the gym experience home."
Further, the supply of available gym membership options will likely be at least temporarily disrupted because some gyms will inevitably close. Said Barr, "Due to these factors, we think the at-home fitness market will experience important growth. The size of the gym membership market is roughly 10 times that of the at-home fitness equipment market. We have already seen evidence of movement from the former to the latter and envision a less defined boundary between the two."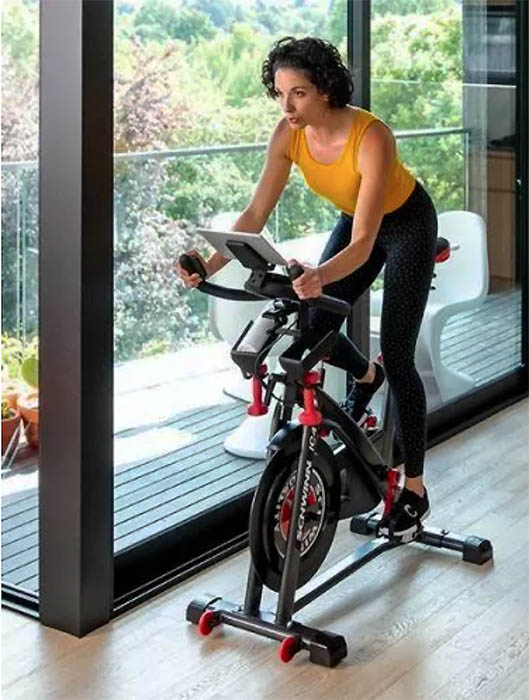 Q2 Revenues Jump 94 Percent
In the quarter ended June 30, Nautilus' revenues grew 93.5 percent year-over-year to $114.2 million—its second-best quarter in over a decade—despite being supply-constrained for the entire quarter. The performance built on the company's first positive year-over-year gain delivered in the first quarter in over two years. Beyond any COVID-19 impact, Barr said the company is benefiting from operational improvements implemented in late 2019. Barr has introduced a number of transformation initiatives, focused on becoming quicker-to-market, since taking over as CEO a year ago.
The gross margin rate in the quarter expanded almost 1,200 basis points to 42 percent. Adjusted EBITDA swung to positive $25 million from negative $10 million in the year-ago quarter, markedly improving liquidity.
Both the DTC and Retail segments saw strong growth. Despite a "dramatic increase" in its manufacturing capacity and stepped-up efforts across the supply chain, Nautilus ended the quarter with $34 million in backorders. Said Barr, "While we wish we could have satisfied even more customers, this gives us a nice start to Q3."
Companywide inventory was $21.3 million compared to $54.8 million as of December 31, 2019.
Nautilus showed a net loss was $5.1 million, or 17 cents, compared to last year's loss of $78.9 million, or $2.66. The latest loss reflects a $29 million charge related to its previously-announced planned sale of Octane Fitness, which focuses on the commercial marketplace. William Blair has been hired to explore the sale.
Adjusted operating expenses were 18 percent lower as the sales leverage and reduced advertising spend was partly offset by continued pressure on product landed costs. Products imported from China are also subject to a 7.5 percent tariff versus no tariff last year and extra fees have been incurred to expedite shipments. Overall shipping costs are also rising, driven by lower supply as ocean carriers have reduced the number of sailings.
Direct Segment Sales Vault 142 Percent
Net sales in the Direct segment were $50 million in the quarter, up 142 percent, marking the second consecutive quarter of sales growth for Direct after years of decline. Higher sales were driven primarily by cardio, which grew 183 percent, driven by the Bowflex C6 and Schwinn IC4 bikes and its Max Trainer.
Direct entered Q3 with $21 million in backlog compared to $8 million at the end of Q120. The gross margin rate in the segment rose to 55 percent versus 43 percent last year, driven by favorable product mix, offset by higher landed product costs.
Segment operating profit was $17 million compared to a loss of $6 million last year due to the increased gross profit and a $4 million reduction in media spend.
Retail Segment Sales Climb 68 Percent
Retail segment sales totaled $63 million, up 68 percent. The performance represented the segment's second-highest quarterly sales in history, second only to Q419. Cardio sales were up 88 percent, driven by the Schwinn IC4 Bike and Max Trainer. Strength product sales were up only 22 percent, limited by inventory scarcity of SelectTech weights and benches.
Excluding sales related to its commercial-focused Octane brand, Q220 net sales for the retail segment grew 95 percent. Retail's backlog at the end of Q2 was $14 million compared to $6 million at the end of Q1.
Gross margins in the Retail segment were 30 percent, up from 21 percent last year, driven by a favorable sales mix, offset by higher landed product costs. Operating profits improved to $12 million compared to breakeven last year, driven by higher gross profit.
Strong Product Line-Up To Fuel Momentum In Second Half
Looking to the back half, Barr said Nautilus has high expectations for JRNY, its personalized connected fitness digital platform that was launched last October.
"JRNY will feature an updated user interface, new content, including a more robust library of on-demand streaming workouts and integration of Explore the World and Apple Health," said Barr. "Most importantly, we have integrated it into more products so that the JRNY experience is available on more modalities and to more customers. Often, the first piece of equipment bought for home fitness is a treadmill. It's the most easily understood modality. Thus, we are super excited to launch three new connected fitness treads with different sized screens and loaded with JRNY."
Two Max Trainers, a combination of an elliptical and stepper, will be introduced embedded with JRNY's digital technology. The move is expected to rejuvenate the Max Trainer franchise that has seen sales decline over the last few years.
In bikes, the first Bowflex bike, the C6, and the first Schwinn connected bike, the IC4, were introduced late last year and both were "instant resounding hits, pre- and post-COVID-19," said Barr. Three new bikes with embedded screens and JRNY will come out in the second half.
Barr noted that in two years, Nautilus has increased the mix of units that offer connected fitness from single digits to a strong majority of its portfolio. He added, "This gives our customers the best possible modern at-home fitness experience, gives us greater ability to deliver on our mission to help people live healthier lives through fitness and fuels our growing membership business model."
Looking ahead, consumer demand in the near term is expected to continue to be elevated relative to pre-COVID-19 levels, and the new JRNY-connected products launching in the fall are expected to be met favorably. Aina Konold, CFO, said on the call, "Our confidence is reflected in the significant increase in our inventory commitments."
Marketing spend is expected to increase in the back half in support of the new product launches and the same level of year-over-year expense leverage seen in Q2 is not expected.
Supply chain constraints are expected to impact Nautilus' ability to fulfill orders, and disruptions are expected to continue through the rest of 2020. Relatedly, continued cost pressure in logistics versus last year is expected. Konold said, "Ocean shipping providers continue to constrain supply and rates have been rising. And our logistics partners in the U.S. have already told us that the shipping capacity will be severely constrained in the upcoming holiday season. We expect to incur increased costs to secure delivery slots for our goods."
Photos courtesy Nautilus Bowflex C6, Schwinn IC4