On an analyst call, Dick Johnson, chairman and CEO of Foot Locker, said the acquisitions of WSS and Atmos "fill in some of the white space" available to Foot Locker beyond its core sneaker and sport culture segments. WSS provides a deeper reach into the classics footwear category, and the Hispanic demographic. Tokyo-based Atmos provides a strong foothold in boutique streetwear that could kick-start expansion in Asia for the retailer.
He said, "The addition of WSS and Atmos to our brand portfolio diversifies our store footprint and product mix, provides access to complementary and differentiated customer bases and accelerates growth both in North America and internationally."
As reported before the opening of the market on Monday, Foot Locker agreed to acquire WSS, which has 93 stores primarily on the West Coast, for $750 million. Atmos, Japan's largest multi-branded sneaker boutique with 49 stores and a sizeable online presence, is set to be acquired for $360 million, plus additional earnings potential.
Johnson said the acquisitions are expected to accelerate growth.
Foot Locker has set a goal to grow WSS into a billion-dollar brand in the long term. Sales were approximately $425 million in fiscal 2020, and the chain has achieved a CAGR (compound annual growth rate) of 50 percent from 2017 to 2020. Said Johnson, "The pieces are all in place for Foot Locker to take this great business and unlock its growth potential by accelerating its expansion through deeper resources while maintaining the core values and customer relationships that make WSS such a compelling asset."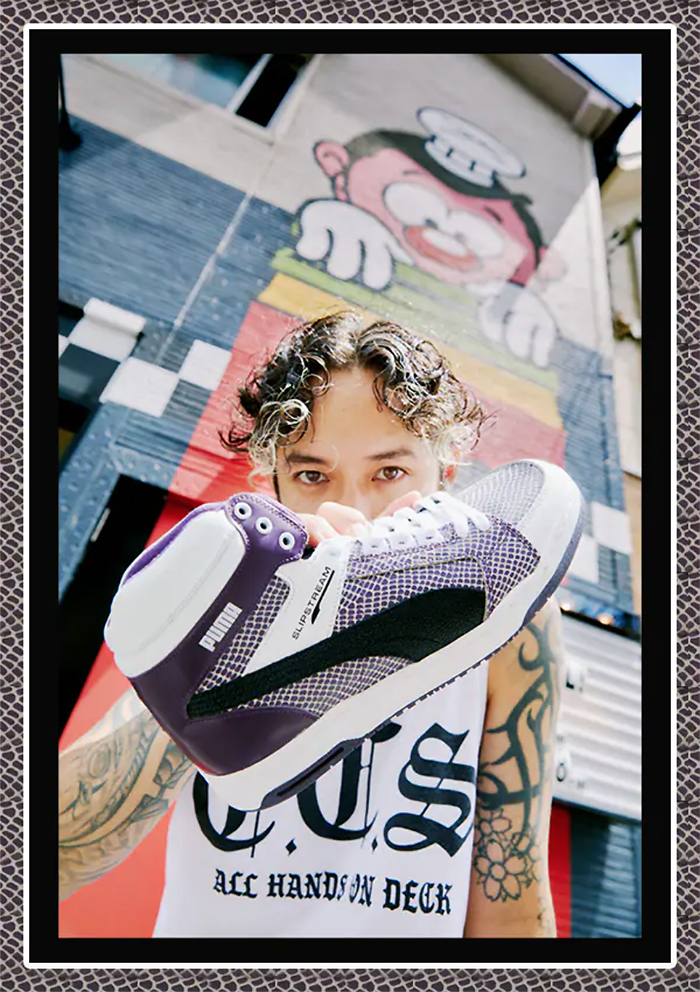 Atmos strongly positions Foot Locker to target Japan, the world's third-largest economy with a $6 billion total addressable market, and the overall Asia Pacific region. In the Asia Pacific, Foot Locker had less than 1 percent market share in 2020.
"Not only is the economic opportunity in Japan sizable, the acquisition of Atmos establishes a strong position in the Japanese market that will also boost our access and ability to inspire and empower youth culture," said Johnson. "Japan is a high profile influencer of youth culture in Asia and beyond with densely populated urban centers that are hotbeds for creativity and innovation in personal style. Sneaker culture is closely intertwined with the local fashion scene. We're thrilled to be adding a business like Atmos that has cultural capital and connectivity in the marketplace that is at one of sneaker culture's cores."
WSS Expands Foot Locker Reach Into Hispanic Marketplace
Expanding on the strategic rationale behind the acquisitions, Johnson said WSS accelerates its growth trajectory in North America with a differentiated target consumer base.
Founded in 1984, WSS focuses on the "large and rapidly growing" Hispanic consumer demographic with a family focus. It also has a significant West Coast presence, with more than two-thirds of its 93 unit fleet in California. Other stores are located in Texas, Arizona and Nevada. Said Johnson, "This acquisition will expand our reach in a key geography that has been under-penetrated by Foot Locker banners and provides a path to growth with entry into new underserved markets."
WSS also supports Foot Locker's strategy to expand into more off-mall stores with the chain having no presence in malls. From a product standpoint, WSS focuses on a classic-driven assortment that will further diversify Foot Locker's offerings.
Finally, WSS aligns with Foot Locker's recent push to have its stores serve as hubs in the communities they serve. Said Johnson, "WSS has a community-driven business that fosters deep relationships with customers. This is made evident by the fact that approximately 80 percent of its sales come from WSS customers who are members of its loyalty program."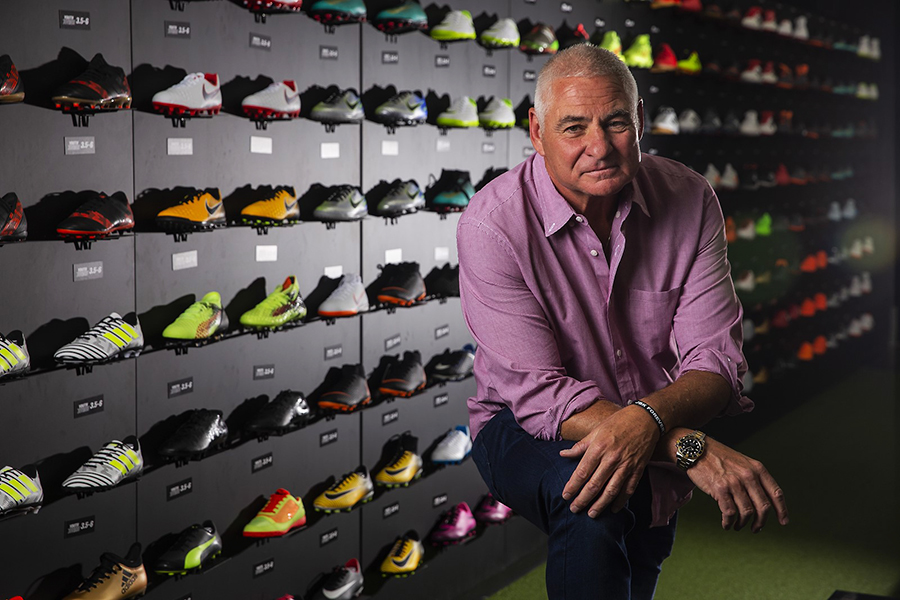 Rick Mina, shown above, the CEO of WSS, was a former executive at Foot Locker.
Atmos To Help Foot Locker Pursue Asia-Pacific Growth
Atmos provides Foot Locker with "reach and relevance" with its positioning in Japan as a premium sneaker retailer at the forefront of trends in youth culture. Said Johnson, "Its reputation is underscored by its strong vendor relationships that have resulted in collaborations and partnerships with leading names in the sneaker ecosystem."
Foot Locker has collaborated with Atmos in the past.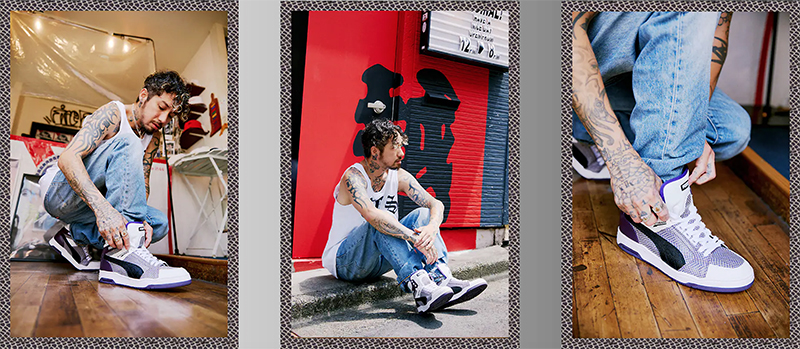 Founded in 2000 as a small retail store in Tokyo, Atmos has grown into a multi-branded sneaker boutique. Of its 49 stores, 39 are in Japan, and the chain has built the Atmos Pink in-house women's label.  Atmos' stores are known for their "experiential" elements with attention to premium design and styling to showcase its top-tier offerings.
Atmos' reach and relevance are further supported by a strong online presence and omnichannel capabilities. Over 60 percent of its revenues are sold through digital channels, and the brand has a "strong and active" social media presence. Atmos generated $175 million in revenue in its fiscal year 2020.
Said Johnson, "With Atmos, we are executing against our expansion initiative in the rapidly growing Asia Pacific market and establishing a critical entry point into Japan. While acquiring a recognized and influential brand in a key region, Foot Locker will also benefit from immediate scale."
Acquisitions To Be Accretive To 2021 Earnings
Both transactions will be funded with Foot Locker's available cash, are expected to close late in the third quarter and be accretive to Foot Locker's EPS this year.
Both sellers will maintain their brand names as part of the Foot Locker portfolio, and management will continue to lead their respective businesses.
Eric Alon, founder and executive chairman of WSS, said in a statement, "Since WSS's inception 37 years ago, we have focused on meeting the needs of underserved communities while elevating our neighborhoods one step at a time. Through our WSS Cares! initiative and the support of Foot Locker, our mission to positively impact the communities we serve will continue. We are extremely proud to be a part of Foot Locker as they share our commitment to the community."
Rick Mina, who has guided WSS as CEO since 2015 after running the Foot Locker U.S. and Champs  Sports chains in the past, said, "Our team is excited about being a part of the Foot Locker family. The talents, resources and rich history of a leading athletic specialty footwear and apparel retailer will make WSS a better and stronger business. This is a historic day for the future of WSS."
Hidefumi Hommyo, the founder of Atmos, said in a statement, "Atmos was founded in 2000 as a small retail store in the back streets of Ura-Harajuku. Our passion for sneaker culture and ability to connect with our customers have been the driving forces of our growth ever since. Importantly, Foot Locker shares this passion, and we are excited to join forces with them to propel Atmos into our next phase of growth."
Photos courtesy Atmos, WSS