Foot Locker reported second-quarter sales and earnings that crushed Wall Street targets, led by an uptick in sales from its women's and kids categories as well as strong full-price selling. Upbeat guidance was also delivered for the second half as recent heightened supply chain risks are seen holding off until the end of the year.
"Clearly, the shutdown of Vietnam will have a longer-term, knock-on effect," said Dick Johnson, Foot Locker's CEO, shown right, on a call with analysts, referring to virus-related factory shutdowns in Vietnam that began in July with many factories still closed. Vietnam is the second-largest manufacturer of athletic footwear after China.
At the end of the second quarter, inventory was down 9.5 percent to last year versus total sales increase in the period of 9.5 percent as strong demand outstripped the increase in receipts during the quarter. On a currency-neutral basis, inventory was down 10.4 percent, while sales increased 7.3 percent.
Johnson said Foot Locker is working closely with vendor partners to overcome the inventory challenges, but he noted that most product for the back-to-school season and early holiday are "on the water and will be available." He credited his internal team's efforts to secure inventory.
"I guess the good news is that we oversold our original sales plan, so we didn't make progress on our total inventory number, but the team has got it lined up pretty well," said Johnson. "And again, barring things that are completely out of our control, I think that we're in good shape from the back-to-school season and into the holiday season."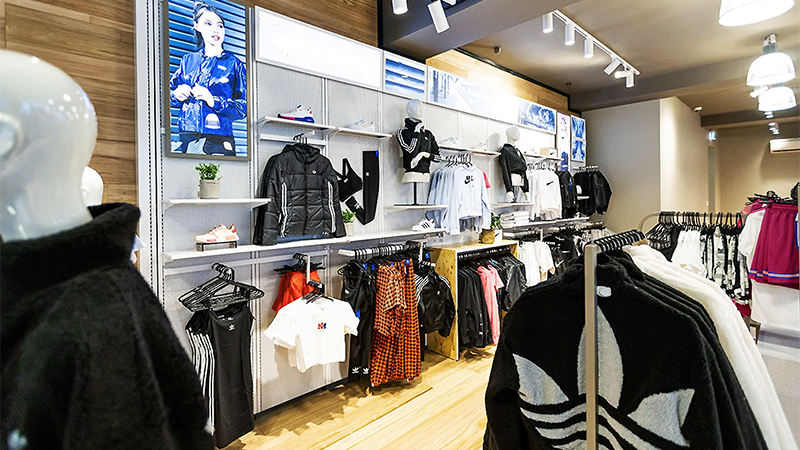 Q2 Sales Climb 9.5 Percent
From a demand standpoint, Foot Locker faces few challenges with basketball, running, and seasonal footwear categories, all showing strength and apparel building on its recently renewed momentum.
Total sales increased 9.5 percent year-over-year to $2.28 billion in the quarter, topping Wall Street's consensus estimate of $2.11 billion. Sales were up 28.2 percent compared with the second quarter of 2019. On a currency-neutral basis, sales were up 7.3 percent year-over-year and ahead 28.2 percent compared with the second quarter of 2019.
Earnings of $430 million, or $4.09 per share, compared with $45 million, or 43 cents per share, a year ago and $60 million, or 55 cents, in the second quarter of 2019. On a non-GAAP basis, adjusted earnings reached $2.21 per share, an increase of over 200 percent from 71 cents per share in the second quarter of 2020 and 66 cents in the second quarter of 2019. Results were slightly more than double Wall Street's consensus estimate of $1.08.
"The broad-based growth was driven by strong performances and women's and kids footwear, coupled with strong demand across apparel and accessories," said Johnson. "In addition, with further gains in our inventory productivity and meaningfully low levels of promotional activity, we were able to deliver significant margin gains in a truly impressive bottom-line performance for the second quarter."
The gains benefited from its global fleet being open for approximately 94% of possible operating days with some temporary closures in Canada. A low-double-digit lift in traffic was seen year over year.
Second-quarter comparable-store sales increased 6.9 percent on top of an 18.6 percent gain last year. By month, May's comps were up over 50 percent. June, which was up against the initial reopenings last year, was down high-single digits. July was down low-single digits but momentum improved throughout the month.

Kids Foot Locker And Champs Leads North America Gains
By region, North America was led by Kids Foot Locker with comps over 20 percent, followed by Champ Sports, sporting a low-double-digit comp gain. The Foot Locker banner posted a mid-single-digit comp gain.
Footaction, which is in the initial phase of a plan to wind down operations in 2022, was down low-double digits. The first Footaction conversion to a Foot Locker location was converted in the second quarter with approximately 50 more planned for the back of the year, along with 130 Footaction store closures.
Foot Locker Canada posted a high-single-digit comp decline, impacted by temporary store closures related to the pandemic in Ontario. Doors were open approximately 70 percent of possible operating days. Eastbay was down over 30 percent for the quarter as a digital-only banner did not benefit from store reopenings and was up against a double-digit comp gain in Q2 of last year.
Foot Locker Asia delivered a roughly 30 percent comp gain while Foot Locker Pacific increased in the low-single-digits. The company's fleet of stores were opened approximately 80% of possible operating days in the latest quarter compared to over 90 percent in Q2 last year. Asia has been prioritized for growth. Foot Locker during the quarter launched a website in South Korea, opened new stores in South Korea and Singapore, and formed a partnership to open stores in Southeast Asia.
In Europe, Foot Locker showed a low-20 percent comp increase as COVID-19-restrictions eased. Germany-based Sidestep, which experienced the most store closures during the quarter, decreased low-single digits. Overall, the EMEA fleet was open 87 percent of possible operating days in the quarter compared to 70 percent in the second quarter of last year and meaningful improvement from 39 percent in the first quarter of this year.
By channel, comps at stores increased 28.4 percent. Companywide, Foot Locker's fleet was open 94 percent of potential operating days in the quarter versus approximately 70 percent last year. Its direct-to-consumer (DTC) channel returned to a more normalized level, accounting for 20.1 percent of total sales for the quarter, down from 33.2 percent last year but up from 14.3 percent in the second quarter of 2019.
Low-Single Digit Q2 Gain In Footwear 
By category, footwear increased low single digits while apparel and accessories businesses were both up double digits. Both segments were up double-digits compared to 2019.
In footwear, strength in women's and kids more than offset a mid-single digit decline in men's. Men's was going up against a double-digit comp last year.
"The culture of basketball, led by the key Nike icons, and new additions from Adidas and New Balance continues to create excitement and drive momentum," said Andrew Gray, EVP and chief commercial officer.
An increased focus on the seasonal category helped deliver a high-double digit increase with gains in Crocs, Ugg and Birkenstock, along with expanded vulcanized offerings from Vans and Converse. Apparel was up double digits to both last year and 2019 with gains over 20 percent across men's, women's and kids.
Gray noted that the retailer continues to benefit from a strong pipeline of exclusive product concepts from its brand partners, citing programs with Nike over the 25th anniversary of the Griffey One, an Adidas "All The I Dream About Summer" concept around iconic Adidas models, and a Crocs' "Party Animal" Collection in collaboration with contemporary artist Ron English.
This fall, exclusive collaborations will continue with Puma and NBA Rookie of the Year Lamelo Ball, New Balance and Chicago-based visual artist Louis de Guzman, and Vans and Los Angeles-based streetwear brand Kids of Immigrants. Gray also noted that for fall, Foot Locker expects the momentum in basketball will persist and the seasonal footwear expansion will continue with an increased focus on boots and fleece. Apparel assortments will be supported by the launch of Foot Locker brands, Locker and Cozy, as well as partnerships with tastemakers and celebrity curators.
Merchandise Margin Rate Improves 870 Basis Points 
The bottom-line gains further benefited from more full-price selling and disciplined expense management. Helped by a more limited promotional environment, average selling prices were up mid-single-digits in the quarter while units were up low-single-digits. The higher sales penetration in stores also supported more full-price selling.
Gross margins in the quarter reached 35.1 percent, compared to 25.9 percent last year and up 500 basis points compared to a more normalized Q2 of 2019. Continuing trends were seen in the first quarter; the combination of robust demand and fresh and lean inventory drove meaningfully lower levels of promotional activity.
The merchandise margin rate improved 870 basis points over last year and 170 basis points over 2019, driven primarily by significant markdown reduction. Looking ahead, the promotional environment is expected to remain favorable through most of this year, but to a lesser extent than the first half.
As a percentage of sales, occupancy and buyers compensation costs were leveraged 50 basis points over Q220 and 330 basis points over Q219. The SG&A expense rate came in at 19.8 percent of sales in the quarter, delivering 120 basis points against the prior year as the company returned to more normalized store operations but improved 240 basis points versus Q219.
Johnson also provided an update on FLX, which has grown its membership to over 25 million at the quarter's end from more than 20 million at the end of the first quarter. Members spent over 75 percent more than non-members in the second quarter, their average order values was approximately 10 percent higher than non-members, and they shopped more frequently at banners. Said Johnson, "We are excited about where FL X is going, and we will continue to create new features and evolve the customer experience for members within existing markets, while also working to launch the program in additional countries where we operate."
Johnson also reiterated Foot Locker's optimism about its pending acquisitions of WSS, which has 93 stores primarily on the West Coast with focus on Hispanic markets, and Tokyo-based Atmos that was first announced on August 3. The acquisitions are expected to be provide opportunities to reach new markets, customer segments and price points.
"Both WSS and Atmos are high growth businesses," said Johnson. "We expect that each will generate low double digit sales growth annually over the next five years and be accretive to earnings this year."
Looking ahead, Foot Locker provided full-year guidance for the first time since the pandemic began. Guidance had been suspended due to uncertainties caused by the pandemic in the marketplace.
Johnson said Foot Locker expects to build on the positive momentum seen in the first half of the year into the back half and is working with its vendor partners to continue to access product amid the COVID-19 outbreak in Vietnam.
"Our product pipeline, which continues to be very strong, is resonating well with our consumers," said Johnson. "We anticipate the culture of basketball will continue to be a key revenue driver in the third quarter. Seasonal offerings will also be very important as consumers look to diversify their footwear purchases. Lastly, apparel trends continue to be very favorable as we enter back-to-school and the fall season. And as we consider the opportunities for back-to-school in comparison to the delayed back to school season last year, a more normalized cadence, this year presents an opportunity to capture more of that demand earlier in the quarter. That said, we are keeping a close eye on possible disruptions caused by the evolving COVID-19 situation."
For the year, Foot Locker expects to deliver a low- to mid-teen increase in comp sales. Gross margins are expected to be up 490 basis points to 510 basis points for the full year versus 2020, driven mainly by a more rational promotional environment. The SG&A rate is expected to leverage between 40 basis points and 60 basis points. Adjusted EPS is projected to range between $7.00 to $7.15. On a non-GAAP basis, EPS totaled $2.81 in 2020 and $4.93 in 2019.
Andrew Page, EVP and CFO, said on the call, "This guidance reflects the strong performance in the first half of the year and optimism around the back half of 2021 while recognizing that we are going up against more normalized store operating days versus last year."
Photos courtesy Footlocker, SneakerFreaker, Kid's Footlocker