With the rapid rollout of COVID-19 vaccines, Emerald Holding expects a full resumption of its in-person events calendar beginning this summer, CEO Hervé Sedky said on the company's first-quarter conference call.
Emerald traditionally has hosted over 140 events each year. Its shows include Outdoor Retailer, Surf Expo, The Sports Licensing & Tailgate Show, Impressions, Swim Collective, and Active Collective in the active lifestyle space.
Sedky believes the event business is "at an important inflection point" as vaccines are rolled out, with many states scheduling their reopening dates for large in-person gatherings over the next two months.
Notably, Nevada is expected to be fully open on June 1, California by June 15 and New York City by July 1. Florida and Texas are fully open for business. Sedky said, "We're planning for the busiest second half in Emerald's history in terms of the number of events we're producing given the short postponements that have occurred."
He said while the outlook for attendance at Emerald's shows "remains uncertain" even for events set to be held, Emerald's team is encouraged by the early success seen by event operators in Asia, which is farther along in its recovery. He noted that several recent events have matched or exceeded pre-COVID levels.
During the first quarter, Emerald canceled all its in-person shows except for Surf Expo in Orlando in January. Attendance for the Surf Expo was down more than 50 percent as the U.S., at the time, saw a surge in COVID-19 cases, but exhibitors were "very pleased with the quality and the number of buyers." The buyer-to-exhibitor ratio exceeded pre-COVID levels.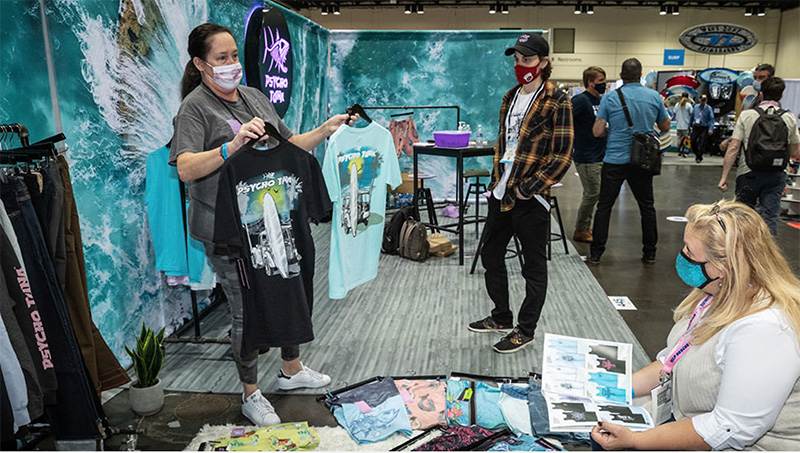 "Importantly, the events stage safely with the industry's all secure protocols fully observed, and there were no reported COVID cases coming out of the events," said Sedky. "The positive customer sentiments coming out of Surf Expo clearly demonstrates the vital role that face-to-face events continue to play in driving connections, commerce and growth for customers and communities."
He stressed that his team remains committed to establishing "the highest safety standards possible" as in-person events return.
The cancellation of 13 first-quarter events, including KBIS, New York Now Winter, Outdoor Retailer Snow Show, ISS Long, and the Sports Licensing and Tailgate Show, caused revenues in the first quarter to tumble 87.1 percent to $12.9 million from $99.7 million in the year-ago quarter.
Several shows comprising $12.2 million of first-quarter 2020 revenue were rescheduled for later in the year.
Adjusted EBITDA for the first quarter was negative $2.7 million due to the event cancellations compared to positive $23.6 million in the same period last year. The 13 events canceled in the previous year represented an adjusted EBITDA of $39.7 million. In the prior year, ten first quarter 2020 events were canceled, representing an adjusted EBITDA of $5.5 million.
Sedky updated investors on Emerald's progress on Emerald's three strategic imperatives: customer-centricity and delivering 365-day customer engagements and portfolio optimization.
On customer-centricity, Emerald has integrated roughly 85 percent of its customer data from more than 50 sources into one database and expects the remainder to be integrated by the summer. The data hub will improve visibility across its business. Said Sedky, "Ultimately, we will better understand what our customers really care about across Emerald's portfolio of events, webinars, digital content, which will, in turn, allow us to be more targeted, and how we develop market and sell solutions to them and more effectively engage with them year-round."
The January 2021 acquisition of PlumRiver and its ElasticSuite technology platform was designed to bring buyers and sellers together digitally year-round. Emerald recently launched ElasticSuite's Digital Markets technology platform to provide 365-day access to products, sourcing and ordering. Said Sedky, "The launch of Digital Market is set to coincide with our Outdoor Retailer and Surf Expo summer additions with expectations for the platform to be rolled out across more of our events of the balance of this year and next."
Finally, a newly-created Emerald Accelerator business is expected to support portfolio optimization to explore new event launch opportunities. Emerald also acquired Sue Bryce Education, a photography platform in April, that will support its trade shows. Said Sedky, "Our acquisition of Sue Bryce will allow us to develop new ways of engaging with our customers around our live events and unlock the potential of subscription-based e-learning offerings."
The rest of the year, Emerald has postponed many second-quarter events until later in the year with the expectation that states will continue to reopen as vaccines continue to be administered broadly.
Through April of 2021, Emerald has received insurance claim payments totaling $121.1 million, of which $89.1 million was received in 2020 and $29.6 million has been received in the first quarter of 2021 and $2.4 million was received this May. In February, Emerald commenced litigation against its insurers for allegedly failing to timely pay submitted claims for canceled 2020 events.
Sedky concluded in his comments, "We have built a strong foundation over the past year, which will allow us to expand the value we offer our customers, engage with them year-round and ultimately better monetize the value that we're providing. Additionally, we're building new digital businesses that are expected to provide high-margin subscription revenue streams to complement our live events. Ultimately, we are greatly expanding our addressable market, which will position Emerald to deliver accelerating organic revenue growth with improved profitability over time."
Photos courtesy Emerald/Surf Expo 2021