Newell Brands said strong sales of Coleman coolers, tents and stoves and improving trends at Marmot and ExOfficio helped drive a 9.4 percent sales gain for its Outdoor & Recreation Segment in the first quarter.
The Outdoor & Recreation segment includes Aerobed, Bubba, Campingaz, Coleman, Contigo, Marmot, Stearns, and ExOfficio.
In the first quarter ended March 31, sales at its Outdoor & Recreation segment reached $336 million compared with $307 million in the prior-year period. The gains reflected core sales growth of 7.0 percent and the impact of favorable foreign exchange.
Reported operating income in the segment came to $15 million, or 4.5 percent of sales, compared with a loss of $474 million, or negative 154.4 percent of sales, in the prior-year period. Normalized operating income was $20 million, or 6.0 percent of sales, compared with $15 million, or 4.9 percent of sales, in the prior-year period.
"Outdoor & Recreation started 2021 on a solid note as sales increased at a high-single-digit rate, reflecting growth in the outdoor equipment business with particular strength in the international regions," said Ravi Saligram, Newell's president and CEO, on a conference call with analysts. 
"In the U.S., consumption accelerated versus the second half of 2020, driven by broad-based demand across most of our growing equipment categories such as coolers, tents and stoves. Consumers are tired of being cooped up inside and have seen the call of the outdoors."
He noted that Coleman continues to benefit from successful innovation. New products launched in the first quarter included the Skydome tent, Xpand soft cooler collection and the Reunion steel-belted cooler collection.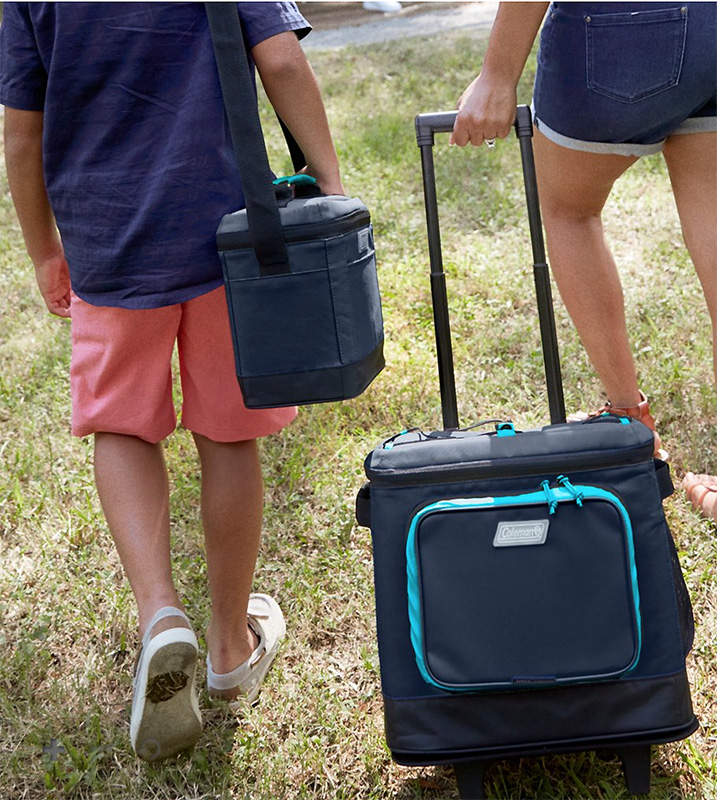 Core sales for the segment's technical apparel business, including Marmot and ExOfficio, were "still under pressure," but consumption turned positive during the first quarter.
The beverage business, including Bubba and Contigo, is expected to rebound as on-the-go activities pick up and more schools reopen. Saligram added, "While still early days, we see traction from the recent introduction of three new product lines in Contigo's hydration portfolio."
Asked to elaborate on the progress in turning around the outdoor segment, Saligram said the outdoor equipment business, which largely consists of Coleman and is the largest part of the outdoor segment, "is really doing well."
He credited initiatives launched over the last year by new management led by Jim Pisani and Bill Kirchner. Prior to joining Newell, Pisani served as global brand president of Timberland. Kirchner was formerly VP and GM, Americas for Amer Sports, which owns Wilson, Louisville Slugger, Salomon, and Arc'teryx. Said Saligram, "Jim Pisani and Bill Kirchner are doing a great job turning it around."
Saligram also said Coleman is benefiting from surveys showing many consumers have discovered camping during the pandemic. He said, "We also see real tailwinds in the sense of 10 million more campers just in the U.S. You're seeing minority groups getting into camping that they didn't in the past."
In other areas, Coleman's business in Japan and the Asia Pacific "is doing extremely well," and the brand is benefiting from a good response to new product introductions. Saligram said, "We're catching up with the tents, the Dome tents and the great cooler line that we got last year. Now, we've got some soft cooler refreshers, and the Steel Belted cooler. So quite positive about the outdoor equipment side."
For the beverage business, the pandemic represented a "headwind" to the "on-the-go" nature of the business. Newell's beverage brands also "have fallen behind a little bit on innovation."
Saligram added, "But we're turning the corner. We've got a new team on this. They are better understanding the insights. We've just launched three new hydration lines, aesthetically much better on the key points of spill-proof and temperature control. And those, I think, will give us headwinds. We're already seeing some upticks in April. So I feel quite positive about the future of beverages."
Finally, he said Marmot and ExOfficio, its technical apparel business, have "struggled," but a new team is setting up the business for a recovery.
"Jim has brought in some great people who have put in merchants. They have revamped the line. So toward the tail end of the year, I think we'll start seeing some improvements. Already, this year in the quarter, we started seeing a minor uptick in consumption. Marmot.com had a terrific quarter."
Photos courtesy Coleman