Deckers Brands rode a strong direct-to-consumer (DTC) business, accelerating and expanding Hoka One One growth, and Ugg orders pulled forward from the next quarter to post better-than-expected results in the fiscal first quarter ended June 30. The Hoka franchise surpassed Ugg quarterly revenues for the first time, albeit by a slim margin. Still, the brand is now clearly in striking distance to the $1 billion mark.
"This quarter represents further progress toward our long-term strategies, which include: accelerating consumer adoption of the Hoka brand globally to build the brand's revenue to $1 billion and beyond; building Ugg as a year-round global lifestyle brand through a diverse product offering; executing a digital-first approach by prioritizing DTC acquisition online; and working toward a direct business that will represent 50 percent of total revenue for the company over time," outlined company president and CEO Dave Powers during a conference call with analysts. 
Deckers Brands net sales increased 78.2 percent to $504.7 million in fiscal Q1 compared to $283.2 million in the comparable year-ago period. Net sales increased 76.1 percent on a currency-neutral basis.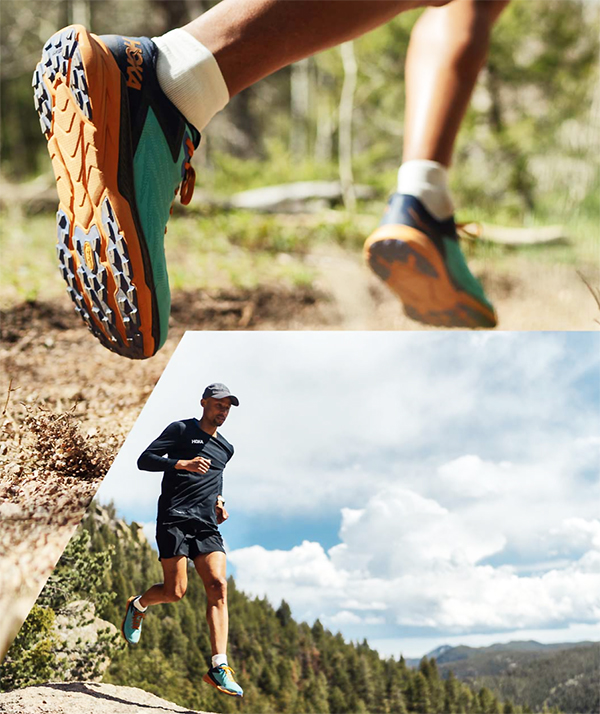 Hoka One One led all brand performers for DECK, posting 95.5 percent growth to $213.1 million in fiscal Q1 compared to $109.0 million for the comp period last year. Growth was said to be balanced across the brand's ecosystem of access points, with all regions and channels of distribution experiencing impressive growth.
"Hoka continues to build its consumer base through a combination of disruptive product innovation, emotionally connected inclusive marketing and a consistent consumer experience based on the premium quality of the brand's products and distribution partners," Powers explained.
Helping to drive Hoka's growth during the quarter, the brand launched an update to its flagship Clifton franchise with the introduction of the Clifton 8. This eighth-generation Clifton features the brand's latest ultralight midsole foam, designed to offer maximum cushion with an energetic response at footfall. Consumers have embraced this franchise update, making the Clifton 8 a top-five style for Hoka.com despite its recent launch in June. 
Powers said search interest for Hoka in the U.S. continues to expand as the brand experienced a 69 percent increase versus last year's first quarter, according to Google Trends. He said 72 percent of online traffic was from consumers who had not previously shopped on the Hoka website.
"We have been encouraged by the loyalty of consumers who buy Hoka online, said Powers. "During Q1, the number of consumers who purchased Hoka two more times increased 46 percent versus the prior year. Through these repeat purchases, Hoka is expanding closet share with existing consumers as the brand is seeing adoption across multiple categories." He said the Hoka team is building innovative products in trail, hike and fitness categories.
Deckers has its eyes on expanding the Hoka brand beyond the run specialty market, and Powers cited data that underscores its potential with the non-run consumer. 
"With the [Hoka] brand rooted in performance running, we continue to see higher awareness among those consumers, but, recently, the growth of total consumers aware of Hoka has outpaced increases in awareness among runners, according to our proprietary Hoka brand tracking data," he said. "We view this as an important positive step in the evolution of Hoka and expanding the brand's addressable audience." Powers said the brand's awareness among runners is still in the mid-20 percent range and even lower across all consumers. 
Powers said they expect Hoka's growth to continue to "at an impressive rate," although at a lower rate than the most recent quarter. He sees growth driven by "new consumer acquisition as the brand expands its global awareness, including a key market focus in Germany, the U.K. and China; innovative product updates and increased category adoption from consumers; market share gains with wholesale partners worldwide; greater global brand presence through in-person event sponsorships; and higher frequency product drops to maintain excitement with loyal consumers."
According to Powers, the Hoka growth experienced in the fiscal first quarter was primarily driven by its DTC business, and existing distribution is absent any increased distribution. 
"We're continuing to sell in the very strategic accounts that we've been in. The only place we're expanding a little are a few more doors, and Dick's is going to 40 doors. And in Nordstroms (SIC), we're about 25 doors, but not expected to grow more until the spring." He continued to say the majority of its business is in core franchise styles such as Bondi and Clifton, but it is starting to see more adoption for other categories in trail and hike.
Powers said that the company believes the growing influence of Hoka, with its more evenly spread seasonal volumes, will continue to drive its organization toward a more balanced business across quarters going forward.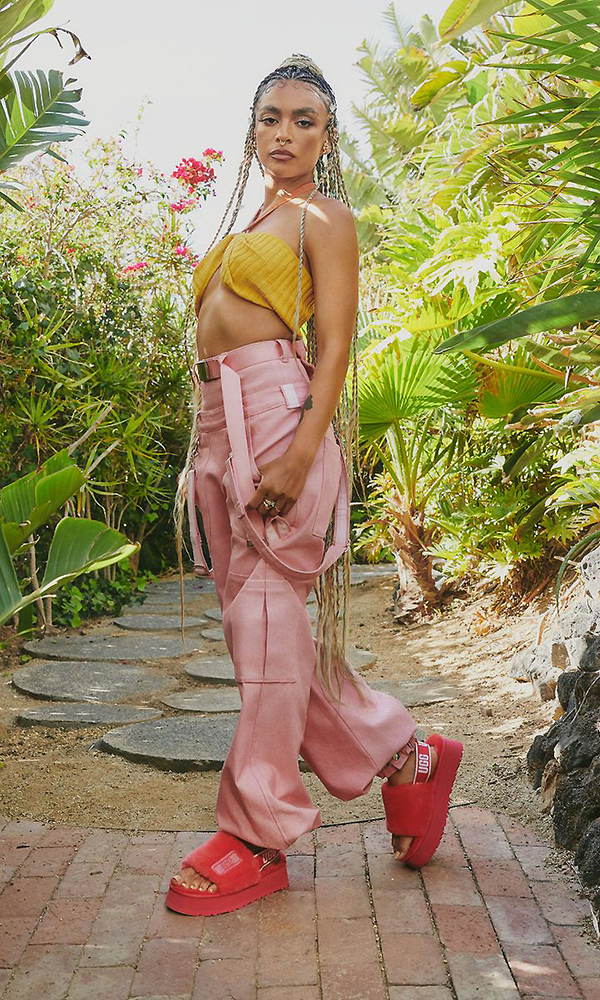 Ugg brand net sales increased 70.8 percent to $213.0 million in fiscal Q1, compared to $124.7 million for the comparable period in 2020 driven by "strength in domestic and international wholesale as the brand lapped disruption in last year's spring season and refilled depleted domestic inventory that resulted from record sell-through in the prior season."
 Growth in its international DTC business was driven by localized marketing investments to reignite the brand in Europe and China, which was "partially offset by softness in domestic DTC resulting from the decline of extraordinary slipper growth unique to last year's stay at home orders."
"The strength of global Ugg wholesale resulted from the brand's marketplace management strategies that left Ugg with unusually lean inventories entering the year, explained Powers. He went on to say that it accelerated (pulled forward) fall orders, "providing the brand with an opportunity to meet in-store consumer demand." 
"The earlier shipments primarily relate to the replenishment of depleted Ugg wholesale account inventories that resulted from exceptionally high levels of sell-through during fiscal 2021," Powers explained. "These earlier shipments for Ugg, combined with strong demand for spring and summer products across our entire portfolio of brands, drove a significant increase in our wholesale business."
He also positioned the move as an attempt to help "avoid anticipated bottlenecks in the supply chain."
However, the CEO also said that online traffic for Ugg was "predictably lower than last year's exceptionally high levels, while sell-through at physical retail is strong." He continued, "With a highly fluid consumer environment, we're managing our omnichannel business to ensure Ugg has a meaningful presence with the brand's target consumers' intent to spend. However, we continue to closely manage our product allocation and segmentation strategies to ensure Ugg maintains healthy levels of full-price sell-through."
Powers said that Ugg continues to see high levels of consumer demand as the brand maintained positive mind share with the 18-to-34-year-old consumer in the U.S.
"According to YouGov, brand consideration among women in this group remained roughly flat to last year's record highs," he said. "And among men, Ugg brand consideration is at an all-time high. These new levels of consideration among men are leading to the growth of Ugg men's continuing to outpace that of the total brand."
Looking at the international Ugg business, Powers said they had been pleased with the progress in Europe and the Asia Pacific as the brand is building a younger audience through a greater acceptance of the Ugg brand's diverse product line. 
"We are gaining confidence in the Ugg brand's turnaround based on the continued positive response from consumers in both regions. During the first quarter, DTC acquisition in Europe and the Asia Pacific region more than doubled pre-pandemic first-quarter levels. And these new consumers are purchasing products such as fluff, sandals and sneakers."
Looking ahead for the balance of the year, Powers said it expects Ugg to continue experiencing elevated levels of global wholesale demand as it "replenishes domestic inventories and reignites the brand in Europe and China; maintains positive momentum with younger consumers around the world; works to convert a higher percentage of consumers to repeat purchases across categories; accelerates international DTC demand by showcasing the brand's diversified product offering through localized marketing tactics; and mitigates pressures related to lapping heritage slipper demand in the U.S."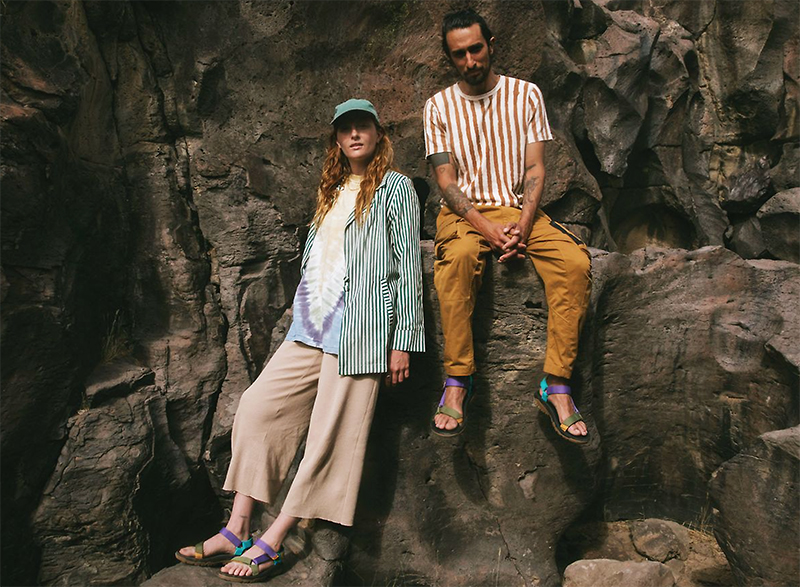 Teva brand net sales increased 65.9 percent to $58.5 million for the first quarter from $35.2 million in the comparable period last year, with growth in fashion with its Hurricane franchise and function with a more rugged Hurricane franchise.
"From a DTC perspective, Teva delivered solid growth on top of last year's extraordinary increase," Powers said. "As compared to last year's first quarter where Teva more than doubled consumer acquisition, the brand maintained a similar number of acquired consumers this year, increased retained consumers by 41 percent and saw a 10 percent increase in average order value among online purchasers."
Powers shared that it felt that the strength in the Hurricane franchise had been driven by the brand's roots in the Grand Canyon, as national parks have seen record attendance this year. 
He also said the growth of 18-to-34-year-old consumers continues to outpace total consumer growth, leading to younger consumers, maintaining the most extensive mix among all age groups for Teva. 
For the balance of this year, Teva is expected to build market share with closed-toe products such as the brand's Ember franchise and increased DTC consumer acquisition and continue to grow its already high percentage of loyalty among 18-to-34-year-olds.
Sanuk brand net sales increased 13.7 percent to $15.0 million in fiscal Q1, and the Other Brands business, primarily composed of Koolaburra, saw net sales increase 435.9 percent to $5.0 million in the period.
Overall, Deckers Wholesale channel net sales for the first quarter increased 140.2 percent to $344.3 million.
Powers said wholesale growth was "unique this quarter, as a result of disruption in the channel last year, refilling domestic Ugg inventories that were depleted from record product sell-through and shipping Ugg products earlier than in prior years to mitigate macro supply chain pressures." He said Ugg wholesale is up significantly relative to the past couple of years, and Hoka also experienced meaningful growth as the brand is "building market share and benefiting from the Clifton 8 launch."
Overall, DTC channel net sales increased 14.7 percent to $160.4 million in the period. Hoka reportedly drove the majority of DTC growth while the Ugg brand attempted to anniversary the heavy demand last year during the stay-at-home period that benefitted online sales in the slipper category. 
Because of the pandemic disruption of owned and wholesale physical retail locations last year, it experienced a significant increase in DTC mix during the first quarter of the fiscal year 2021," Powers summarized. 
"Given physical store re-openings and shifting consumer shopping patterns, we saw a decline of DTC penetration this quarter as compared to last year but have been pleased to maintain a DTC mix above pre-pandemic levels."
Domestic net sales increased 82.3 percent to $336.1 million in the quarter, compared to $184.3 million in the comp period last year. International net sales for Q1 increased 70.5 percent to $168.6 million.
Overall, company gross margins grew 130 basis points to 51.6 percent of sales in fiscal Q1, compared to 50.3 percent for the comparable period last year. The increase was said to be related to a "favorable brand and product mix as Hoka increased as a percentage of the total company and Ugg benefited from earlier Hoka shipments of fall product."
Margins were also affected by a reduction in reserves related to uncertainty in the prior year and favorable foreign currency exchange rates with offsets from channel mix and greater air freight utilization.
SG&A expenses were up 32 percent to $198.7 million compared to $150.3 million for the comp period last year, primarily driven by "increased compensation related to higher warehouse wages, including hazard pay, onboarding additional talent to scale the organization and long-term incentive performance compensation reflecting non-cash expense." CFO Steven Fasching said increased marketing to maintain momentum in the Deckers brands and reignite international markets for the Ugg brand, increased variable warehouse logistics and IT costs with savings related to reducing bad debt.
DECK swung to a profit in fiscal Q1 with diluted earnings per share of $1.71 compared to basic loss per share of 28 cents for the comparable period last year. The increase per share, as compared to last year, was said to be driven by revenue growth in Hoka, Ugg, Teva, and a related favorable mix of brand and product.
Cash and cash equivalents were $956.7 million at quarter-end, compared to $661.9 million and the comp quarter-end last year. There were no outstanding borrowings at the end of the period compared to $30.7 million at quarter-end last year. Inventories were $457.7 million at quarter-end, compared to $435.0 million on June 30, 2020.
For the full fiscal year 2022, DECK now expects year-over-year top-line growth of 18 percent to 20 percent, resulting in revenue in the range of $3.01 billion to $3.06 billion, with Hoka increasing its growth rate over last year to be in the 50 percent range crossing the $850 million milestone. 
Ugg is expected to grow in the high-single-digit to the low-double-digit range, and Teva is forecast to increase in the high-teens. Koolaburra is expected to continue growing in the low-double-digit range, and Sanuk is still expected to be approximately flat to last year. 
"The improvement in revenue guidance that we're now flowing through for the full-year outlook, the majority of that increase is coming from the better-than-expected results of Hoka in Q1," explained Fasching. "And as you think about the balance of the year, as we compare against bigger quarters last year, the percentage increase in growth is expected to reduce. Overall, we're still growing significantly with Hoka, but we're going to start lapping bigger quarters against last year. So that percentage growth may decrease. And the nice thing about Hoka is, it's a nice balanced year."
Overall fiscal 2022 gross margin is now expected to be slightly below 53 percent, which is lower than prior guidance due to "pressures from increasing costs related to ocean containers and greater utilization of air freight." SG&A is now expected to be approximately 35 percent of revenue, reflecting a similar dollar spend as reflected in prior guidance on increased revenue estimates. 
DECK raised its EPS guidance for fiscal year 2022 to be in the range of $14.45 to $15.10 per share.
Photos courtesy Hoka, Ugg, Teva